NHS and social care staff burnout at an emergency level - report
By Francesca Gillett & Katie Wright
BBC News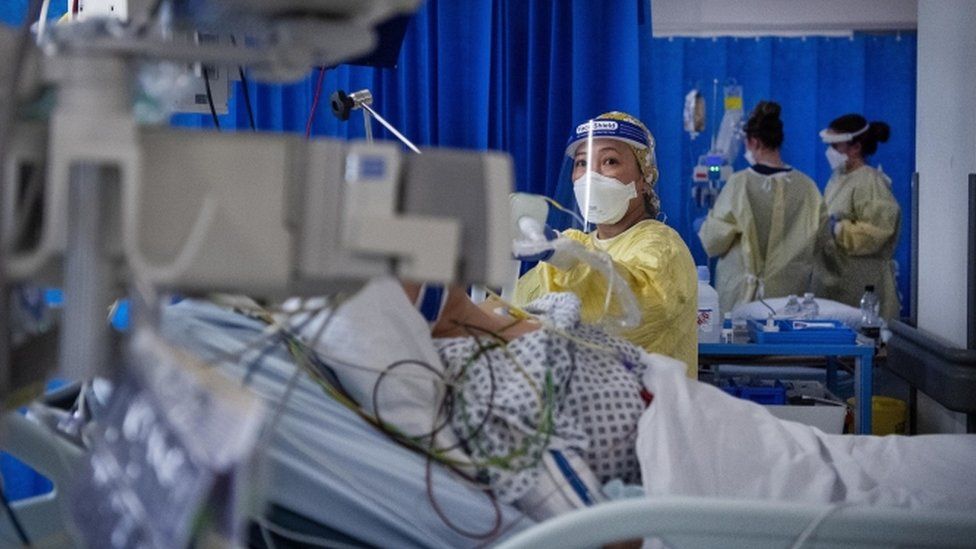 NHS and care staff in England are so burnt out that it has become an "emergency" and risks the future of the health service, MPs have warned.
A highly critical report said workers were exhausted and overstretched because of staff shortages.
It said the problems existed before the pandemic - although coronavirus has worsened the pressures.
Doctors' and nursing unions welcomed the report, saying it highlighted the stress and anxiety facing staff.
It has already been well documented that the NHS is short of staff.
Last July, the health and social care committee - made up of MPs and chaired by former health secretary Jeremy Hunt - launched an inquiry to look at the issue, including how burnt out NHS staff were.
Its report, published on Tuesday, said one of the main problems was that there was no accurate forecast of how many staff the NHS needed for the next five to 10 years - something it called "workforce planning".
It said there needed to be a "total overhaul of the way the NHS does workforce planning" - and there should be annual reports published on how many workers the NHS would need for the next five, 10 and 20 years.
"It is clear that workforce planning has been led by the funding envelope available to health and social care rather than by demand and the capacity required to service that demand," said the report.
And it said that NHS workers needed to know there was a solution on its way to fix the staff shortages.
Liz Stavacre, an intensive care nurse, said her unit had seen a lot of resignations, including people leaving nursing altogether "because they're so burnt out and can't deal with it anymore".
She told BBC Radio 4's Today programme: "It's been a very difficult year. We're very tired - we're physically tired, we're emotionally tired, and there's very little time to take a break from what's happening."
Dr Rosemary Leonard told BBC Breakfast it felt like her GP surgery had been "under siege" since the end of lockdown as people were coming in with "shopping lists of problems and we just don't have the manpower to deal with it".
She said everybody in primary care was working "incredibly long days" and was under "huge, huge pressure". Asked what would help alleviate the stress, she said: "It really is manpower."
Before the pandemic began, the NHS faced shortages of around one in 10 or one in 12 staff, the report said - and there were 50,000 nursing posts unfilled in the UK.
Meanwhile in adult social care, 7.3% of roles had been vacant during the financial year 2019-20, equivalent to around 112,000 vacancies at any one time, the report heard.
According to the NHS staff survey in 2020, 44% of staff reported feeling unwell as a result of work-related stress in the previous year.
Mr Hunt told the Today programme that a shortage of NHS staff was "the single biggest problem" as far as staff well-being was concerned.
He said there weren't enough doctors or nurses in "nearly every medical specialty" but tackling the issue was "never enough of a priority" for the government because the amount of years required to train up staff meant there weren't immediate results.
He added that training more doctors and nurses would save money in the long run as it would avoid the need to employ temporary staff which "ends up costing tax payers much more".
Many groups representing doctors have warned that having stressed and unwell staff risks safe patient care.
The chairman of the Royal College of GPs, Prof Martin Marshall, said: "We simply don't have enough GPs or other members of the practice team to meet demand and general practice is only set to get busier as we support our communities' recovery from the pandemic."
And Dr David Wrigley from the British Medical Association said: "Health and care staff suffered stress and work-related anxiety before the pandemic but it is now far more serious and we believe the current level of staff burnout and stress presents a worrying risk to the future functioning of the health and care system and safe patient care.
"There's an urgent need to address the severe workforce crisis facing health and care services, and - as called for by the BMA and others - the report also calls for continuous and transparent assessments of workforce shortages and future staffing requirements."
The RCN's acting general secretary, Pat Cullen, said: "The unprecedented demand on nursing staff during the pandemic has had a huge impact on their own well-being.
"But, as this report shows, the cracks in the systems designed to look after nursing staff appeared years ago."