Covid-19: Job not done despite vaccination success, scientist warns
By Katie Wright
BBC News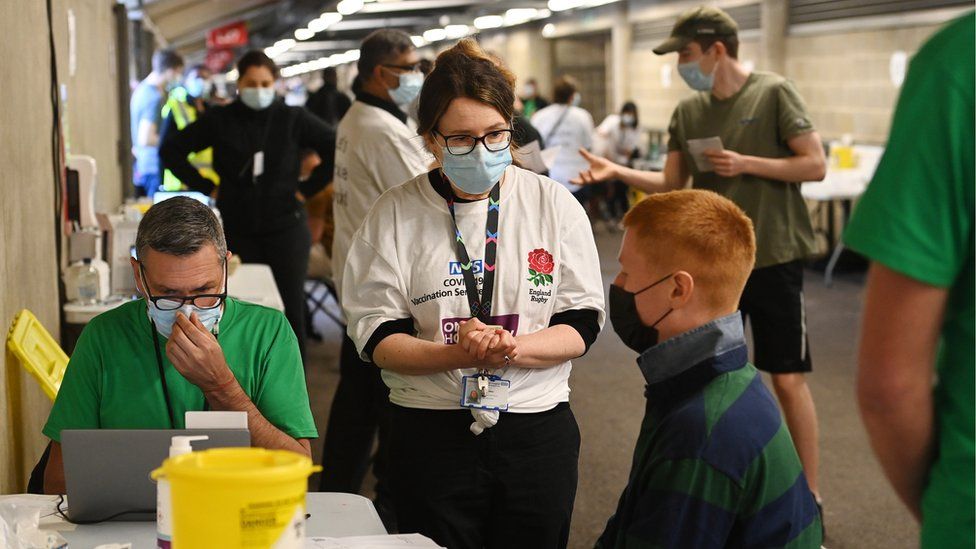 The success of the UK's vaccination programme does not mean that the battle with Covid is over, a scientist advising the government has said.
Prof Adam Finn said the country remained vulnerable as there were still large numbers of unvaccinated people.
Downing Street reiterated that the PM had seen nothing in the data to suggest the plan would need to be postponed.
A No 10 spokesman added: "We will continue to look at the data, we will continue to look at the latest scientific evidence as we move through June."
The UK has seen a small rise in cases recently linked to the spread of the more transmissible variant first identified in India.
On Monday, the UK reported more than 3,000 new Covid infections for the sixth day in a row.
Prof Finn, from the Joint Committee on Vaccination and Immunisation, which advises the government on vaccine priority, told BBC Radio 4's Today programme that the UK needed to achieve a high coverage of immunity across the population, not just among certain groups.
"The idea that somehow the job is done is wrong - we've still got a lot of people out there who have neither had this virus infection nor yet been immunised and that's why we're in a vulnerable position right now," he said.
More than 25 million people in the UK have had two doses of a vaccine - just under half of the adult population.
He said the message needed to be broadcast that "we're all in this together - everyone needs to do this (get vaccinated) for everyone".
Prof Finn joined other government scientific advisers in urging caution over relaxing the coronavirus restrictions too soon, saying it was "so much better to delay slightly than to go around with another cycle" of lockdown restrictions.
He said the new variant first identified in India looked to be more infectious and it was something "we need to take seriously".
"It's a different virus, it could be a real problem and it's only by taking it seriously now that we can get where we want to be as soon as possible," he said.
The last stage of the government's roadmap in England for lifting lockdown, which would remove all limits on how many people you can meet, is due no earlier than 21 June.
A final decision on whether restrictions will be lifted will be reached on 14 June.
Prof Sir Mark Walport, a member of the government's Scientific Advisory Group for Emergencies (Sage), said the situation was "very delicately balanced".
He told BBC Breakfast that more data was needed over the next two weeks to help the prime minister "make the difficult decision".
He said the data on hospital admissions and case numbers would be key to determining whether to lift restrictions.
Asked whether the UK was entering a third wave of the virus, he said he hoped it wasn't "but it's not impossible".
Are hospital admissions rising?
In most of the UK, cases are rising gradually while hospital admissions are flat or falling. But Scotland and the North West of England tell a different story.
Cases in both areas have been doubling roughly every fortnight across the last month.
And admissions are following, doubling roughly monthly in the North West and every fortnight in Scotland.
London too is seeing rising cases and admissions, albeit more slowly.
And we are still seeing small numbers: in all three areas the number of people in hospital with coronavirus is less than 5% of what it was at the end of January.
Vaccines reduce the number of people with coronavirus who get really ill.
But as cases go up, inevitably some people end up in hospital.
The key question for those analysing the data between now and 14 June is, how much of this is part of what we expected and planned for as society opens up again, and how much is the variant?
Another member of Nervtag, professor of sociology Robert Dingwall, told Times Radio he hadn't seen anything in the latest data to make a case for postponing relaxing restrictions.
He said the younger age groups who were not vaccinated faced "much lower risk", adding that "many of the scientists who've been talking over the weekend simply haven't adjusted their expectations to understand that (for these people) Covid is a mild illness in the community".
Business leaders have repeatedly warned that any change to the proposed dates would have a devastating impact on those sectors not yet able to fully reopen - or open at all.
Kate Nicholls, chief executive of UK Hospitality, said that some businesses were "haemorrhaging cash" and a delay would "push them closer to the cliff edge of business failure".
The timetable for relaxing Covid measures varies across the UK.
In Wales, there is due to be a review on 3 June. In Northern Ireland, some measures were relaxed on 24 May - the next review is due on 10 June.
And on Monday, thousands of people received jabs at Twickenham Stadium as part of the NHS' drive to target areas hardest hit by the Indian variant.
Hounslow's director of public health Kelly O'Neill told the BBC more than 11,000 people were vaccinated at the stadium - with organisers later opening up jabs to anyone aged over 18 as they did not want supplies to be wasted.