Covid-19: Variant fears could delay England's 21 June easing review
By Alex Kleiderman
BBC News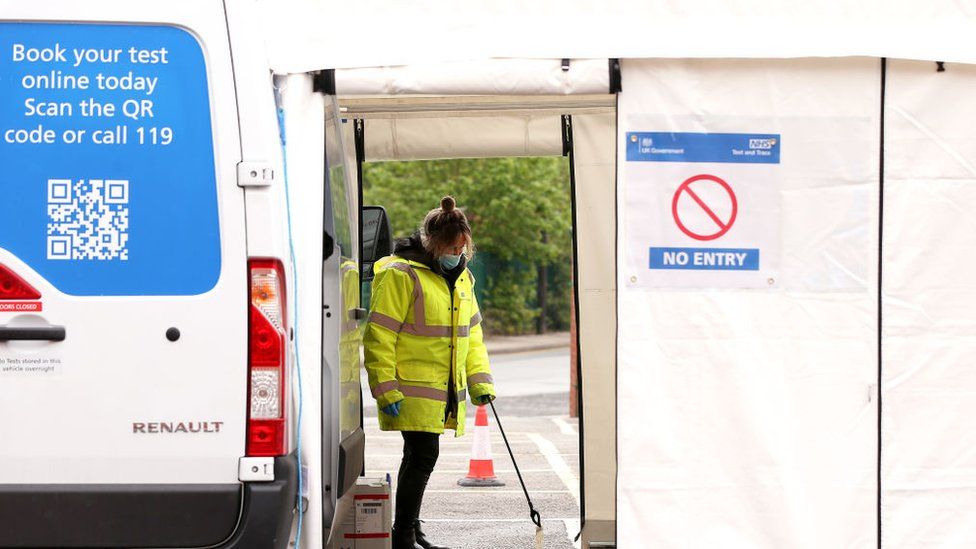 The government's review of social distancing rules in England might have to be delayed because of the spread of the Indian Covid variant.
Boris Johnson had hoped to give an update by the end of May ahead of the planned lifting of all remaining restrictions on 21 June.
But No 10 said the government now "cannot be definitive at this point".
It comes as millions of people can now enjoy new freedoms as lockdown is eased in England, Wales and most of Scotland.
People have been visiting pubs and restaurants indoors for the first time in months, hugging loved ones again and going on holiday as the ban on foreign travel is lifted.
It is hoped all remaining legal limits on social contact can be removed on 21 June, meaning unlimited numbers of guests at events such as weddings, and nightclubs allowed to reopen.
The prime minister's official spokesman said: "The Indian variant could pose a threat to this process - our decision will be based on latest data. We will set out plans as soon as the data allows."
The government has set four tests which must be met before lockdown can ease further, which include vaccines continuing to be effective and the risks not being fundamentally changed by new variants.
Hospital ward manager Viv Hudson, 58, wept with joy as she finally hugged her daughter Theresa Fox for the first time in more than a year.
"It's a bit weird - but a good kind of weird. I've missed this so much," said Theresa, 38, who also works for the NHS.
Speaking ahead of the relaxation, Mr Johnson said the government was keeping the variant under close observation and taking swift action where infection rates were rising.
Asked whether ministers would consider a return to a tiered system of rules, the prime minister's spokesman said: "I don't want to get ahead of where we are at the moment and start getting into hypothetical situations."
But he said there was a "very targeted increase in surge vaccinations and testing in these areas where we're seeing rises and that's what we want to proceed with if at all possible - but we don't want to rule anything out".
Scientists believe the Indian variant does spread more easily, but early data suggests vaccines still work. The exact impact on vaccine efficacy - if any - is yet to be confirmed.
Downing Street said its concern was about a worst-case scenario where people who had had the jab were still vulnerable.
"That would then lead to increased hospitalisations and put unsustainable pressure on our NHS. That's the situation we are attempting to avoid here."
Meanwhile, Downing Street has urged health officials not to extend the vaccine rollout to younger people yet.
But No 10 said the Joint Committee on Vaccination and Immunisation had advised that the best way to protect against the new variant was to stick to its priority list.
How are the rules changing on Monday?
People can now meet indoors in groups of up to six or two households, or in groups of up to 30 outdoors. Overnight stays are allowed
Pubs, bars and restaurants can serve customers indoors
Museums, cinemas, children's play areas, theatres, concert halls and sports stadiums can all reopen, as can hotels
Social distancing guidance is changing and contact with other households like hugs is a matter of personal choice
Scotland (except Glasgow and Moray):
People can meet indoors in groups of six from up to three households. Outdoors, up to eight people from eight households can mix
Pubs and restaurants can serve alcohol indoors until 22:30
Entertainment venues such as cinemas, theatres and bingo halls can reopen and up to 100 people are allowed at indoor events
Pubs and restaurants can reopen indoors and customers can meet in groups of up to six from six households
All holiday accommodation can reopen
Cinemas, bowling alleys, museums, galleries and theatres can reopen
No change to indoor socialising - this is still restricted to extended households where two households can mix with each other and have physical contact
Earlier, Business Secretary Kwasi Kwarteng told BBC Radio 4's Today programme he was "very confident" the government would be able to lift England's remaining restrictions on 21 June but could not guarantee it.
He said: "There is flexibility here because we have another five weeks till the reopening and we will be revisiting the data."
Latest figures show another 1,976 cases have been recorded across the UK and a further five people have died.
The number of people who have received their first vaccine dose has topped 36.7 million, while more than 20.2 million second doses have been given.
By Greg Dawson, BBC News political correspondent
That commitment is already looking shaky.
It is an indication of just how seriously the government views the emergence of the Indian variant that Downing Street today admitted that deadline could slip.
An expected update for when weddings will be able to resume as normal also looks to be on hold; the prime minister's original intention was to give people 28 days notice ahead of the planned 21 June re-opening.
The government has been adamant for months that it wants this lockdown to be the last.
However, it has repeatedly said it wants to be guided by "data and not dates", and at the moment there simply isn't enough data on how serious the Indian variant could be, and how quickly it is spreading within the UK for the government to confidently stand by previously stated deadlines.