Social care needs fixing now, council leaders tell chancellor
By Alison Holt
Social Affairs Correspondent, BBC News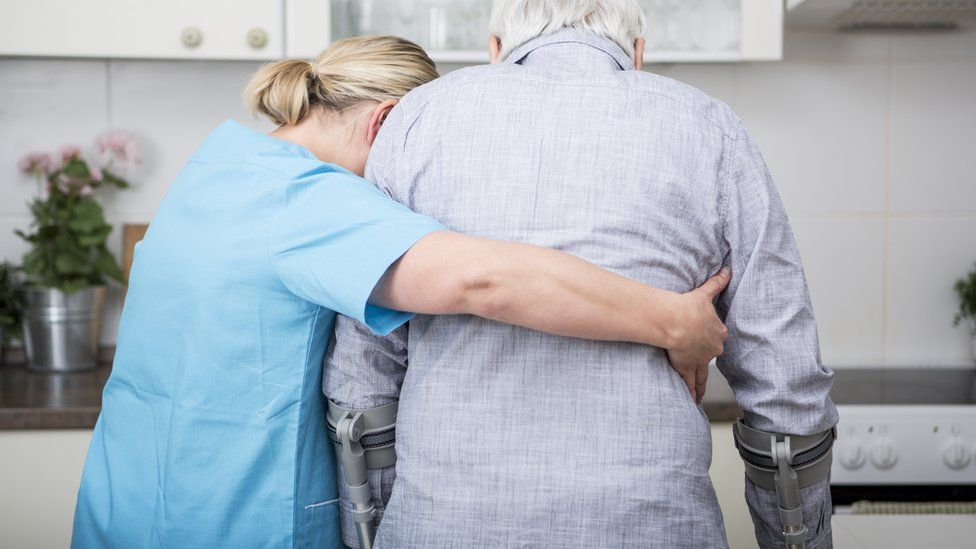 Council leaders from across the political divide in England are urging ministers to make good their promise to "fix social care" by setting out plans in Tuesday's Queen's Speech.
The Local Government Association has sent a cross-party letter to Chancellor Rishi Sunak, saying failure to act now would be "a bitter blow".
The government says improving social care "remains a priority".
Ministers have previously said plans will be brought forward this year and, when quizzed, have maintained that cross-party agreement on social care reform will be vital - the LGA's letter shows that at work.
It comes amid increasing concern that long-promised reform will only get the briefest of mentions in the Queen's Speech, where the government sets out its legislative programme for the coming year.
In the letter, council leaders from across the political spectrum call on the government to put the reform and funding of the adult care system at the centre of its thinking on how we emerge from the pandemic.
Local authorities fund many care services and they want investment which moves the system from being based around care homes and hospitals, to one which focuses on prevention and community support.
The letter says reform needs to pool the risk of having high care costs after developing a condition such as dementia, with funding provided through taxation or a social-care premium.
It argues that this is an investment in people, rather than "a cost that is too difficult or too high".
It urges the government to:
invest in a care model which supports people to live independently in their own homes and communities
end "unsustainable", one-off, "sticking plaster" solutions
find a long-term way of bringing more money into social care
"All of us in local government, across the political divide, want to see the Queen's Speech finally set out the plans we have been waiting for," said LGA Chairman James Jamieson.
"This is about an investment in people, in all of us.
"A failure to act will be a bitter blow to everyone connected to social care."
The pandemic has increased pressure on an already fragile care system, which provides support for older and disabled people in care homes and in their own homes.
Residential and nursing homes saw a particularly high number of deaths in the first wave of Covid-19.
The pandemic also highlighted existing problems, such as the low pay and long hours of care staff in a sector that struggles to recruit enough workers.
A government spokesperson said: "Improving the adult social care system remains a priority for this government and we are committed to ensuring every person receives care that provides the dignity they deserve.
"Throughout the pandemic we have provided almost £1.8bn in specific funding for adult social care including infection prevention and control measures.
"We've also provided free PPE and additional testing and prioritised health and care workers for the vaccine."
The LGA letter coincides with polling for a care charity which suggests there is public support for greater focus on social care by government.
Researchers for MHA, which runs care homes and community services, questioned just over 2,000 UK adults online and, of these, found:
69% wanted social care to be the government's top priority
43% felt the government did not care about the needs of older people
MHA chief executive Sam Monaghan said the devastating effect of Covid-19 on care homes had made people question "what's important and the kind of society we want to be".
"What we now need is decisive action from government...
"We have a growing population of older people who deserve respect and certainty for the future."
Fiona Carragher, director of research at Alzheimer's Society, called on the government "to completely overhaul our social care system".
She said she wanted to see "free, personalised care... on an equal footing with the NHS", together with plans to develop a workforce with the skills "to deliver the best care" for people with dementia.