Windrush victim wins court fight over application fees for family
By Tom Symonds
Home Affairs correspondent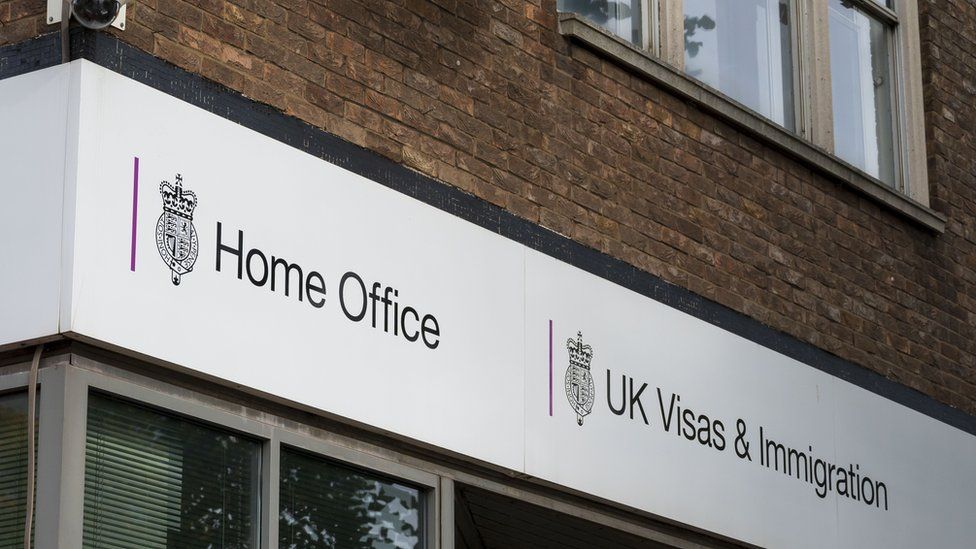 Relatives of a woman caught up in the Windrush scandal can apply for permission to live in Britain without paying thousands of pounds in fees, the High Court has ruled.
Charging the family of Lynda Mahabir would be a "colossal interference" in her human rights, the court said.
The fees would cost more than £20,000.
Mrs Mahabir, 52, was unable to live in the UK until 2018 and says the government didn't correctly record her immigration status in the 1970s.
Her case was similar to thousands of other Windrush victims.
When she was finally able to come to the UK, she risked being separated from her relatives in Trinidad because the family could not afford to pay application fees of nearly £23,000, required for permission to join her.
Mrs Mahabir took the government to court claiming the financial impact of the fees had separated her from her husband, Winston, and five children.
Her lawyers argued this was a breach of her right to family life, and discriminated against her relatives.
The Deputy High Court Judge Tim Smith ruled in favour of the family, and against the home secretary.
Reacting to the ruling, Mrs Mahabir told the BBC: "There are things that are worth fighting for and this was one of them.
"The UK is not really a bad place. It's got lots of opportunities, not only for me but for my family also and in my mind it was worth fighting for."
The Home Office says it is currently reviewing its policy for situations where the application fee for relatives can be waived.
Mrs Mahabir told the Home Office in emails that finding the money for her family to apply would be a "daunting task".
"We have never been separated from each other before," she said.
"I would like for them to be given the opportunity to join me here where we can continue to make the positive impact on lives that we come into contact with."
Toufique Hossain, from the firm representing the claimants, said: "The pain and misery that has been imposed on the Windrush generation is unimaginable.
"The Home Office on one hand commiserates their suffering and yet continues to develop and then defend policies that keep families apart.
"It should pull down, not put up, barriers to Windrush families staying together."
In a statement, a Home Office official said: "We remain determined to right the wrongs suffered by the Windrush generation."
The official said more than12,500 people had been given new citizenship or had their citizenship confirmed for free under the Windrush scheme.
"We are carefully considering the implications of this judgment and will continue our work to ensure members of the Windrush generation receive the documentation they need, free of charge, in order to live, work and access services in the UK," the official added.
What is the Windrush scandal?
People arriving in the UK between 1948 and 1971 from Caribbean countries have been labelled the Windrush generation.
It refers to the ship MV Empire Windrush, which docked in Tilbury on 22 June 1948, bringing workers from Jamaica, Trinidad and Tobago and other islands, to help fill post-war UK labour shortages.
It is unclear how many people belong to the Windrush generation, but they are thought to be in their thousands.
The Home Office kept no record of those granted leave to remain and issued no paperwork - making it is difficult for Windrush arrivals to prove their legal status. In 2010, it destroyed landing cards belonging to Windrush migrants.
Because they came from British colonies that were not independent, they believed they were British citizens.
Those who lacked documents were told they needed evidence to continue working, get NHS treatment, or even to remain in the UK.