Elections 2021: Parties make last push for votes before polls open
By Joseph Lee
BBC News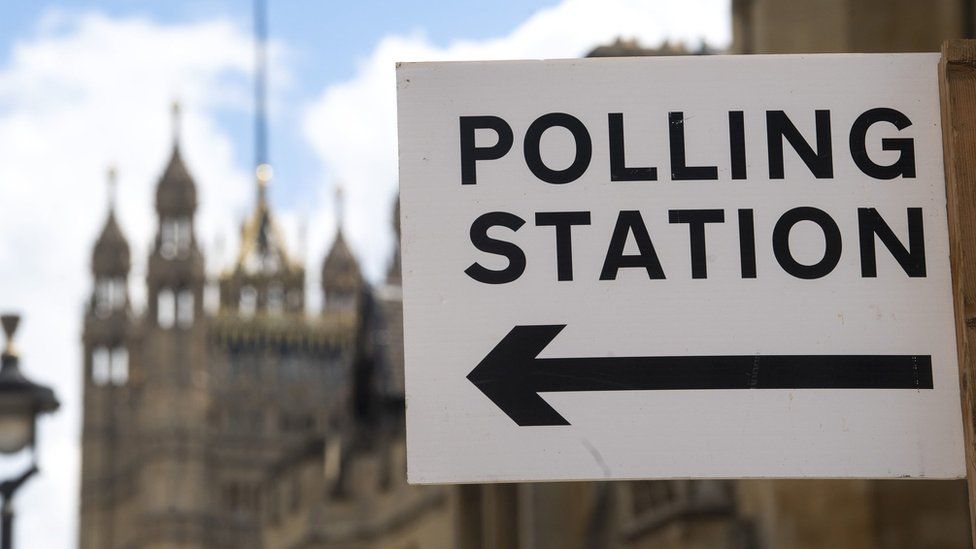 Political parties have made their final push for votes ahead of elections in England, Scotland and Wales.
All 129 seats in Holyrood are being contested, Scottish independence set to be a key issue, while Wales will elect the 60 members of the Senedd.
English voters will decide on thousands of council seats, choose 13 mayors and elect an MP for Hartlepool.
Thursday marks the first test for parties since the 2019 general election and the pandemic.
The so-called "Super Thursday" elections will also see police and crime commissioners elected across England and Wales.
Many of the elections were postponed from last year by the pandemic and Covid restrictions have transformed campaigning.
Polls open from 07.00 to 22:00 BST on Thursday, with results due from Friday.
Campaigning in England, Prime Minister Boris Johnson said the Conservatives faced a "very tough set of elections" after reaching a "high water-mark" in previous council polls.
Labour leader Sir Keir Starmer said his party had a "mountain to climb" to win back support in key battlegrounds.
In Scotland, SNP leader Nicola Sturgeon urged the public to vote for "strong, experienced leadership" and said the result of the Holyrood elections was "always on a knife-edge".
Scottish Conservative leader Douglas Ross said people had a choice between an independence referendum or focusing on Covid recovery.
Anas Sarwar, leader of Scottish Labour, urged people to put aside "old arguments" about independence and vote for jobs, education and the NHS.
Meanwhile, the Lib Dems said they would also put "recovery first" rather than letting the debate be dominated by a referendum.
Welsh Labour Leader Mark Drakeford said his party was "battling hard" in north Wales amid a challenge from the Conservatives, but warned voters against "handing Wales back to London with the Tories".
Tory Chancellor Rishi Sunak visited a holiday park in Rhyl, Vale of Clwyd, where he promised voters in Wales the same "change that we're bringing across the United Kingdom".
In Llanelli, Plaid Cymru leader Adam Price said the election would be "won on small margins", calling it a "historic opportunity" to put his party in government.
The pandemic means ballots are expected to take longer than usual to count, creating greater uncertainty over when results will be declared.
Some counts will take place overnight on Thursday, including for the Hartlepool by-election, where a result is expected early on Friday.
But counting in some council areas in England will take place on Friday, or over the weekend.
A dozen of the counts for 39 police and crime commissioners elected in England and Wales will not begin until Monday.
Results for all 60 seats in the Welsh Senedd will be known on Friday.
Scotland starts counting in some areas on Friday, but there will not be a final result until Saturday, or possibly even Sunday.