Byron burger death: No damages payout for Owen Carey's family
By Victoria Derbyshire
BBC News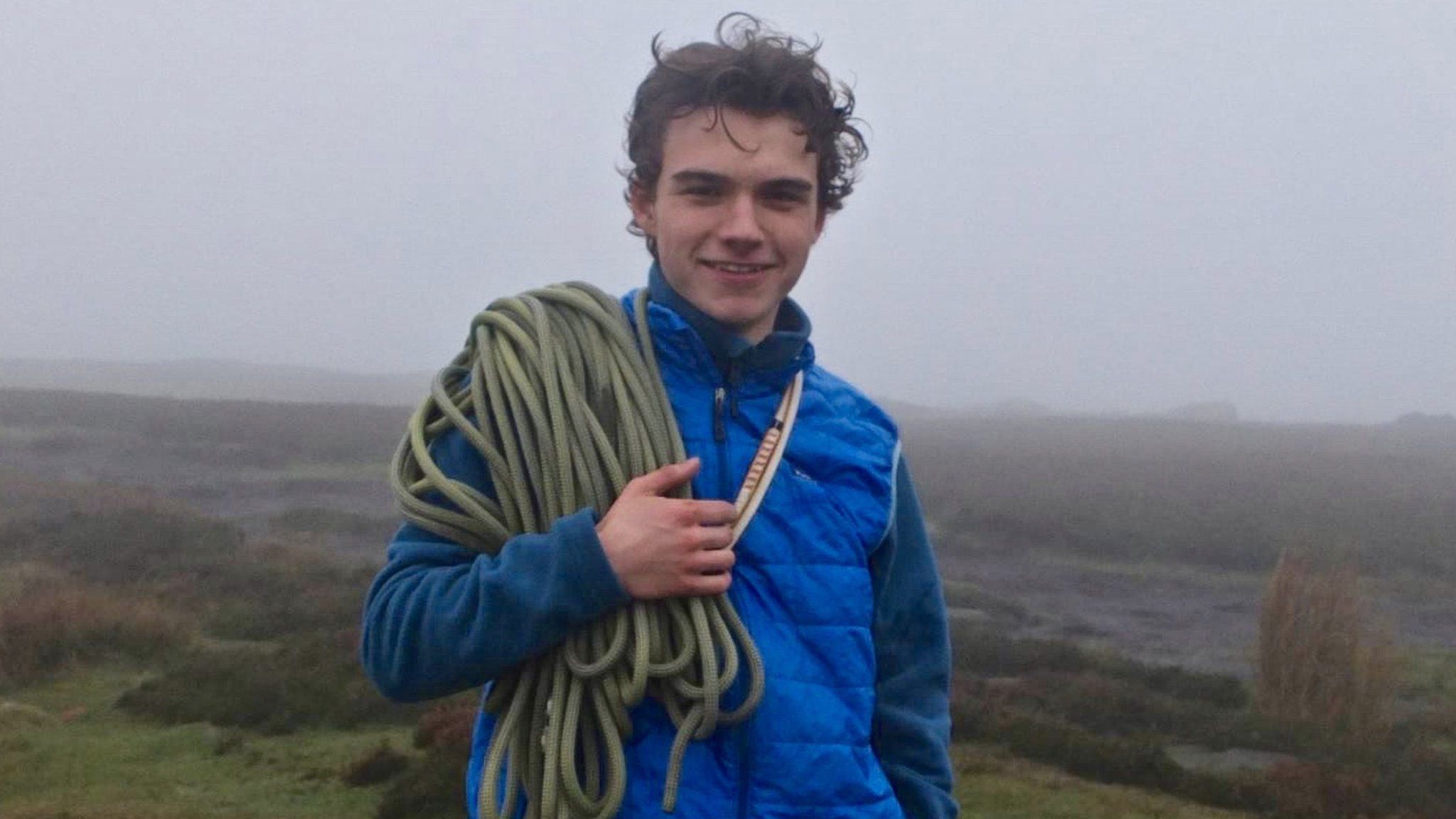 The family of a teenager who died after unwittingly eating food he was allergic to at a Byron Burger restaurant say they do not feel properly compensated.
Owen Carey, who had a dairy allergy, ordered skinny grilled chicken at Byron's O2 Arena branch in London for his 18th birthday in April 2017.
He informed staff about his allergy but was not told buttermilk was included. He collapsed and died shortly later.
Byron said it has since improved all allergen procedures.
The Carey family are now working to change the law. They received a letter from Byron's chief executive apologising for "all the pain" the family had suffered.
But Mr Carey's father Paul has now told Victoria Derbyshire on BBC Radio 2's Jeremy Vine Show that the family have not been awarded damages or specific compensation for their pain or suffering.
"Byron's insurers refused to pay any damages and only offered to pay a proportion of the legal and funeral costs," he said, describing the decision as "pathetic".
He added: "We weren't looking to profit from Owen's death - we would have donated the money to the charity the Anaphylaxis Campaign which supports people at risk from serious allergies.
"You can't quantify in monetary terms how much we miss Owen. But we're not doing this for money, we just want to make sure this doesn't happen to anyone else."
The family are now officially launching their campaign for "Owen's Law", which would require clear, specific allergen labelling on every restaurant menu.
Last month, they met the Food Standards Agency (FSA) and wrote to the Department for Environment, Food and Rural Affairs, which has responsibility for food safety calling for a change in the law. They are yet to receive a response.
Paul Carey said: "The buttermilk marinade wasn't stated on the menu and was not conveyed by the waiter.
"Some customers, young customers, might even be afraid to ask about allergens. If you write in words or symbols on the menu what the allergens are for each dish, nobody has to ask."
The family believe Mr Carey's death should never have happened and the current regulations leave too much room for error.
His sister Emma Kocher said the FSA seemed "positive" about helping them. "I think the general public doesn't appreciate how difficult it is for people with allergies," she said.
"If the word allergic is used, then people need to take it seriously because allergies can kill."
Mr Carey's mother Moira said after her son's inquest in 2019 that "hundreds of thousands" of allergy sufferers were scared to eat out in restaurants because that was "the key place where they are at risk".
The inquest heard there had been about 150 deaths like Mr Carey's in the UK in the past 25 years.
Byron has updated its menu which originally stated "Chicken - choose yours grilled or fried", to "Chicken - marinated in buttermilk, choose yours grilled or fried".
In a statement, its CEO Simon Wilkinson said: "Even though this happened two years before I was employed by Byron, I have personally taken the responsibility to improve all allergen procedures... I am very supportive of any improvements or changes that can be made across the industry to prevent further tragic accidental deaths from occurring and will work with the family accordingly."
Last year, Natasha's Law was introduced, requiring foods pre-packaged on site, such as sandwiches, to carry a full list of ingredients.
It comes after 15-year-old Natasha Ednan-Laperouse died from having an allergic reaction to a baguette bought from Pret-a-Manger.
The law, which will apply to England, Wales and Northern Ireland, is set to come into force by the summer of 2021.
Victoria Derbyshire interviewed the Carey family as part of her week covering the Jeremy Vine Show on BBC Radio 2. You can hear the full interview during today's show 12:00 BST to 14:00 - or anytime after on BBC Sounds.
You may also be interested in reading:
Earlier this week, Victoria Derbyshire spoke to professional dancer Abbie Quinnen who suffered burns after a social media stunt went wrong. Quinnen revealed some of the "horrific" abuse she has received on social media since her accident in mid-January.