Covid: MPs want law to protect care home visiting rights
By Katie Wright
BBC News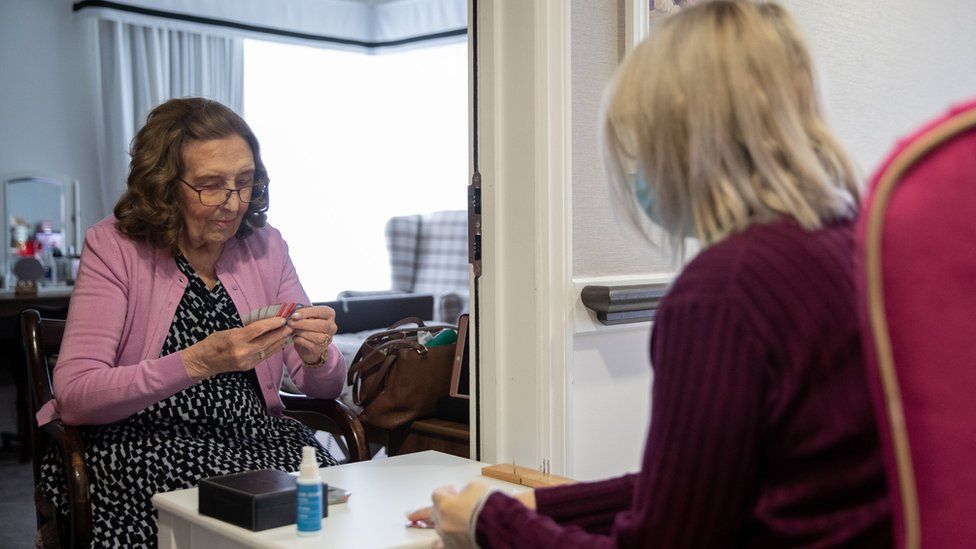 The rights of care home residents to have visits from loved ones must be "underpinned" by law, according to a new report by cross-party MPs.
The Joint Committee on Human Rights said it was "unacceptable" that some care home providers had argued it was not safe to follow government guidance.
Since April, care home residents in England have been allowed two regular visitors indoors as lockdown has eased.
But the report said providers have not felt bound by the guidance.
The regulator, the Care Quality Commission (CQC), said it had found that 95% of providers were enabling visiting to happen.
The parliamentary report said that while coronavirus restrictions had been eased in care homes over the past few months, anecdotal evidence heard as part of its inquiry suggested a "large number" were not following government guidance.
"Many care home providers are arguing that it is not yet safe to follow the guidance, denying care home residents these important family links as part of their right to family life. This is completely unacceptable."
It said it was "astonishing" the CQC had claimed during its evidence to the committee in April that it was not aware of any care home in England failing to follow the guidance on visits.
Labour's Harriet Harman, chairwoman of the committee, said: "By not underpinning this guidance in law, care homes have not felt bound by it and important rights have therefore not been respected.
"The Care Quality Commission assurances that visits are being allowed properly now in all homes is wholly unconvincing.
"Because care homes see guidance about allowing visits as advisory rather than binding, the government must now bring forward regulations to give their guidance on visits legal force."
The MPs and peers on the committee concluded that to prevent future blanket bans on visits, they wanted it to be a legal requirement that each resident has their individual circumstances assessed.
When giving evidence to the committee, the CQC said it did not collect quantitative data on how many visits have occurred across care homes.
The committee urged the CQC to "get a grip" and ensure more robust processes were in place for monitoring adherence to the guidance by the end of May.
Kate Terroni, chief inspector of adult social care at the CQC, said the regulator had been clear throughout the pandemic that blanket approaches to visiting were unacceptable.
She said that during 941 inspections in the last eight weeks, the CQC had found that 95% of care homes were enabling visiting to happen, and action was taken against the other five per cent.
"Concerns have been raised with us about 30 potential blanket bans and we have taken action in every case," she said.
"We expect providers to follow government guidance on visiting where people are entitled to have designated visitors."
Social Care Minister Helen Whately said the care homes themselves should decide on visiting policies.
"We recognise that every care home has a unique layout, physical environment and facilities, and residents have their own individual health and wellbeing needs, which is why care homes themselves are best placed to decide how to enable visiting safely," she said.