Windrush scandal: Concern over wait for compensation
By Emma Harrison
BBC News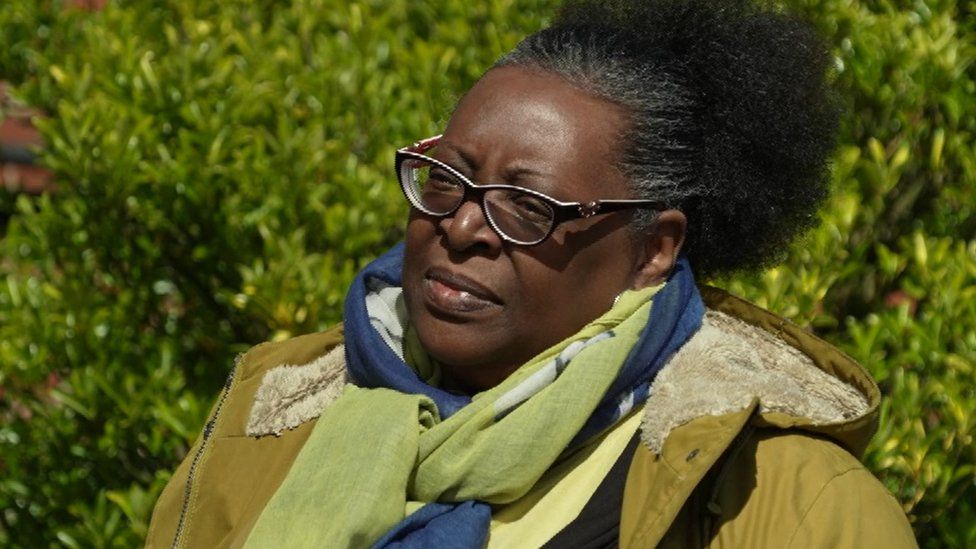 Campaigners say they are concerned about the low number of compensation payments to victims of the Windrush scandal.
About 400 claims out of almost 2,000 applications have resulted in a payment, government figures show.
The average claim to the scheme, launched two years ago, takes 14 months to process, a freedom of information request found.
The Home Office says it aims to process applications as quickly as possible.
Payments made through the scheme up to the end of February this year total more than £6m, while a further £11.8m has been offered, the government says.
There were 108 claims by the estates of those who are deceased and who would have been eligible to claim compensation by the end of February, according to the latest figures.
The scheme was launched by the Home Office in April 2019 to offer payments for things such as loss of earnings, periods of detention and the impact that the scandal had on people's lives.
For more than five years he was refused access to work, NHS services and welfare.
He tells the BBC he suffered from a bad mouth infection in 2014, saying: "The only way I could get rid of it was to start extracting my own teeth. It took about three months to pull most of my teeth out."
The former Royal Artillery serviceman, who arrived in the West Midlands from Jamaica aged seven, is waiting for compensation two years after filling out an application.
He said he rejected his first offer of £18,500, adding if he had accepted that "it would have destroyed me".
He is still in negotiations after a higher figure was offered.
Under the compensation scheme, if a claimant is successful they are made an offer, but they can choose to ask for it to be reviewed if they are unhappy with it.
The Windrush generation are people who arrived in the UK between 1948 and 1971 from the Caribbean.
They were granted indefinite leave to remain in 1971, but thousands were children who had travelled on their parents' passports - so could not prove they had the right to live in the country.
Many were caught up in the Home Office's "hostile environment" immigration policies introduced in 2012, with threats of deportation.
In 2018, it was revealed many had lost homes and jobs, as well as being denied access to healthcare and benefits.
Veronica Bell, from Nottingham, is trying to claim compensation on behalf of her father, Nathaniel Blake, who died in Jamaica in 2010.
He was not allowed back in the UK after a family holiday. Ms Bell said he later lost his sight and was diagnosed with prostate cancer, but the family was unable to afford the appropriate medical care there.
"As far as he was concerned he was a British citizen, always had been," she tells the BBC.
"He was invited here by the government to build up the country after the Second World War."
She submitted a claim for compensation two years ago, but says it is "not about the money".
"There's absolutely no financial compensation that can right that, but the acknowledgement is very, very important to me and other families," she said.
Lawyers say delays to paying compensation to victims of the Windrush scandal are unacceptable.
"People are taking a year, 18 months, to even get their first offers," Jacqueline McKenzie, a human rights lawyer, tells the BBC. "So it says something is very, very wrong."
'Determined to right wrongs'
She said 281 claims have been in the process for 12-18 months, 214 have been waiting more than 18 months and five more than 24 months.
Ms Patel said staff "continue to work hard to resolve these claims".
In a statement, the Home Office said: "We are determined to right the wrongs of the Windrush generation and make sure they get the compensation they deserve for the injustices they faced.
"We aim to process claims as quickly as possible, while carefully considering each person's circumstances and experiences."
It said the Windrush Compensation Scheme was reformed in December "to ensure people received significantly more money more quickly".
"Within six weeks of making the changes in December we had offered more than we had in the first 19 months of the scheme - since then, we have more than doubled the amount of compensation paid."
This story is based on interviews by BBC News correspondent Adina Campbell