Covid-19: Care home residents can go on outdoor trips without isolating
By Lauren Turner
BBC News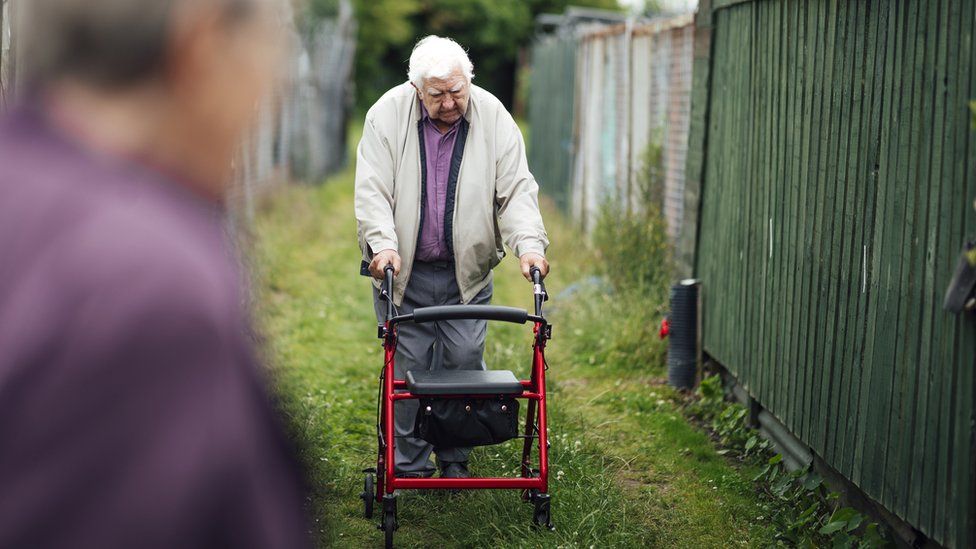 Care home residents in England can now go on low-risk trips - such as to relatives' gardens or a local park - without having to self-isolate for 14 days when they return.
It comes after some families say they have felt "powerless" because of "restrictive" visits.
One woman said her mother had not been outdoors for more than 12 months and it would be "amazing" to take her outside.
Campaigners now want the rule change to become law, rather than just guidance.
The government brought about the change because a fall in Covid cases meant it was now "much safer" for care home residents to go outside. It had been threatened with legal action by the charity John's Campaign over the isolation requirement.
The move, announced on Saturday, has now come into effect.
The recorded number of deaths is often lower immediately after weekends and bank holidays due to reporting lags.
More than 50 million Covid vaccinations have been given in the UK so far, with 34,667,904 first doses and 15,630,007 second doses.
Jenny Morrison, co-founder of Rights for Residents - a group founded to end "inhumane restrictions" preventing relatives visiting loved ones in care homes - told BBC Breakfast the change would certainly make a difference for her family, saying: "Mum's care home is near the seafront. On a nice sunny day, after 14 months where she hasn't been outside, it will be amazing for us to wheel mum down to the seafront and have a picnic. It will just be absolutely wonderful."
But she said some care homes were ignoring the guidance, with some families being given good access for visits, either indoors or outside, but others not. She said family members needed to be seen not as "just visitors" but as "essential components of people's care".
A petition has been delivered to the government, calling for the guidance on visits to be made legally binding. It also calls for relatives of care home residents to be given essential caregiver status by law, so they could continue to visit loved ones in case of another lockdown.
David Finch, from Trowbridge, is hoping the care home where his wife Tricia, 74, lives will be implementing the changes. She has Alzheimer's and has been living at the care home since July 2020, yet her husband has never been inside.
"Trish hasn't seen her family properly since July," he said. "The longer we go on with this separation, it's just deteriorating. I just need to be able to take her out, have a walk and feed the ducks.
"The trouble with the care home situation is because they're only guidelines, the care homes are frightened to death of implementing something that could cause them problems."
What do the new rules for England mean?
Only trips deemed as low-risk - to places such as gardens or parks - are exempt from the isolation rule
Residents will also be allowed to vote in person in the local elections on Thursday
Residents must be accompanied by a member of staff or nominated visitor and they have to follow social distancing at all times
They cannot meet in groups or go indoors - apart from to use toilets - and public transport should be avoided
Overnight trips are not allowed and residents will have to self-isolate after attending medical appointments
There are different rules in the UK's devolved nations, with residents in Wales able to leave homes where there is no Covid outbreak, without isolating on their return
Scotland's guidance for care homes allows for residents to see loved ones outside of the care home, while rules for care homes in Northern Ireland vary by region
Care home residents in England have been allowed one regular visitor since 8 March, in the first easing of lockdown.
The daughter of another care-home resident spoke to BBC Radio 4's Today programme about the change in guidance.
Wendy, from Essex, said: "It's just been so tough. I feel like we've been forgotten and the families just feel so powerless. The visits have been so restrictive.
"It's been so difficult trying to have a simple conversation with my father through a screen."
She said the visits in care-home pods or gardens were only 20 minutes long, with both people wearing masks.
"They can't hear you, you can't hear them, you're watched as well - there's no privacy," she said. Wendy added that, as the only visitor allowed, "You have this terrible responsibility to try to keep memories of everyone else alive."
Margaret, from Colchester, also in Essex, says her mother, who lives in a care home, no longer recognises her.
She says her mother's age and frailty mean that meeting outside is not an option. She questions why she cannot have a "meaningful visit" sitting next to her mother inside the care home.
"I want to go and sit next to my mother and look her straight in the eye and say 'hello, I'm Margaret.'"
A blowy, rainy day in many areas means even though family and friends can now take care home residents for a walk in the park or to visit their garden, few are likely to venture out.
And as the guidance was only published on Saturday, homes have had little chance to put in place risk assessments and any staff support required.
Still, it is an important step forward for families who have become increasingly angry about the restrictions faced by residents of all ages as the rest of society opens up. Even when guidance is updated, some homes have chosen not to loosen restrictions.
It is one of the reasons campaigners are presenting a petition to the prime minister today calling for one named relative or friend to be legally recognised as part of each resident's essential care team, so allowing them access to care homes whatever is happening.
Janet Shepherd from Utterby, Lincolnshire, says the new guidance means her partner could visit their garden, but added: "He's got dementia and coming-home trips would have to be on a progressive scale because it makes them anxious.
"I would like to spend more time with him during the day, seeing what he does and getting involved. Going for walks and taking picnics round and maybe taking a car trip. Coming home after such a long time might be too much for him."
Some have said there is not enough discretion for younger care home residents and there needs to be more easing of restrictions for them. Maggie Lyons, from Sheffield, said her 42-year-old son, who lives in a specialist care home for men with autism, is "desperate to have some kind of life".
"We, his parents, can't have him to our home for an overnight stay," she said. "Young people in care homes are basically incarcerated.
"When my other children can visit me on 17 May he might not be able to. Yes, I can take him to a park or sit in the garden but that isn't what he wants to do."
Anna Knight, chair of the Dorset Care Homes Association and manager of Harbour House Care Home in Bridport, said: "You can imagine how it would make you feel if you were completely imprisoned, as it were, in your home."
She said it had not just been difficult for residents but for families and staff members as well, adding: "Everybody has really struggled."
Ms Knight said her care home was now putting plans in place to allow visits outside the home to happen.
"It's going to be fantastic," she told Today. "I know the families are already excited."
She said the previous guidance had been "sensible" but now was the time to start "learning to live with this".
Mike Padgham, who runs four care homes in North Yorkshire and is chair of the Independent Care Group, said the move represented limited progress.
"It's great news, but personally I think it could have come a bit sooner because people have not been able to have their freedom in care homes for well over a year," he said. He added there had not been enough notice given, saying: "The public want to make arrangements and we're not quite geared up for it yet," he added.
The government is expected to review the self-isolation requirement for other visits when it reaches the next stage of the road map for easing coronavirus restrictions.
Additional reporting by Chris Bell
Are you or a family member a care home resident? Are you able to take a "low-risk trip" today? Share your experiences by emailing haveyoursay@bbc.co.uk.
Please include a contact number if you are willing to speak to a BBC journalist. You can also get in touch in the following ways:
If you are reading this page and can't see the form you will need to visit the mobile version of the BBC website to submit your question or comment or you can email us at HaveYourSay@bbc.co.uk. Please include your name, age and location with any submission.