Covid-19: Scientist urges patience before 17 May lockdown relaxation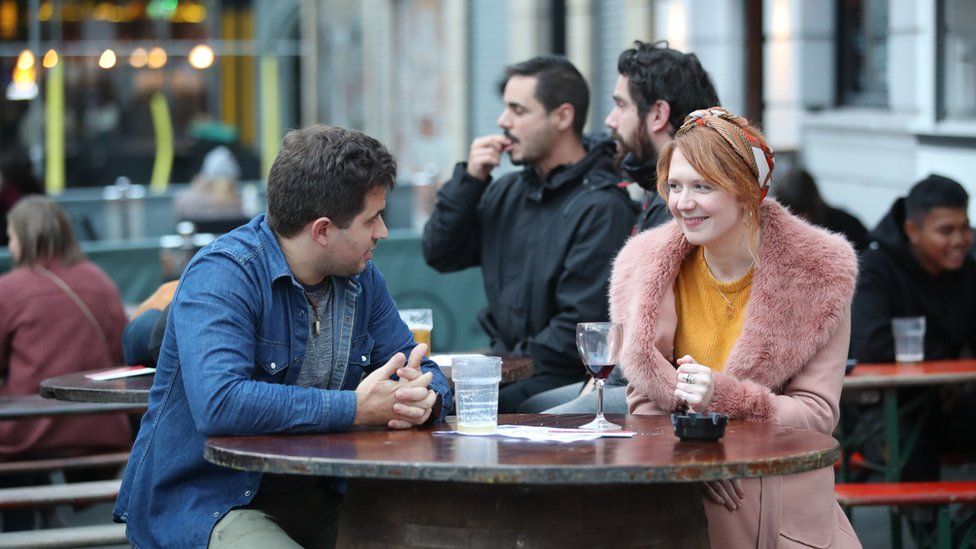 People need to be "patient for a short period" ahead of the next planned relaxation of Covid rules in England, a government scientific adviser has said.
Prof Sir Mark Walport said there was "very good news" in the progress of the pandemic, but many people were still not vaccinated yet.
He told the BBC there is still a "potential for that spark to reignite" and cause infections to rise.
But restaurateur Hugh Osmond called for a faster reopening before 17 May.
That date has been set at the likely next stage for relaxing restrictions in England and is expected to include allowing pubs, cafes and restaurants to serve customers indoors.
International travel is also expected to resume with a traffic-light system grading destinations on their risk level.
It comes as a further seven deaths within 28 days of positive Covid tests were reported on Saturday - and 1,907 more cases.
Mr Osmond, the founder of Punch Taverns, said "hard data" suggested restrictions could be eased more quickly as infections, patients admitted to hospital and deaths were falling faster than had been predicted, and there was now "zero chance of the NHS being overwhelmed".
Sir Mark, a member of the Scientific Advisory Group for Emergencies (Sage), told BBC Radio 4's Today programme it was important not to repeat the mistakes of the past in reopening social life too soon.
"We are on the cusp of being able to move to the next step of relaxation. It's absolutely right that vaccines have been spectacularly successful but not everybody is protected," he said.
"The truth is the virus has not gone away."
According to the latest government figures, 65% of adults in the UK have had their first dose of a vaccine and 27.6% have had both doses. However, 35% have not yet received their first dose.
And Sir Mark suggested that the current low levels of infections and deaths were not just due to the vaccination programme, but because people were adhering to coronavirus regulations, practising social distancing and not meeting indoors.
He said: "The mistake that has been made repeatedly is relaxing just slightly too early. What we need to do is get the numbers right down. It's important that we don't act as an incubator for variant cases that might be able to resist immunity."
The pandemic arrived in the UK with about 1,500 separate imported cases of the virus, Sir Mark said, and the Office of National Statistics suggests there are still 4,600 cases a day.
"There's the potential for that spark to reignite, it seems increasingly unlikely, but we need to get the numbers down," he said.
If the data continues in the right direction, the next stage of relaxation in England will go ahead on 17 May, Sir Mark said.
"It is all very good news, we are getting very close and we just need to be patient for a short period," he said.
What rules are likely to change in England on 17 May?
People can meet in groups of up to 30 outdoors
Six people or two households can meet indoors
Domestic overnight stays allowed with people not in your household or bubble
Pubs, restaurants and other hospitality venues can seat customers indoors
Up to 30 people can attend weddings or other life events, like christenings
Outdoor entertainment still subject to restrictions, such as outdoor theatres and cinemas can open
Indoor entertainment including museums, theatres, cinemas and children's play areas can open
Performances and large events can restart, but with limits on audience numbers
Hotels, hostels and B&Bs can reopen
International leisure travel may resume
Adult indoor group sports and exercise classes can restart
Mr Osmond, who brought a legal case against the government to bring forward the indoor reopening of pubs and restaurants, said a study from Sage published on Friday concluded that eating out at restaurants had not been associated with an increased risk of becoming a Covid patient.
He said all the data is "significantly ahead of the assumptions in the model" used to draw up the roadmap out of lockdown.
Meanwhile, every day of closure was costing the hospitality industry £200m, Mr Osmond said.
He said "every day places are closed and more go bust" and the "devastation" on UK High Streets is the worst he has seen in 30 years.