Covid-19: Vaccine rollout in England extends to 44-year-olds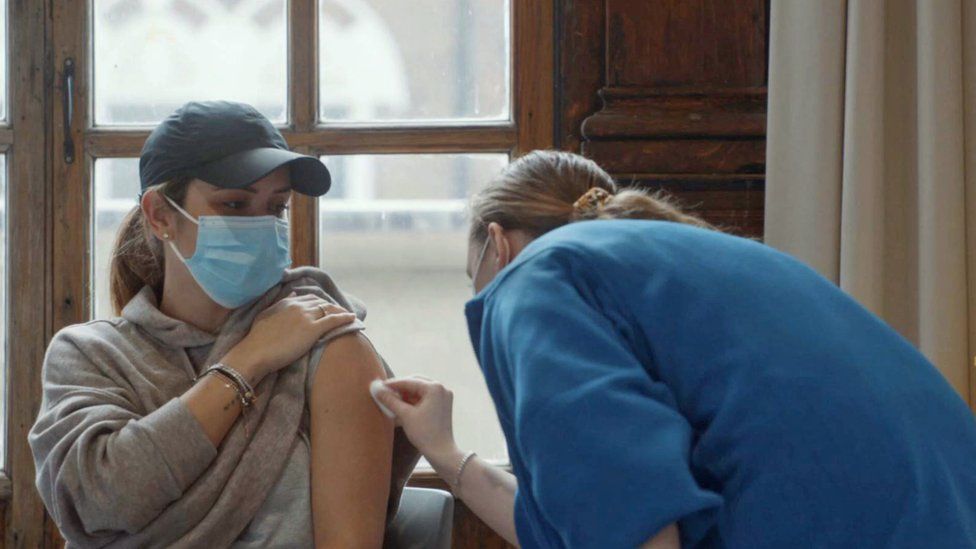 About half a million more people in England are being invited to book their Covid-19 jab from Monday, as the vaccine rollout opens to 44-year-olds.
Two-thirds of the previous age group - 45 to 49-year-olds - have received their first dose.
The NHS said it would set out when 40 to 43-year-olds would be able to book appointments "in the coming days", and as supply allows.
It comes as a TV advert is launched to encourage under-50s to get vaccinated.
Health Secretary Matt Hancock said the "great news" at being able to open up jabs to 44-year-olds came after "a huge few days for vaccinations".
He added: "We'll keep working down the age range to make sure everybody can have the offer of a jab by the end of July - all adults."
As well as 44-year-olds, people who are due to turn 44 by 1 July are also eligible to make an appointment, according to the NHS Covid vaccination booking website.
The total number of vaccine doses given in the UK reached almost 46.3 million on Sunday, with a further 498,430 second doses and 142,215 first doses reported.
More than 33.7 million people have now received their first dose and almost 12.6 million are fully vaccinated.
The TV advert promoting the Covid-19 vaccine - featuring the slogan "every vaccination gives us hope" - is predominantly aimed at people aged under 50 who are being invited for their first dose, the Department of Health and Social Care said.
Showing scenes from vaccination centres across the country, it also aims to encourage over-50s to ensure they receive their second jab for the best possible protection.
It will be accompanied by a poster campaign highlighting how the Covid-19 jab helps to reduce infections, hospital admissions and deaths.
The 60-second advert will be shown for the first time during Emmerdale on ITV at 19:15 BST on Monday, and it features people arriving at vaccination centres and getting the jab across the UK - to the accompaniment of a cover version of Dinah Washington's What a Difference a Day Makes recorded by songwriter and artist Shells.
The advert urges people to "join the millions already vaccinated" and reminds them "you need two doses for maximum protection".
Mr Hancock said it was a "poignant reminder of everything we've been through as a country and everything we have to look forward to".
One of the people featured in the advert is 32-year-old Thor Porter, a drummer and graphic designer from Salisbury, in Wiltshire, who said: "I feel the vaccine rollout is key to regaining some form of normality. As a musician, it will hopefully enable venues to reopen and ensure a future in my career."
The campaign will also be reflected in special postmarks put on stamped mail by the Royal Mail, vaccine messaging on Google and YouTube, and free advertising on LinkedIn to get the vaccine message to businesses.
How has coronavirus affected you? Do you have any questions about the vaccine rollout? Email haveyoursay@bbc.co.uk.
Please include a contact number if you are willing to speak to a BBC journalist. You can also get in touch in the following ways:
It comes as there are signs that the groups which are most hesitant about getting the vaccine are becoming more likely to get the jab.
Among ethnic minority communities, take-up has tripled since February, outpacing the national average increase among all ethnicities. In Pakistani communities, it has quadrupled, and among people from Bangladeshi backgrounds it has risen five-fold.
About one in eight (12%) people aged 16 to 29 say they are hesitant about getting the vaccine, although this has decreased from 17% in February.