Church told it must shortlist ethnic minorities for senior posts
By Harry Farley
BBC News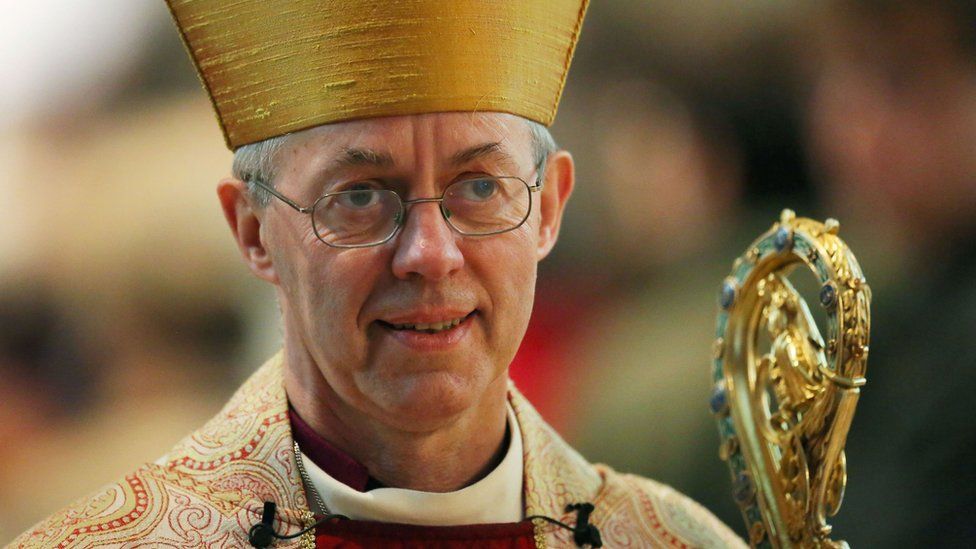 All shortlists for senior Church of England posts must include at least one ethnic minority candidate, a report has said.
It is one of 47 recommendations made by the Archbishops' Anti-Racism Taskforce, which was established last year after the Black Lives Matter protests.
It said the Church has "an alarmingly retrograde trend" when it comes to ethnic minority senior bishops.
Failing to act would have "devastating effects" on the future of the Church.
The archbishops of Canterbury and York welcomed the report but did not commit to enforcing the recommendation on shortlists.
The taskforce examined 25 previous reports on racial justice over the past 36 years and said that despite hundreds of recommendations, the Church had overseen "decades of inaction" which "carry consequences".
It called for annual reporting on recruitment, mandatory training in all dioceses to embed anti-racism practice, and for full-time racial justice officers to be employed in every diocese for a five-year term.
It wants to see a plan drawn up to increase representation of minority ethnic people to at least 15% at all levels of governance by 2030, reflecting the proportion of minority ethnic worshippers.
Currently, there are just five minority ethnic bishops and nine deans, archdeacons, and senior staff.
The most recent figures reveal 93.7% of senior staff in the Church - including bishops, archdeacons and cathedral clergy - were white British.
All the proposals have a timetable for action and details of which part of the Church is responsible for delivery.
"A failure to act now will be seen as another indication, potentially a last straw for many, that the Church is not serious about racial sin," the report said.
The taskforce also said statues linked to slavery in churches should be given extra context.
"While history should not be hidden, we also do not want to unconditionally celebrate or commemorate people who contributed to or benefitted from the tragedy that was the slave trade," the report said.
He and the Archbishop of York, Stephen Cottrell, welcomed the taskforce's report and said they would implement five of the recommendations "immediately".
These include establishing a racial justice commission and a racial justice directorate to implement the taskforce's recommendations, and encouraging the General Synod to co-opt 10 ethnic minority candidates to serve as members between 2021-26.
They said: "We hope we will be the generation to halt this cycle of inaction."
In an interview with Nick Robinson on the Political Thinking podcast, Mr Welby said he was "committed to contextualisation" for controversial statues in churches but said "99.99% will stay".
'More reports isn't going to help'
Rev Arun Arora, from Durham diocese and taskforce co-chair, said he hoped the report will "be a watershed moment in the Church's journey towards racial justice".
Co-chair Rev Sonia Barron, from Lincoln diocese, said the current culture in the Church "tolerates certain kinds of racism, and it's therefore essential that that culture changes".
She added: "There's now a genuine sense of urgency I think, and a need for action, and we cannot let this moment pass."
"More reports isn't going to help anything," he told BBC News.
"Actually, this is a safeguarding issue, not just a 'woke' issue."
"In the Bible it says judge people by their fruits - what do they produce?
"And actually, for over 100 years, the Church hasn't produced any fruit when it comes to race relations, and I don't think it will."