Covid: Government scientist warns of summer surge in cases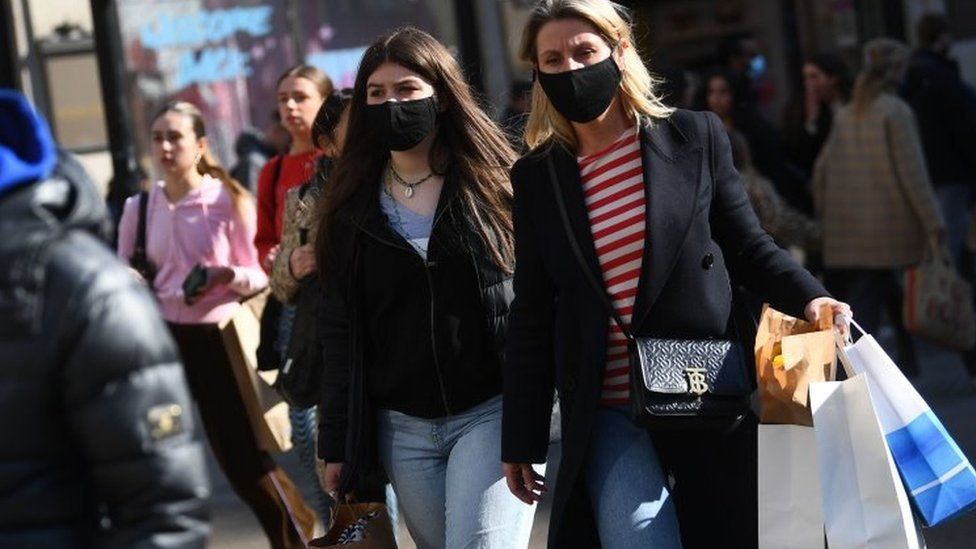 The UK is likely to see a "summer surge" in Covid cases as lockdown is relaxed, a government scientist says.
Prof Adam Finn, of the Joint Committee on Vaccination and Immunisation, says modelling points to a rise in cases, as many adults are not immunised.
He said the UK was still "vulnerable" and the dates for easing restrictions may need adjusting.
The PM has said there is nothing in the data to suggest the next step in easing lockdown cannot go ahead as planned.
But Boris Johnson said that most scientists were "firmly of the view" that there would be a third wave of the virus at some point this year.
For the first time since September, UK government figures showed fewer than 2,000 Covid patients in hospital on Tuesday. There are 2,004 people in hospital according to Wednesday's figures.
More than 10.7 million people in the UK have had two doses of the vaccine. It means that one in five UK adults are fully vaccinated.
Prof Finn, from the University of Bristol, told BBC Breakfast the prime minister was right that the UK will see a further wave of Covid-19 cases.
"The models that we've seen on JCVI clearly point to a summer surge in cases as the lockdown is relaxed, because there are still many people in the adult population who've not been immunised," he said.
Talk of a new wave is alarming given what the UK has been through this winter - and what other countries are facing now.
A rise in infections is sadly inevitable, but that does not mean it will be as devastating as it was in January.
The vaccination programme should see to that.
But that does not mean we should be complacent. Significant numbers remain unvaccinated and despite how good the vaccines are, they will not work for everyone. There is also the impact of new variants to contend with - although the significance of these is still unknown.
Some models suggest there could be in excess of 100,000 deaths over the coming year or so. But others say it may be no worse than a bad flu season with around 30,000 deaths.
When the next wave will come is also not clear. Eventually it is expected the virus will become seasonal like flu. But that cannot be a given for this year - hence the summer warnings.
It's why government scientists are insisting we move forward carefully.
But why in the long-run we can learn to live with Covid.
Prof Finn said there was "quite a wide range of uncertainty" over how big the wave would be "because it depends on how quickly the vaccine rollout continues" as well as how many people come forward for vaccination.
It also depends on how people behave as the lockdown is gradually relaxed, he said.
"If people move too far forward with that too fast, we'll see things start to come up earlier," Prof Finn said.
"The sense that the problem is all over, I'm afraid is a flawed one, we're still in a vulnerable situation, and there are still significant numbers of people who potentially could be harmed by this infection if this happens."
In England, the next relaxation of lockdown restrictions is due no earlier than 17 May, when it's hoped people can meet in groups of up to 30 outdoors and six people or two households can meet indoors.
Further steps to relax rules in Scotland, Wales and Northern Ireland are taking place this month.
When asked if dates for easing lockdown may need to be adjusted, Prof Finn said it was a "balancing act".
"I think if we do start to see significant rises in cases in some parts of the country, they may need to adjust back those dates in order to avoid the situation coming into effect," he said.
On Wednesday, a further 2,396 coronavirus cases were reported in the UK and another 22 people have died within 28 days of a positive test, according to government figures.
Health Secretary Matt Hancock has said the government is "on track" to offer a first dose of a coronavirus vaccine to all adults in the UK by the end of July.
People aged 45 and over are now being offered the vaccine in England and Scotland. In some areas of Wales 40 to 49-year-olds are being invited, while in Northern Ireland vaccine appointments are now being made available to a limited number of 35-39 year olds.