Covid: Indian variant being investigated in UK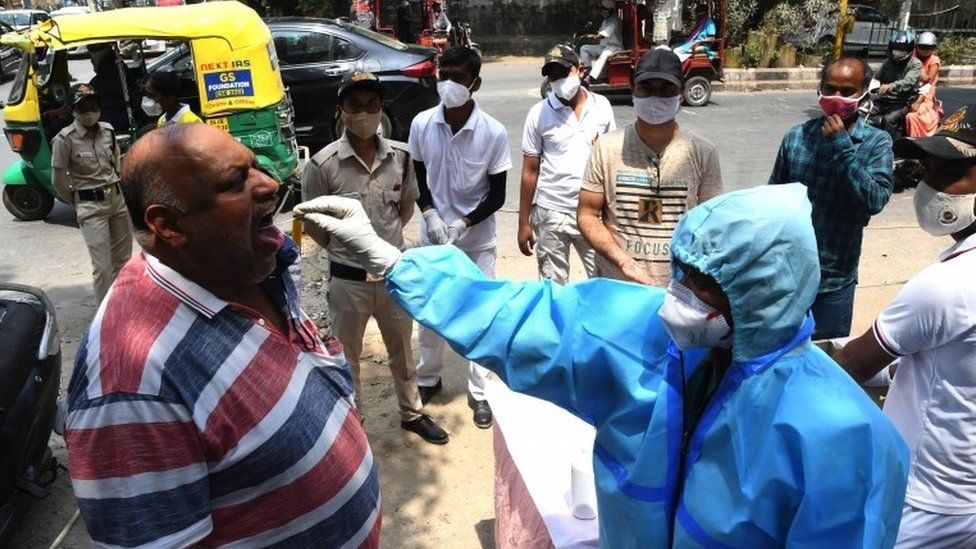 Health officials are investigating whether a Covid variant first found in India spreads more easily and evades vaccines.
There is not yet enough data to classify it as a "variant of concern", a leading scientist has said.
But Dr Susan Hopkins of Public Health England said cases had been found in the UK that were not linked to travel, with their origin being investigated.
More than 70 cases have been identified in England and Scotland.
It is also too soon to decide if India should be put on the government's travel "red list", Dr Hopkins said.
On Sunday the UK recorded 1,882 new coronavirus cases and 10 deaths within 28 days of a positive test, according to the latest government figures. The number of deaths recorded at weekends tends to be lower because of reporting delays.
Meanwhile, more than 32.8 million people have had their first dose of a coronavirus vaccine, while more than 9.9 million people have had their second dose.
Dr Hopkins, chief medical adviser for NHS Test and Trace, told the Andrew Marr Show: "We have seen a couple of cases [of the Indian variant] that haven't arisen from travel but we're still trying to undergo the investigations to look in great detail at where they might have acquired it from.
"To escalate it up the ranking we need to know that it is increased transmissibility, increased severity or vaccine evading, and we just don't have that yet."
Public Health England says 73 cases of the variant first identified in India have been found in England, and four in Scotland.
Epidemiologist Dr Mike Tildesley said work needed to be done urgently on finding out more about the variant.
He said: "I would always say when these new variants do emerge it is a concern and it's really important that we get as much information as we can as quickly as possible.
"What's concerning about the Indian variant is there appear to be two mutations which... may make the vaccines less effective, and may make the virus more transmissible.
"The key thing here is 'may'. We are still trying to gather evidence about this."
Asked if India should be added to the government's "red list" of banned countries, Environment Secretary George Eustice said: "We're allowing people in from India provided they have had a pre-departure test, provided they then quarantine - albeit not in a hotel or a designated facility, but quarantine at home - and then have a test at two and eight days.
"So there are quite a lot of robust tests and checks for anybody coming into the country."
He said the matter was kept "under regular review" and the government was taking scientific advice - adding that he believed the prime minister's trip to India should still go ahead later this month.
Boris Johnson has already scaled down his trip due to the rising number of cases - India has reported more than 150,000 Covid cases a day for the past three weeks.
Mr Eustice also told Sky's Sophy Ridge on Sunday that business needed to continue "with the right precautions" in place.
Labour shadow home secretary Nick Thomas-Symonds accused the government of not doing enough to keep variants out of the UK.
"Large numbers of cases of two deeply worrying variants, first discovered in South Africa and India, have been discovered in the UK," he said.
"We are at a critical moment in the fight against the pandemic, as the sacrifices of the British people and the vaccine give us hope of reopening large parts of life."
"Now we are seeing the results of a disastrous policy that has let thousands of people enter the UK without a proper quarantine system," Mr Thomas-Symonds said.
Speaking about other variants, Dr Hopkins also told the BBC the current vaccines were "not as good against the South African variant as they are against our own (variant) B117 at preventing infection and transmission" and that caution was still required.
But she said it was highly likely they would still be effective in reducing deaths and hospitalisations.