Covid-19: Vaccine passports could create 'two-tier society', equality watchdog warns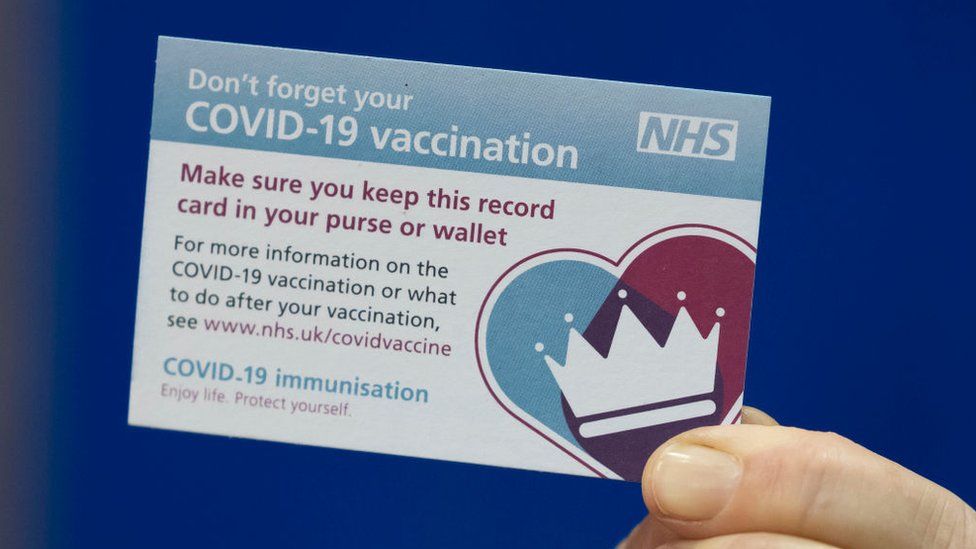 Introducing Covid status certificates to help reopen society risks discriminating against some groups, the UK equality watchdog has warned.
The Equality and Human Rights Commission says certificates to prove who is vaccinated could help to ease restrictions "in principle".
But they could create a "two-tier society whereby only certain groups are able to fully enjoy their rights".
Blanket mandatory vaccination policies are "likely to be unlawful", it added.
The independent commission says Covid status certificates - sometimes called Covid passports - could discriminate against marginalised groups where take-up of the vaccine is lower, as well as the small number of people who cannot have the vaccine for medical reasons.
Requiring the certificates for travel, going to work, enjoying social activities or accessing essential services could risk further excluding people from some ethnic minority groups, migrants and people from lower socio-economic groups, the watchdog said.
Baroness Kishwer Falkner, chair of the EHRC, said if the certificates are introduced, they must be time-limited and regularly reviewed by Parliament to ensure they are proportionate. She said those who cannot take the vaccine must have easy access to exemption documentation.
"We would monitor the rollout to ensure the right balance is struck between protecting the public's health and our individual freedoms," she said.
More than 32m people in the UK have now received a first dose of the vaccine, and more than 8m have received both doses. The government has said it is on course to offer a first dose to all adults by the end of July.
Ministers have suggested that Covid status certificates would be introduced for a limited time only, and that they would allow people to record whether they had been vaccinated, recently tested negative or had natural immunity from a confirmed infection in the last six months.
The FA Cup final in May is one large-scale event where certification will be trialled.
The equality watchdog also raised concerns about proposals to make vaccination a condition of employment for some workers.
Mandatory vaccination is a "significant departure from current public health policy" and it might lead to employers placing contractual requirements on staff to have other vaccinations, such as the flu jab, the EHRC said.
It said "a blanket policy requiring workers to be vaccinated, applied inflexibly, is likely to be unlawful" because there are a small number of people who are not able to be vaccinated.
They include people with severe allergies to ingredients in the vaccine, while pregnant women cannot routinely be offered Covid vaccines, the EHRC said.
Any policy would also need to reflect the progress of the vaccine rollout, so it does not discriminate against younger people who have not been offered immunisation yet.
The watchdog said that, with a few exceptions, it is against the law for an employer to ask questions about a job applicant's health - including vaccination status - before making an offer of employment.
A job advert which requires Covid-19 vaccination may be seen as discriminating against pregnant women who cannot be vaccinated, which would also be against the law, the EHRC said.
Ministers are considering a proposal to require care home staff to be vaccinated in order to protect vulnerable residents, as nearly half of all care homes for older adults do not meet the recommended vaccination threshold.
Care home staff who cannot take the vaccine for medical reasons would be exempt from the plan, however.
Any mandatory vaccine policy must be "objectively justified" and applied in a way that is "proportionate", it said.