Covid: Blood clot victim's sister urges people to get AstraZeneca vaccine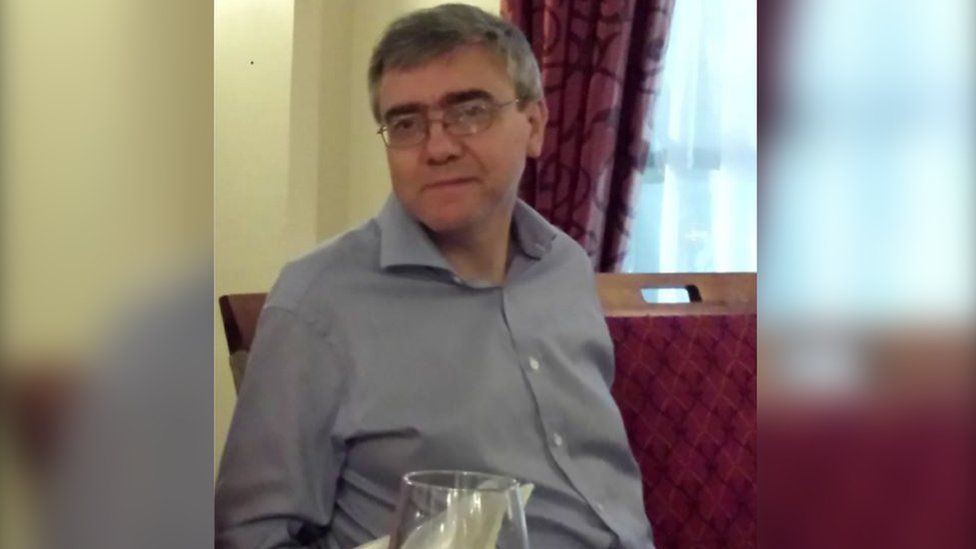 The sister of a man who died from a blood clot on the brain after having the Oxford-AstraZeneca vaccine says she "strongly believes" people should keep having the Covid jab.
Neil Astles, 59, a solicitor from Warrington, Cheshire, died on Sunday. He was vaccinated on 17 March.
Pharmacist Alison Astles told the BBC that doctors were "99.9% sure" the clot was due to the jab.
But she said he was "extraordinarily unlucky" and the risk was "very low".
Dr Astles said she felt she had a responsibility to speak out "because, overall, we will save more lives by people having the vaccine than not".
The family is still awaiting a report from the coroner on Mr Astles' cause of death.
The recommendation came after a review by the UK drugs regulator found that, by the end of March, 79 people had suffered rare blood clots accompanied by low blood platelet count after vaccination - 19 of whom had died.
The regulator said this was not proof the jab had caused the clots, but it said the link was getting firmer. The figures suggest the risk of dying from one of the clots following vaccination is about one in a million.
Dr Astles, who is pharmacy lead at the University of Huddersfield, said her brother started to have headaches and feel nauseous "a week or so" after having his first jab.
Around eight days later he began to lose his vision and he was taken to the Royal Liverpool University Hospital on Friday.
Doctors found a "huge blood clot" on his brain, she said, and he died on Sunday evening.
She said she was told by doctors "they were 99.9% sure this was due to the Covid vaccine" and that his blood results mirrored similar cases in the UK.
Dr Astles described her brother as a much loved sibling, husband and son, adding that his death had left "an immense hole in our lives".
The Daily Telegraph reported that he had been diagnosed with a "cerebral sinus thrombosis and subarachnoid haemorrhage" with "low platelets and extraordinarily high d-dimer".
"The human being, the sister in me, still feels absolutely furious and very angry this has happened to my brother," Dr Astles told the BBC News channel.
"Despite what has happened to Neil and the impact on our family, I still strongly believe that people should go ahead and have the vaccine.
"If you've had one dose, go ahead and have your second. If you haven't had your dose yet make sure that you do. Because, overall, we will save more lives by people having the vaccine than not.
"The risk of a clot is very, very small and my brother was extraordinarily unlucky."
Dr Astles welcomed the decision to offer an alternative vaccine to the under-30s - a group which includes her son - who are much less likely to die from Covid.
She received the Pfizer jab but she said other family members have had the AstraZeneca jab and she would recommend they still have their second dose.
She said she decided to speak out about her brother's death to raise awareness of the side effects of the vaccine, adding: "If we can save one life, one other family as a result of this, then that would be worthwhile."
Anyone who suffers symptoms such as a persistent headache, blurred vision or confusion four days or more after vaccination or who experience unusual skin bruising, shortness of breath or chest pain are being asked to seek medical advice.