Covid: Passports showing vaccine status would be time-limited, says minister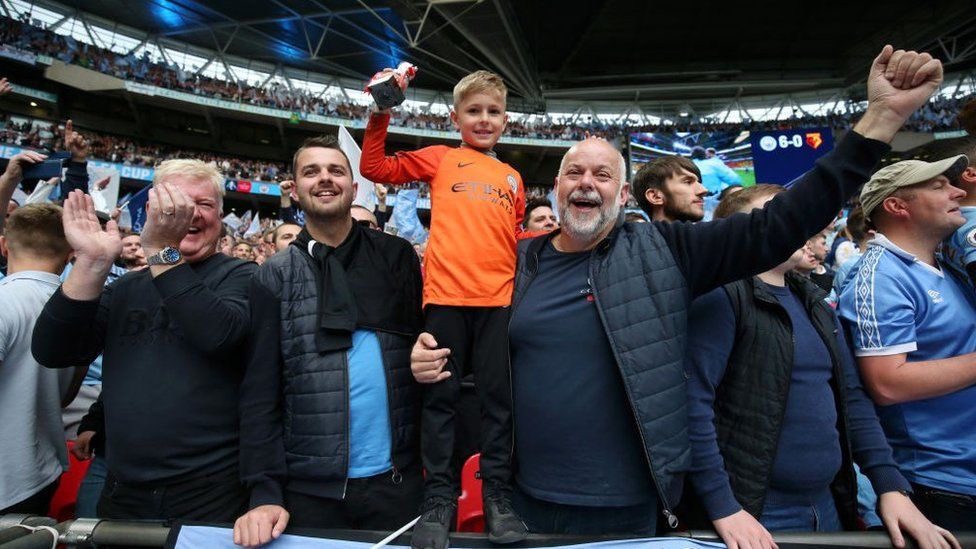 Any "Covid passport" scheme to prove people in England are safe to attend mass-audience events would be "time-limited", the government said.
A "Covid status certification" scheme is being developed to enable concerts and sporting matches to take place.
It would record whether people had been vaccinated, recently tested negative or had natural immunity, having already had a bout of coronavirus.
The government is also trialling other ways of holding mass events safely.
Sports Minister Nigel Huddleston said the trials would be a "learning experience" and no decisions had been made about processes or vaccine certification.
Improved ventilation and testing before and after events are among the other approaches being tested for mass gatherings and indoor events, including sports matches and nightclubs.
Mr Huddleston said the PM would receive a report on all the trial events at the end of May.
The pilot events - which include the FA Cup final, the World Snooker Championship, cinema screenings and nightclub events - will take place up until mid-May.
The NHS is said to be working on a system to allow people to demonstrate their Covid vaccination status through an app or paper certificate.
For people who have not yet been vaccinated, it could record any recent negative tests, or whether they have tested positive in the last six months and are likely to have natural immunity.
The FA Cup final will require certification but some of the venues stressed they would not be involved in trialling the so-called Covid passports proposed by the government.
Paul Blair, co-owner of the Hot Water Comedy Club in Liverpool which is due to host the very first event, said his club faced the "worst negative press we've ever had" when it was wrongly reported certification would be used at his event.
He told the BBC that one person sent a message saying they hoped the owners would "catch Covid and die", while several messages seemingly organised by a conspiracy theorist group accused the club of practising "medical apartheid".
Instead of using Covid passports, his event will involve testing audience members before and after the show as part of a scientific experiment to ensure that it will be safe to reopen without social distancing after 21 June.
"The sole reason we are doing this is to help prove it's safe for live venues to open," he said, adding that it would apply to people regardless of their vaccine status.
Another series of events to be piloted in Liverpool will be three open-air cinema nights put on by Luna Cinema, with around 1,000 people expected each time.
George Wood, the cinema's founder, told the BBC they would aim to run the screenings "in a way that will be allowing people not to think about social distancing".
"For just those few hours when they come to the event, it'll be back to pre-Covid restriction levels, where people will be able to sit next to each other and enjoy a film on a big screen," he said.
He added that detail on how testing will work at the events will come out in the next few days.
More than 31.5 million people have received a first dose of a Covid vaccine and nearly 5.4m have received both jabs, but most people vaccinated so far are over 50.
The government said it was also working with clinical and ethical experts on exemptions for people for whom vaccination is not advised and repeat testing would be difficult.
Businesses in England which can reopen in the coming weeks, including pubs, restaurants and non-essential retail will not have to use the system for now.
However, sources say requiring a certificate to access hospitality further down the line - perhaps to reduce the need for social distancing - has not been ruled out.
Prime Minister Boris Johnson said the government was doing everything it could to ensure people could return to events and travel "as safely as possible".
Cabinet Office Minister Michael Gove, who is leading a review into the use of Covid passports, has called certification for international travel an "inevitability".
Former Labour leader Jeremy Corbyn, who now sits as an independent, and senior Tory Iain Duncan Smith are among a broad coalition of MPs who have pledged their opposition.
While the proposed plans cover England only, the government is discussing the scheme with Scotland, Wales and Northern Ireland.
The plans come as the UK reported another 2,297 cases and 10 deaths - although Wales and Northern Ireland did not report data for that 24-hour period.
On Monday, the prime minister is expected to outline plans for easing restrictions on international travel, involving a "traffic light" system for rating the virus risk of international destinations.
But the government said the traffic-light system would "help ensure the UK's vaccine progress isn't jeopardised and provide clear guidance" when travel resumes.
People coming back from countries in the green category will not have to self-isolate on their return, although pre-departure and post-arrival tests will still be required.
For countries assigned red and amber, restrictions would remain as they are now, with arrivals required to enter quarantine or self-isolation.
The list of countries included in each category will only be announced nearer the launch date, and the government continues to advise people not to book summer holidays abroad.
Industry body Airlines UK, which has been calling for a similar system, said travel could take place "proportionately and in a risk-based way" without "opening up the border to every country out there".
Chief executive Tim Alderslade said: "There are tens of thousands of jobs dependent upon aviation and restarting travel, and the sector cannot survive another lost summer with little or no revenue."
Also expected on Monday are details of a review into social distancing, which is examining when distancing requirements and the guidance to "work from home if possible" could be lifted.