Writing songs in lockdown: 'It was an escape'
"I wrote the song to deal with the pressure. It was an escape."
When paramedic David Webster heard his hospital colleagues were becoming seriously ill with Covid and one had died, he wanted to find a release for the sadness he felt.
"It was near the start of the pandemic. We ended up with some of our staff in intensive care, being looked after by their own colleagues," he said.
"Everyone was really sad. You could tell everyone was really suffering with the weight of responsibility, not just to the public but to each other."
The 53-year-old father-of-two decided to commit his intense emotions to music, and googled "How to write a song".
"I'd never written a song before," he said. "But I came home from work and said: 'I need to write this down.' I sat down, wrote some lyrics and put together a melody on my guitar. Putting it down on paper… I definitely found that helped."
His song is one of several lockdown-themed tunes to feature in a BBC project. Now That's What I Call Lockdown is a collection of songs and music written by BBC Radio 5 Live listeners.
The aim was "to build the ultimate lockdown playlist, a chance for listeners of all standards, amateur and professional, to hear their music played out on the radio," said presenter Chris Warburton.
The songs cover themes that resonate with the times - loneliness and loss, but also hope for the future, reunions and love.
David Webster's ballad, My Heart is Blue, took inspiration from the blue hearts that people had started sharing on social media to show their support for the NHS.
David, who lives in Cumbria and works for University Hospitals of Morecambe Bay NHS Foundation Trust, said he had wanted the song to be "a gift for my NHS family".
"We're battered and bruised and a little bit broken but we're still going," he said.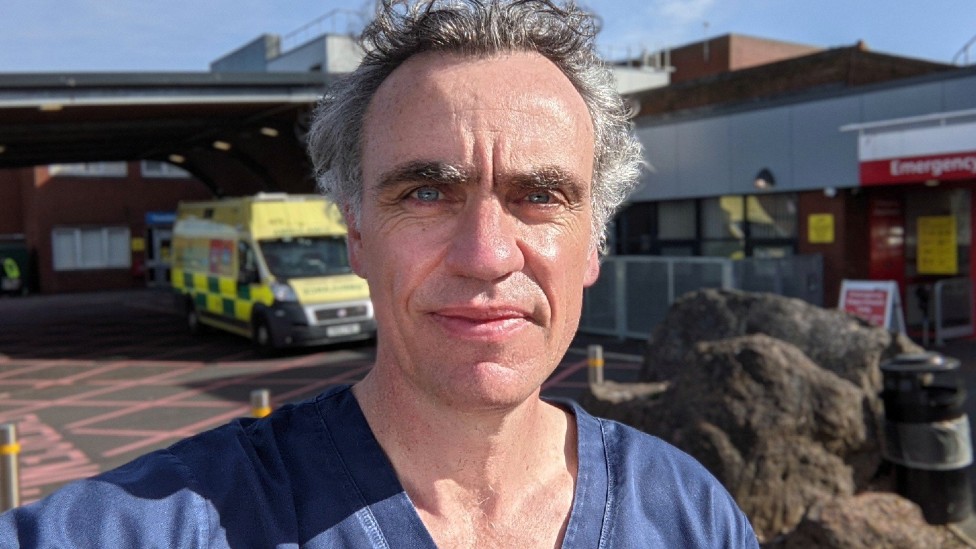 BBC
I was a bit nervous about sharing it because I wasn't sure how people would feel
David asked his daughter's friend, Lucy Satterthwaite, to take on the vocals. As she lived in a different household, he had to think of a creative way they could collaborate.
He set up a makeshift studio on Lucy's porch, balancing the microphone and laptop on a foldaway bench so she could record the vocals.
"Luckily it wasn't raining," he said. "And we managed to time it so the church bells weren't ringing."
Others who feature include sixth-form student Romy Taylor, 17, who is studying at the Liverpool Institute of Performing Arts.
She wrote When It's Over about a Spanish boy she had met online and was hoping to meet in person when the lockdown lifted.
Her mum contacted the programme to say lockdown had been tough for young musicians at the start of their careers.
Laurie Wright, aged 29, from Cheltenham, wrote his song Lockdown at the start of the pandemic, just as he came out of rehab for drink and drug addiction. His music has since been liked by The Libertines and he's now in talks with top producer Paul Stacey to record an album at the famous RAK studios in London.
"It's a testament to getting clean because all the things I ever wanted to do, all of a sudden, became a possibility instead of a pipedream."
The British Library has now agreed to preserve the songs in its online Sound Archive.
Curator of the library's Popular Music Collection, Andy Linehan, said they will "give future generations a picture of musicians' creative reaction to the situation".
"This is a rare opportunity to acquire a collection of songs by a diverse array of musicians reflecting on a very serious, once-in-a-lifetime situation," he said.
Since writing his first song, David Webster has continued creating music with Lucy. My Heart Is Blue has now been played at NHS memorials around the world.
He said it was "amazing" to think his song would be part of the library's archive.
"I was a bit nervous about sharing it to begin with because I wasn't sure how people would feel," he said. "I'm just glad people have liked it."