Defence review: British army to be cut to 72,500 troops by 2025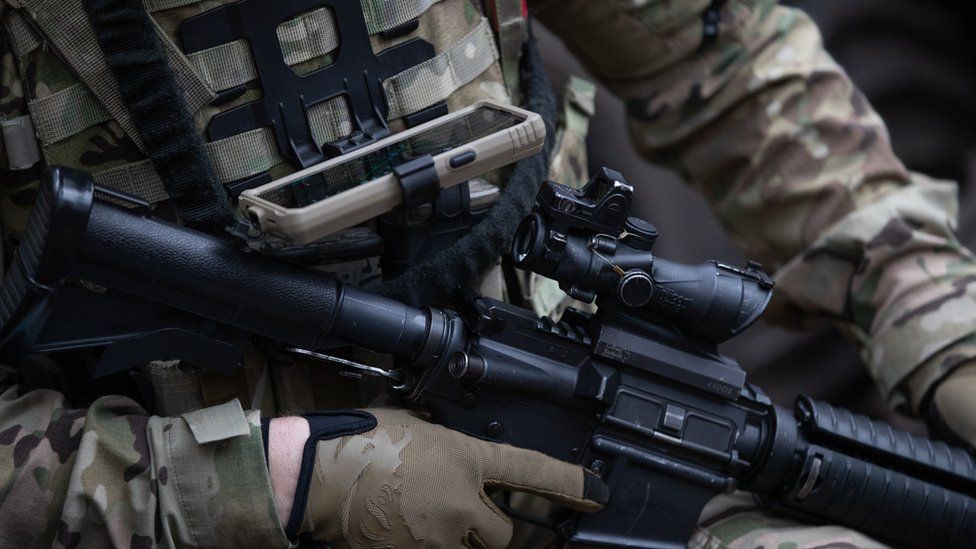 The size of the Army is to be reduced to 72,500 soldiers by 2025 as part of a move towards drones and cyber warfare.
Defence Secretary Ben Wallace said "increased deployability and technological advantage" meant greater effect could be delivered by fewer people.
He set out plans for new capabilities such as electronic warfare and drones in the Commons.
Labour has warned that "size matters" when it comes to defence.
Announcing a major overhaul of the armed forces, Mr Wallace said it marked a shift from "mass mobilisation to information age speed", insisting they must be able to "seek out and understand" new threats to the country's security.
He said the government was increasing the UK defence spending by £24bn over the next four years.
Mr Wallace said it was tempting to use the "shield of sentimentality" to protect "outdated capabilities" but doing so would put lives at risk.
The Army currently has 76,500 personnel and has not been at its "established strength" of 82,000 troops since the middle of the last decade, Mr Wallace said.
"These changes will not require redundancies and we wish to build on the work already done on utilising our reserves to make sure the whole force is better integrated and more productive," he said.
Shadow defence secretary John Healey warned that while "threats to Britain are increasing" the plan was for "fewer troops, fewer ships, fewer planes, over the next few years".
A cut to the size of the Army had been anticipated - with a reduction of 10,000 widely trailed.
What Defence Secretary Ben Wallace announced was a cut to the target for the number of fully trained people in the Army, from 82,040 today to 72,500 in 2025.
"Full-time trained strength" is the number of soldiers who have completed both their general, basic training and a second phase of specialised training for a specific role.
But the Army is not currently meeting its target - there are actually 76,350 such soldiers in the Army, which is almost 6,000 short.
So the Ministry of Defence is already well on the way to getting down to its new target.
The changes set out in the paper - titled Defence in a Competitive Age - include £3bn for new vehicles, long-range rocket systems, drones, electronic warfare and cyber capabilities.
It sets out how forces will spend more time overseas to support allies and deter hostile powers, such as Russia.
Mr Wallace said previous reviews had been "overambitious and underfunded leaving forces that were overstretched and underequipped".
The size of the Army will be at its smallest since 1714 - with just 72,500 regular soldiers.
The number of tanks will be cut from 227 to 148 upgraded ones. The RAF will lose 24 of its older Typhoon jets and its fleet of Hercules transport aircraft. And the Royal Navy will be retiring two of its older frigates early before new ones come into service.
All this while the government says the threats are rising.
There will certainly be some pain before the armed forces experience the gains of extra investment. But there will be more money to invest in new technologies like robots and drones - and to compete in the domains of space and cyber.
The defence secretary, Ben Wallace, told MPs that his plans would equip the armed forces to fight the wars of the future.
They may be very different to what we saw in Iraq and Afghanistan. Small teams of troops will be sent all over the world to train and assist partner nations with the focus on conflict prevention.
British forces should be better able to counter cyber attacks and disinformation - the new front line of the so called "greyzone" now being exploited by Russia and China.
But defence chiefs still insist that a smaller armed forces would be able to pack a punch in any serious conflict.
The armed forces are being asked to match the government's "Global Britain" ambitions. But opposition parties, and some allies, question whether Britain's military can really do more with less.
As part of the military restructure, the Royal Marines will be transformed into a new Future Commando Force, taking on many of the traditional tasks of the special forces - the SAS and SBS (Special Air Service and Special Boat Service).
The force will receive more than £200m of direct investment over the next decade to carry out maritime security operations and to "pre-empt and deter sub-threshold activity, and counter state threats".
Space is another area of investment with the Ministry of Defence to prioritise more than £6.6bn for research and development over the next four years.
Numerous aging RAF planes will be retired, as will the oldest Chinook helicopters, while Navy frigates and destroyers drop from 19 to 17 in the coming years.
A third of the 227 Challenger tanks will be scrapped, with the rest of the fleet being upgraded at a cost of £1.3bn.
Among other changes announced:
the Army will reorganise into seven brigade combat teams
a newly formed Security Force Assistance Brigade will provide skills to build capacity of partner nations
a £2bn investment in the Future Combat Air System over the next four years
£1.5bn to be invested over the next decade to build a "digital backbone" to share and exploit vast amounts of data
the creation of the National Cyber Force based in the North West of England
Conservative chairman of the Commons Defence Select Committee Tobias Ellwood congratulated Mr Wallace for investments in "cyber and autonomous platforms" but warned that they came at a "huge price to our conventional defence posture with dramatic cuts to our troop numbers, tanks, armoured fighting vehicles".
As part of that review, the government increased the cap on UK nuclear warheads from 180 to 260.
Boris Johnson spoke to Nato secretary general Jens Stoltenberg ahead of the announcement and gave reassurances that increased investment would take the UK's total defence spending to 2.2% of GDP - above the Nato target, a Downing Street spokeswoman said.