Coronavirus: Protests should be allowed during lockdown, say 60 MPs and peers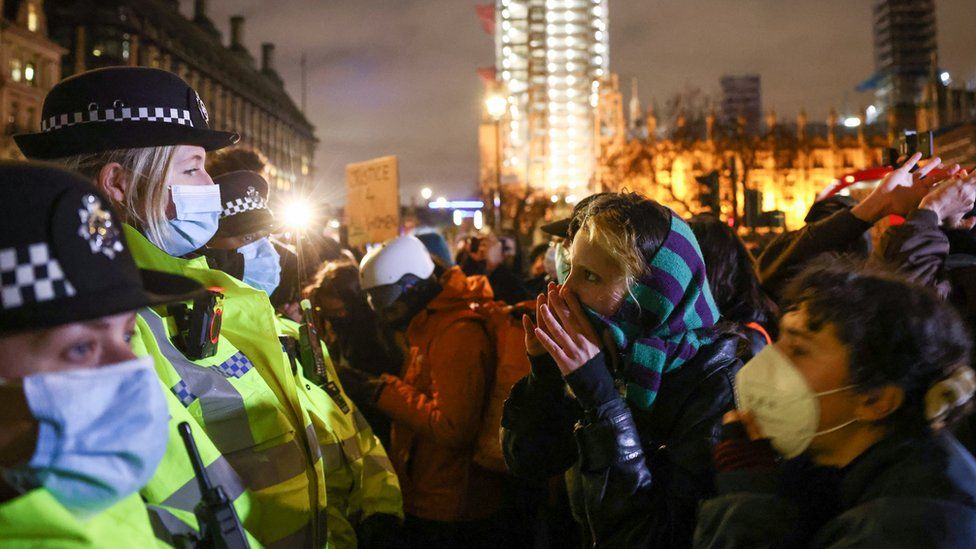 More than 60 MPs and peers have written to the home secretary calling for a change in Covid-19 legislation to allow protests to happen during lockdown.
The letter, organised by campaign groups Liberty and Big Brother Watch, says there is a human right to protest.
Under England's current lockdown regulations, protests are not listed as a "reasonable excuse" for leaving home.
It comes as further protests are planned for Saturday by anti-lockdown campaigners.
The Home Office said it was still illegal for people to attend protests at a time when regulations that are in place to prevent wide transmission of Covid require people to stay at home at all times, except for a limited number of exceptions.
A day earlier, campaigners attempted, without success, to persuade the High Court that the vigil should be exempt from the coronavirus regulations.
The judge hearing the case decided not to intervene but did suggest that the human rights of expression and gathering might be considered reasonable excuses in some circumstances.
The letter to Ms Patel was signed by several Conservative MPs - including Steve Baker, and Sir Christopher Chope - as well as Liberal Democrat leader Sir Ed Davey and a number of Labour MPs and peers.
It demands that the home secretary issue guidance to police forces on "facilitating" protests to clear up the legal confusion surrounding the issue.
It calls on Ms Patel to act in order to avoid a situation where organisers and the police have to "decipher precisely what is required".
"The absence of clear guidance on these issues has created an entirely unsatisfactory situation, which has persisted to varying degrees for almost a year now," the letter says.
"The police have no legal certainty as to their duties and powers, protestors have no legal certainty as to their rights, and there is inconsistent application of the Regulations across the country. This cannot continue," the letter adds.
In response, the Home Office maintained its position that it would be illegal to to leave home without a reasonable excuse until coronavirus rules change on 29 March.
It added: "While we are still in a pandemic we continue to urge people to avoid mass gatherings, in line with wider coronavirus restrictions."
Reacting to reports of more protests planned this weekend, the Metropolitan Police said a "significant policing operation" would be in place throughout the day to "engage" with people who are in breach of the regulations.
It added: "Those gathering will be encouraged to return home. If they do not they face necessary and proportionate enforcement action. This could be a fixed penalty notice or arrest."
The legal confusion grew following last week's Court of Appeal case - during which the force appeared to accept that it did not have a policy of blanket bans on protests, because that would breach human rights.
However, when those attending the vigil in memory of the 33-year-old marketing executive surrounded a bandstand on Clapham Common, a decision was taken to attempt to remove them.
There were confrontations with the police and arrests were made.
Silkie Carlo, the director of Big Brother Watch, said: "The harrowing scenes of police officers using force against women at Clapham Common recently were avoidable and wrong. Over the past week, many more demonstrators and even legal observers have been arrested or fined.
"This stain on our democracy is a direct consequence of this government's disrespect for the most basic of British democratic freedoms."
Sam Grant from Liberty said: "Last week, the police conceded protest is not banned under the lockdown regulations, but used them to threaten then arrest demonstrators anyway.
"The home secretary must immediately issue guidance to all police forces to ensure socially distanced protests can go ahead and create an explicit exemption for protest in the current regulations."