Covid-19: Have a million people left the UK?
By David Brown
BBC News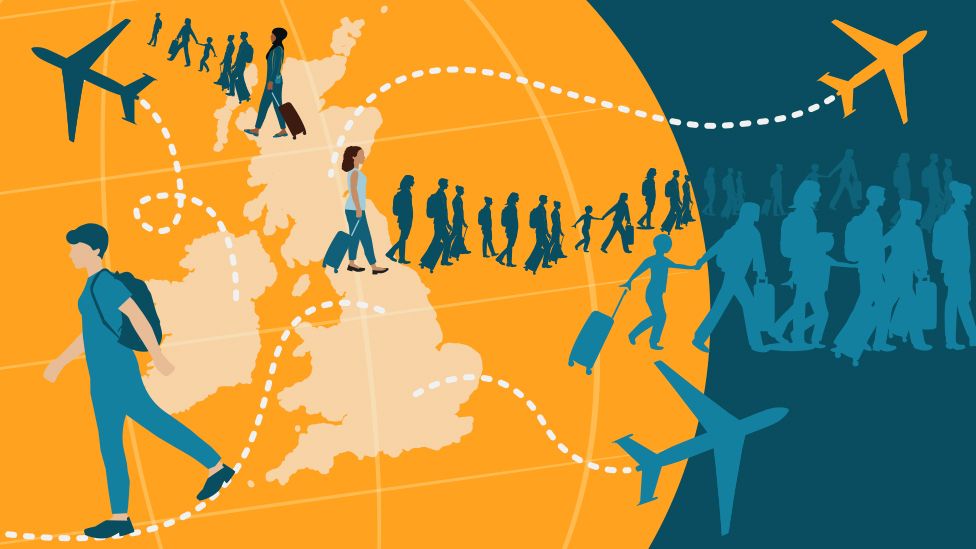 The number of people living in the UK could have fallen significantly during the Covid-19 pandemic.
One study suggested 1.3 million foreign-born people may have left the country between 2019 and 2020.
The report, by the Economic Statistics Centre of Excellence (ESCOE), was followed by a similar study from University of Oxford, which suggested that between about 400,000 and 600,000 people had departed.
Younger working-age people in their 20s and 30s had left in the greatest numbers, according to the Oxford report.
It's thought that many had been working in pubs, cafes and restaurants when Covid-19 struck.
But researchers behind both projects caution there is huge uncertainty about their estimates.
The gathering of the normal information used to calculate official population estimates has been seriously disrupted by the pandemic.
The Office for National Statistics normally works out how many people are leaving the country by talking to a sample of travellers at places like airports, but stopped doing that in March last year.
There are other useful sources of information like surveys, which are used to estimate what proportion of the workforce or population comes from abroad.
But they're not designed to measure migration, and researchers freely admit that all the sources have big limitations.
The total population has "probably" gone down, says Madeleine Sumption, of University of Oxford's Migration Observatory.
But, she hedges, it's "just about possible" that it hasn't.
Both her study and the research by ESCOE compared the period July to September 2019 with the same period in 2020.
How many foreign-born people have gone?
The lowest estimates of the fall in the foreign-born population, are about 400,000. And that figure assumes that the UK population has continued to grow at pre-pandemic rates, despite nearly 60,000 extra deaths by last summer and fewer and fewer foreign-born people showing up in surveys.
"Given that other estimates, based on more realistic assumptions are considerably higher, a figure of 500,000 is not unreasonable," says BBC News head of statistics Robert Cuffe.
A figure of 500,000 is roughly equivalent to the population of Leeds.
The researchers behind the higher estimate of 1.3 million say that it's an "illustrative calculation", and that it's very unlikely that the real number is any higher.
A figure of 1.3 million is larger than the population of Birmingham.
Many young workers have gone
Analysis by University of Oxford suggests that younger working-age people left in the greatest numbers.
That is to be expected, researchers say, as younger people tend to be less settled and have fewer dependents.
It's possible that about a fifth of all foreign-born people in their 20s left the UK.
But all the experts emphasise that the figures are estimates only, and some researchers argue that changes in the way that information is being gathered may be further distorting the calculations.
Swapping face-to-face conversations with surveying by telephone in the Labour Force Survey (LFS), may make it less likely that migrants without English as a first language will respond.
It's hard, they say, even to be confident about basic information like the overall size of the UK population, until the results of the census are published next year.
What's happened in London?
Studies suggest that London saw the biggest falls in the share of the foreign-born population.
This could be because London has so many jobs in hospitality, travel and tourism - sectors which were hit hard by the Covid-19 outbreak.
Some of the change could be temporary, of course.
Large numbers of people may return, particularly if the UK economy picks up as the pandemic recedes.
But, "the longer that people stay away, the less likely it is that they will return," says Ms Sumption.
A clearer population picture should emerge from the results of the census, but as it is conducted only every 10 years, it won't tell us about changes between 2019 and 2020.
Other data from tax records, pensions and visas may help the ONS and others to update their estimates. The ONS says that new figures will be published soon.
But it may well be that we will never know for certain how many people left when Covid-19 arrived in the UK.