Brazil variant: Search for mystery case narrows to 379 households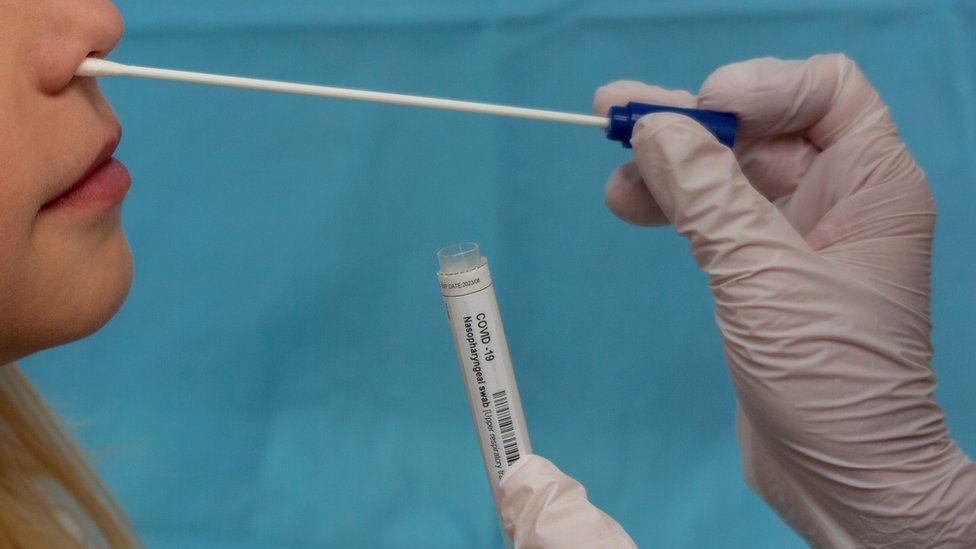 The search for an individual infected with the Covid variant first found in Brazil has narrowed to 379 households in south-east England, Health Secretary Matt Hancock has said.
He said the batch of home testing kits in question had been identified and each household was being contacted.
It is one of six cases of the P.1 variant found in the UK in February.
Mr Hancock told MPs the UK's current vaccines had not yet been tested against this variant.
But work is already under way to tweak the vaccines to make them a better match for some of these new "variants of concern".
Updated vaccines could be ready within months, enabling people to get a booster shot in the autumn.
Preliminary data from Manaus - the Amazonian city hit hard by the P.1 variant - suggest it is more contagious and may evade immunity provided by past Covid infection.
This raises questions about how well current vaccines, which were designed around earlier versions of the virus, might work.
Mr Hancock said the variant had caused "significant challenges" in Brazil.
He added: "We're doing all we can to stop the spread of this new variant in the UK, to analyse its effects, and to develop an updated vaccine that works on all these variants of concern and protect the progress that we've made as a nation."
The search comes as the UK recorded 6,391 new coronavirus cases, down 33% on last Tuesday.
The number of daily deaths reported has also fallen to 343 deaths within 28 days of a positive test, down 60% on last week.
Meanwhile, Mr Hancock said the government was "on track" to meet its target of offering a vaccine to everyone in the top nine priority groups, including all over-50s and those with underlying health conditions, by 15 April and all adults by the end of July.
"Although the day-to-day figures of supply are lumpy, we have some bumper weeks ahead later this month," he added.
It almost went unnoticed with all the focus on the Brazil variant, but during his statement to the House of Commons Mr Hancock made an uncharacteristically confident prediction about vaccine supply.
He said there are some "bumper" weeks to come. It contrasts with the policy to date, which has been to not talk about supply or, when pushed, to keep referring to it as lumpy.
So why the change of tack? It is mainly related to production at AstraZeneca's two UK plants which are now both fully up-to-speed.
It could mean around four million doses a week could be given in the second half March - compared to between two and three million in recent weeks. Soon after that supplies of a third vaccine, Moderna, may start arriving in the country.
Ministers often refer to the programme as a race - the vaccine against the virus. Well, if that's the case, the vaccination programme could soon be at full throttle.
The person infected with the variant who has not been traced used a home testing kit but did not complete their contact details, Mr Hancock said.
"Incidents like this are rare and only occur in around 0.1% of tests," he added.
News of the mystery case prompted an appeal for anyone without a result from a test on 12 or 13 February to come forward immediately by calling 119.
The case is not linked to five other cases of the Brazil variant in the UK and Mr Hancock said all these individuals quarantined at home as they were legally required to.
Two of the cases are from the same household in South Gloucestershire. They tested positive after someone returned from Brazil on 10 February - five days before the government's hotel quarantine rule came into force for arrivals high-risk countries.
Mr Hancock said testing and sequencing in South Gloucestershire was being stepped up "as a precaution" and there was "no information to suggest the variant has spread further".
Two other people in the same household have also since tested positive for Covid - but tests are still ongoing to check if it is the same variant.
PHE has said officials are tracking down passengers who were on the same flight - from Sao Paulo to Heathrow, via Zurich - as the two South Gloucestershire cases.
A BBC reporter, Juliana Gragnani, was on another flight arriving at Heathrow from Brazil around the same time on 10 February.
She said on Tuesday she had been has been sent a Covid test kit, along with other passengers on her flight.
"After quarantining for more than two weeks, just to make sure, this afternoon I got a call from Test and Trace," she said. "They're sending me a Covid kit and said this is being done with all passengers in my flight - AF1580.
"They also asked if I had taken a test after arriving in England."
Labour's shadow health secretary Jonathan Ashworth said tougher border controls should have been in place sooner.
He asked: "How on earth can a test be processed that doesn't collect the contact details and what mechanisms will be put in place to fix this in the future?"
The other three cases are Scottish residents who flew to Aberdeen from Brazil via Paris and London, the Scottish government said.
Health Secretary Jeane Freeman said there was no reason to believe the variant is in circulation in Scotland.
However, she urged all those who were on board the BA1312 flight from Heathrow to Aberdeen on 29 January to contact the NHS National Contact Tracing Centre, because the correct details were not available for all passengers.