Terror suspect jailed after going on the run
By Daniel De Simone
BBC News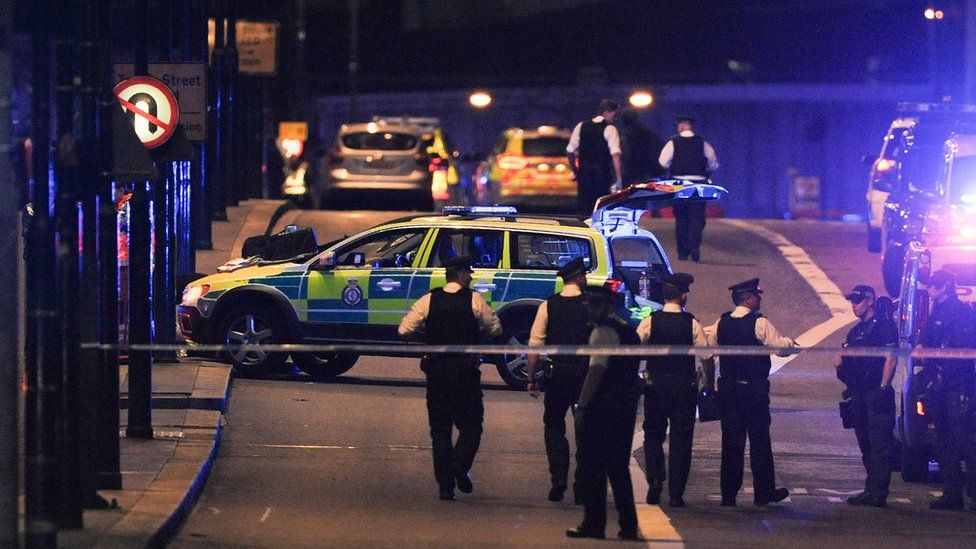 A terror suspect who caused nine hours tailbacks at British ports after absconding has been jailed for breaking counter terrorism rules.
The man, who cannot be named for legal reasons, is a senior member of the banned group al-Muhajiroun.
He triggered a manhunt in September after cutting off an electronic monitoring tag and fleeing his home.
Judge Anthony Leonard QC said the actions had caused "significant disruption for legitimate travellers".
TPIM notices allow the authorities to monitor and control people considered to be terrorists - but who are not facing criminal charges.
Subjects face measures including being made to wear an electronic tag, curfews, relocation, bans on internet use, and limits on who they can meet and where they can go.
A TPIM can currently be imposed on a person for a maximum of two years.
Ministers are seeking to lower the standard of proof needed to impose a TPIM.
Three people were the subject of TPIMs in the last official figures.
Prosecutor Kate Wilkinson said that, on 15 September last year, the man - known only as LF for legal reasons - cut off his tag, burned documents, ordered a taxi to London, and left his home at 01:00 BST.
He was arrested in central London around 36 hours later having arranged to hand himself in.
Ms Wilkinson said the manhunt for LF resulted in Operation Stack being introduced - a traffic management procedure that involves lorries departing from Dover being parked on motorways - and checks at UK ports generated "nine hours tailbacks" for travellers.
She said the operation took place to ensure "that he could be found and not leave the jurisdiction".
The court heard that prosecutors accepted that LF's actions in absconding did not have a terrorist motive.
Catherine Oborne, defending, said her client had no plan during his "short-lived" flight.
The barrister said he had spent the night in the "open air" in London, and that he has experienced "better mental health" since being remanded in custody because he is less socially isolated or worried about breaching his TPIM measures.
The pair were the first people to be made the subject of a TPIM for the second time.
LF is a leading radicaliser in al-Muhajiroun, an outlawed organisation that has been linked to multiple attacks and plots, including Westminster Bridge, Fishmongers' Hall, and the murder of Fusilier Lee Rigby.
He was an associate of Khurum Butt, the ringleader of the London Bridge attackers who murdered eight people in June 2017.
In 2019 LF was convicted of breaching his first TPIM, but was handed a suspended sentence by a judge at Kingston Crown Court.
A breach of this suspended sentence added 10 months prison time to the one imposed today.
Following the 2019 court case, he continued to engage with other al-Muhajiroun members. He was subsequently placed under the new TPIM in November that year after he was found to be involved in fresh "terrorist related activity", including encouraging terrorism by saying that attacks are permissible.