Climate Change: Government may review road-building policy
By Roger Harrabin
BBC environment analyst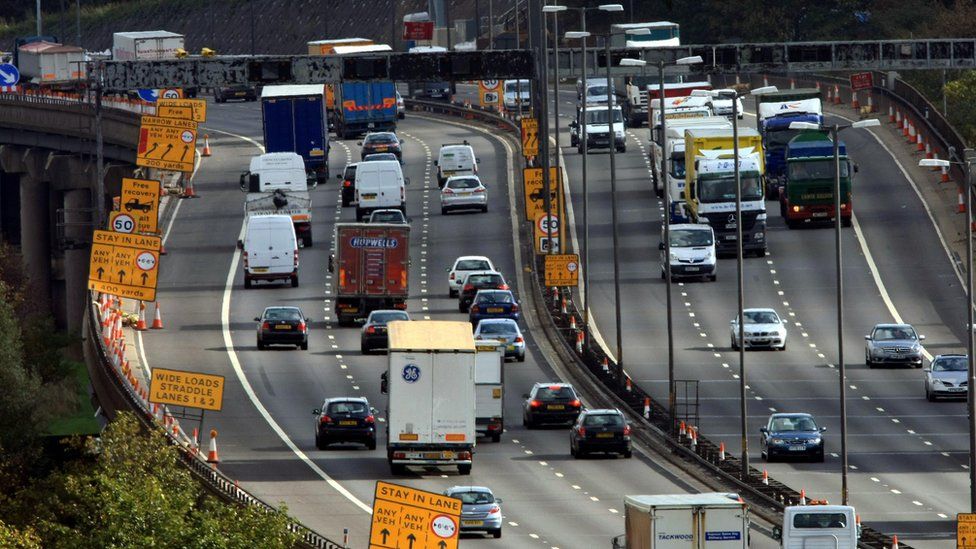 The government may review its road-building policy in England following a legal challenge from environmentalists.
Green campaigners argue that the policy does not fit with the UK's climate change targets.
The case is being debated between lawyers for the government and the campaigners.
It could lead to a revision of the roads policy which underpins the government's controversial £27bn highways programme.
The BBC has learned that lawyers for Transport Secretary Grant Shapps have asked in a letter for more time to decide if he is willing to review the roads policy on environmental grounds.
'First chink in the armour'
It may appear a small move, but the campaigners say it is the first time Mr Shapps has wavered from his insistence that the roads programme is definitely compatible with up-to-date climate change targets.
Chris Todd, from the Transport Action Network (TAN), which is pursuing the case, said: "This is the first chink in the armour in terms of Grant Shapps accepting he may have to review his approach to roads and climate change."
A Department for Transport spokeswoman said civil servants were examining the fine detail of the roads policy before the legal challenge from TAN.
She said: "The advice to the transport secretary set out that the criteria for a review of the National Networks National Policy Statement had not been fully met. We are unable to comment further due to ongoing legal proceedings."
It is the latest legal battle by environmentalists challenging government infrastructure policy in the light of the decision in 2019 that the whole economy must move towards almost zero emissions by 2050.
Plans for many road schemes precede the upgraded emissions targets and environmentalists say the continued expansion of transport infrastructure from roads and HS2 will make climate targets impossible to achieve.
That is partly because of the extra traffic the roads will induce and partly because of the emissions from the steel, tarmac and cement used to build new transport capacity.
The government says vehicle emissions per mile will fall as zero-emissions cars take over Britain's roads.
A DfT spokesman told the Guardian that £12bn of its £27.4bn spending plans will upgrade rather than simply enlarge the road network and, combined with decarbonisation of vehicles and greener construction, the plans are consistent with the government's net zero aspirations.
What's more, a major element of air pollution has been identified as particulates from tyres, which would be worsened by more traffic even with a transition to electric fleets.
The government said the consultants' figures were completely wrong.
Mr Todd said: "It's unheard of for the Planning Inspectorate to recommend withholding consent on so many road schemes. The road schemes being proposed by Highways England are clearly inadequate."