Daniel Kinahan says drug gang claims a 'campaign' against him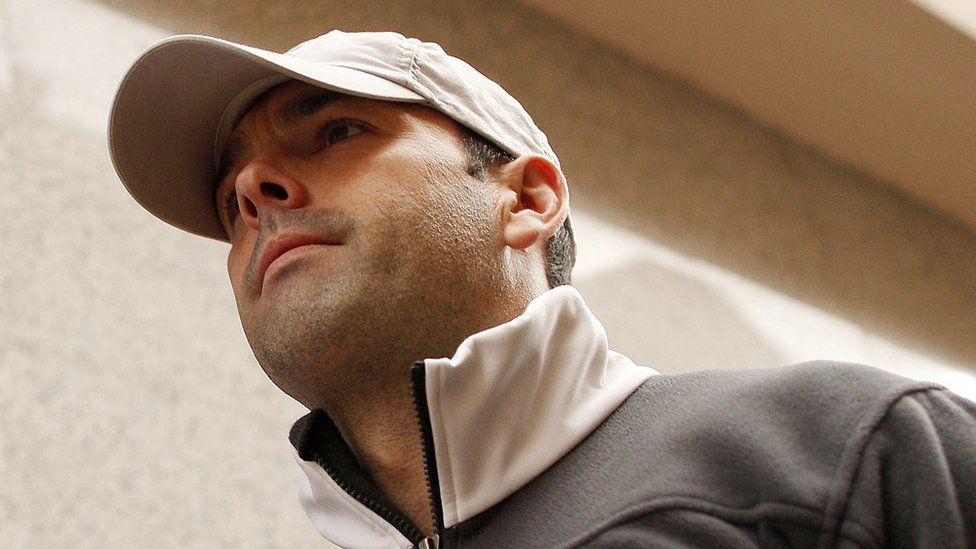 A suspected crime boss has confirmed he is still involved in "planning multiple world title fights" in boxing.
Daniel Kinahan insisted that allegations of criminality are part of "a campaign" against him.
His continued involvement at the top of the sport was revealed last week by BBC One's Panorama, leading to calls for tighter regulation.
Mr Kinahan has no criminal convictions, but was named in Irish courts as the head of a prominent drug cartel.
The suspected gangster helped set up boxing management business MTK Global - but it was announced last year he was stepping away from the sport.
However, the company told Panorama that he still advises some of its boxers, and Mr Kinahan himself has now issued his own statement, telling Talksport that he was innocent, and that he continued to work at the very top of the sport.
"I have dedicated myself to my work in boxing for over 15 years. I am proud to say today that I have helped organise over a dozen major world title fights," Mr Kinahan said.
"I continue to be involved in planning multiple record-breaking and exciting world title fights."
Mr Kinahan said he believed that his success in the world of boxing "has led to an increase in the campaign against me".
"I am not a part of a criminal gang or any conspiracy. I have no convictions," he said.
Mr Kinahan's role in world boxing caused an outcry in June last year when it emerged he had been working as a personal adviser to world heavyweight champion Tyson Fury ahead of a much-anticipated £200m mega-fight later this year with fellow British champion Anthony Joshua.
Panorama asked Fury whether Mr Kinahan was still his personal adviser, but he did not respond.
The BBC team that produced the programme has received an unspecified threat from unnamed criminal elements since it was broadcast, but Mr Kinahan has denied being involved.
"Last week it was inferred that I had threatened a reporter. I have full respect for journalism. I have worked with journalists and I value their role," he said in his statement.
"I have never threatened a reporter or journalist or asked anyone to do that for me. I never have and I never would."
Last week Culture Secretary Oliver Dowden told the BBC that the film had raised "very worrying allegations".
The British Boxing Board of Control has said it is powerless to stop Kinahan advising boxers as it does not regulate such roles and he is not licensed with them.
Eddie Hearn - who promotes Joshua - said he anticipated "no impact" on the fight with Fury, and insisted that no sponsors or broadcasters had expressed concern to him since the programme was aired. Last year, the Irish government called on broadcasters to boycott the planned world title fights.
Lawyers for MTK Global told Panorama that while Mr Kinahan "provides some personal advice to a number of boxers managed by MTK Global", he had never owned, controlled or been an employee of the company.
Mr Kinahan's lawyers also told the programme he has no criminal convictions and the allegations about him running a violent cartel are false and have no evidential basis.
"He is proud of his record in boxing to date. He has operated on the basis of honesty and with a commitment to putting fighters' needs first," they said.
"Mr Kinahan is a successful and independent adviser in the boxing industry in his own right. It is a matter of public record that he has exited the business of MTK."