Dentistry: NHS patients 'asked to pay for private care'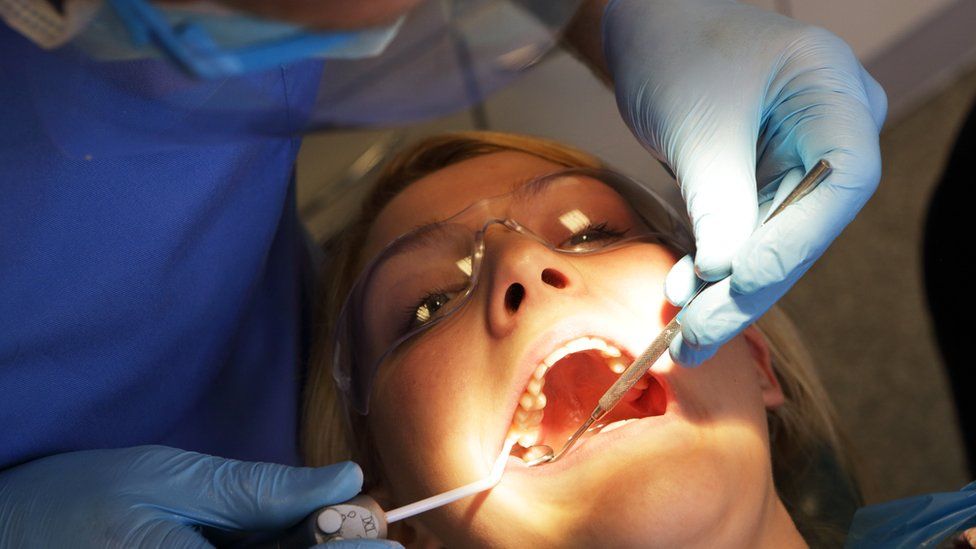 Some NHS dental patients have been asked to pay for private care "if they want any treatment", according to a watchdog.
Others are facing waits of up to two years for an NHS appointment, Healthwatch England has warned.
One patient was in so much pain he decided to extract his own teeth, said its chairman Sir Robert Francis.
The NHS said over 650 urgent dental hubs have been set up so patients can access a dentist.
Hundreds of people contacted Healthwatch England between October and December last year complaining about dentistry issues.
A briefing document from the watchdog said that "a lack of NHS dentist appointments" remains the most common issue - with people asked to wait for up to two years.
The paper also said that patients have "indicated that dentists have prioritised private care or asked them to pay private fees if they wanted any treatment".
One patient was offered a procedure for £1,700 which was £60 on the NHS, according to the document.
Another was told to use a nail file to deal with a broken tooth, and others were advised to "buy dental repair kits and treat themselves".
Claire Westwood, from Grange-over-Sands in Cumbria, was prescribed antibiotics for a tooth infection after seeing her local dentist.
She went back afterwards as she was still in pain and was told by the surgery she would need root canal treatment.
"The cost of this would be over £900 and I wouldn't be able to get it as a NHS patient due to the fact they're no longer accepting them and there would be a waiting list," Ms Westwood told Radio 4's Today programme.
"It's very worrying and frustrating that I don't know where to go forward form here. It will only get worse again if it's not treated soon and the only option to have it treated soon is to pay privately."
The industry has been badly affected by the coronavirus pandemic after being forced to shut for several weeks during lockdown last year - which has led to huge backlogs.
Social distancing, infection control and personal protective equipment has also meant that dentists have not been able to see as many patients as they used to.
Sir Robert said the issues highlighted by Healthwatch England show how the coronavirus pandemic has "exacerbated the human impact of years of structural issues in NHS dentistry and is now pushing it to crisis point".
Dentists have been ordered to reach 45% of their pre-pandemic levels - but they have raised concerns about seeing further patients given the recent spike in Covid infections.
Healthwatch England has called on the government, the NHS and the dental profession to work with patients to fix systemic issues in dental care.
"All efforts should be made to treat those in need of urgent care and provide more accurate and up-to-date information to help people find and access NHS dental care," said Sir Robert.
"In the longer term, the Department of Health and Social Care must prioritise the importance of oral health and commit to improving access to dentistry for everyone who needs it."
Shawn Charlwood, chair of the British Dental Association's General Dental Practice Committee, said the government was "forcing dentists to prioritise volume over need by imposing inappropriate targets".
"We need government to adopt a pragmatic approach, which keeps practices afloat and ensures those who need dental care the most can secure it."
A Department of Health and Social Care spokesperson said it was working closely with the NHS to increase access to dentistry services "as fast as possible, while protecting staff and patients from Covid-19 infection".
An NHS spokeswoman said: "It's right that the NHS has set targets that help patients see their dentist, with many practices already going well beyond the target set.
"Despite the pandemic, millions of people received dental treatment last year and the NHS has set up over 650 urgent dental hubs so patients can get access to a dentist if they need it."