Covid: 'Not practical' to close UK borders, says Boris Johnson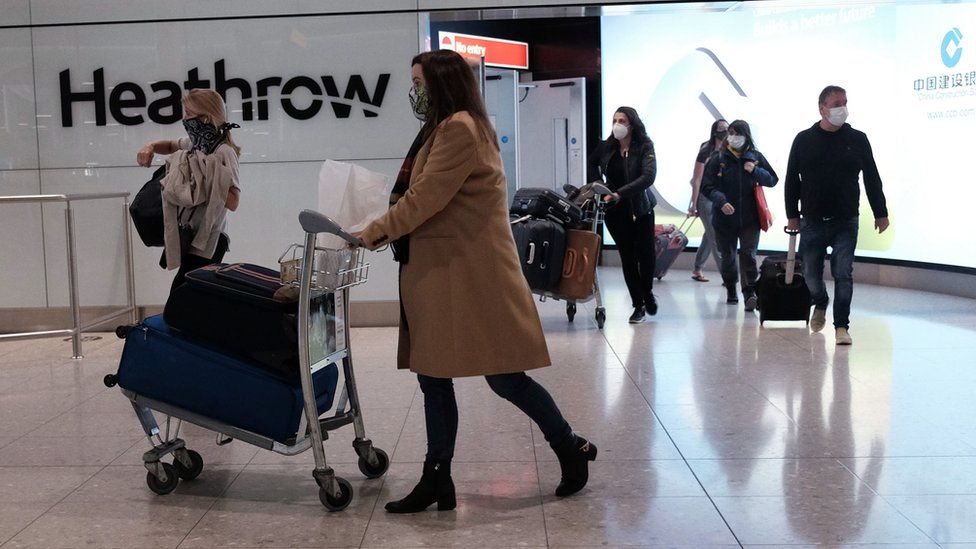 It is "not practical" to completely close the UK's borders given the amount of medicines and food imported into the country, the prime minister has said.
Labour leader Sir Keir Starmer called for tougher restrictions to prevent new coronavirus variants entering the UK.
Boris Johnson said the government had already tightened travel restrictions to reduce the spread of the virus.
He said it would be going ahead with its plan for quarantine hotels for people arriving from Covid hotspots.
It is not yet clear when the scheme - announced a week ago - will start or when there will be further details.
Speaking during Prime Minister's Questions, Sir Keir said government scientists had recommended "a complete pre-emptive closure of borders".
In response, Mr Johnson said: "Actually, Sage (the Scientific Advisory Group on Emergencies) did not recommend a complete ban and they say travel bans should not be relied upon to stop the importation of new variants.
"But we do have one of the toughest regimes in the world."
The government also announced plans to make people quarantine in government-sanctioned hotels when arriving in the UK from certain "high risk" countries, where new coronavirus variants have been identified.
The prime minister said at Wednesday evening's Downing Street briefing that Health Secretary Matt Hancock would make a statement on Thursday to give further details, although No 10 later clarified to say this was not happening.
Labour chairwoman of the Commons Home Affairs Select Committee Yvette Cooper tweeted in response: "Oh for heaven's sake. Who is in charge of this borders policy? When will we get details? Does anyone have a grip?"
The UK has placed 33 high-risk countries on a so-called "red list", including most of South America, southern Africa and Portugal.
Sir Keir said the government's new border arrangements were "still weeks away" from being introduced and would only affect direct flights from some countries.
He asked whether the prime minister was saying that "quarantining all arrivals would make no difference to fighting new variants of the virus", or that it was "too difficult to do it".
Mr Johnson responded by saying that 75% of the UK's medicines come into the country from the European mainland, 45% of food, while 250,000 businesses rely on imports.
"It is not practical to completely close off this country as he seems to be suggesting," he said.
Introducing quarantine hotels is a logistical challenge.
The government needs to make sure hotels are ready. That doesn't just mean securing enough rooms and making sure all the guests can have meals delivered, but also coming up with policies around things like security if a guest tries to leave early.
The government could use existing guidelines written up by countries such as New Zealand as a template.
Airlines and airports also have questions about how this will work and some areas are complicated. For instance, the policy currently only applies to arrivals from 33 countries - all of whom will arrive on indirect flights.
Should airlines separate passengers from low and high-risk countries onboard?
But the policy also requires compliance from passengers. If passengers split their tickets and don't declare they've been in one of the 33 high-risk countries, how will the government keep track?
There are plenty of questions from all quarters about how to make this policy effective.
Transport Secretary Grant Shapps also defended the government's decision not to extend the hotel quarantine policy to arrivals from all countries.
He told the Commons Transport Committee: "The idea that the UK could completely batten down its hatches and remain battened down for a year is mistaken. But also the evidence that that is the only thing you need to do, or primary thing you need to do, is pretty shaky."
Mr Shapps also said the hotel quarantine scheme would not affect many people.
"The 33 countries on the so-called red list do not have direct flights… so the numbers we would expect to see returning would be quite low," he said.