Covid: Number of patients on ventilators passes 4,000 for first time
By Mary O'Connor & John Hand
BBC News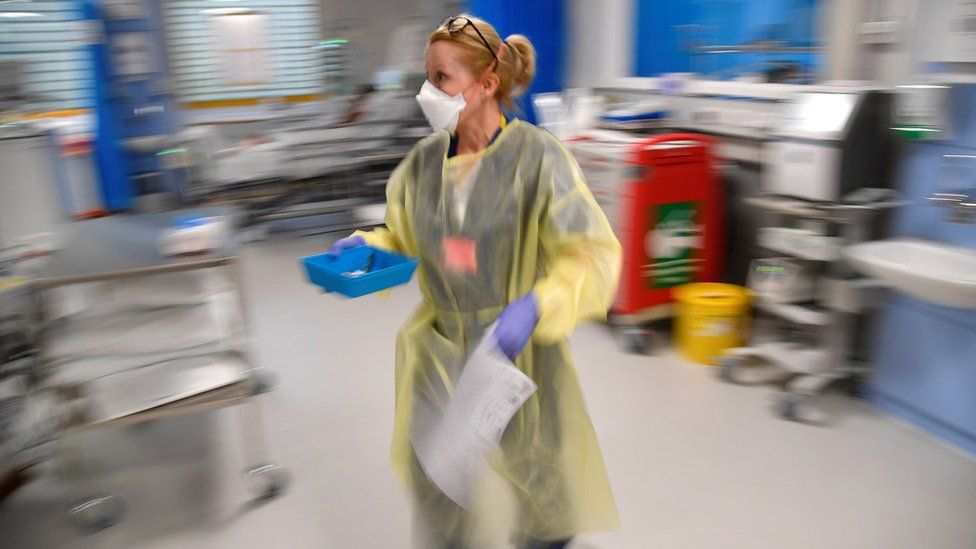 The number of coronavirus patients on mechanical ventilation in the UK has passed 4,000 for the first time in the pandemic.
That is higher than during the first wave, when the peak was 3,301 on 12 April.
It comes as another 1,348 deaths and 33,552 new infections were reported on Saturday.
The UK's chief scientific adviser, Sir Patrick Vallance, told a Downing Street news briefing on Friday: "The death rate's awful and it's going to stay, I'm afraid, high for a little while before it starts coming down."
About 1 in 10 patients admitted to intensive care are being sent to a different site, according to the body which audits critical care services.
In a series of reports in the past week, the BBC's Clive Myrie has been to a mortuary and the Royal London Hospital, where 12 out of 15 floors are occupied by Covid patients and staff are struggling to cope.
Martin Freeborn's wife Helen, 64, died with Covid-19 at the hospital shortly before he spoke to the BBC.
Mr Freeborn urged people to "be over-careful" in taking precautions to stay safe from the virus because "you don't want this to happen".
"Nobody wants to go through this... Don't end up like us, please," he added.
The number of people in mechanical ventilation beds has climbed every day since 18 December when it was 1,364 and now stands at 4,076.
It is one of the key figures the government considers when deciding its policy on when to ease coronavirus lockdown restrictions.
When the pandemic first struck the UK, the government saw what had happened in hospitals in China and Italy and prioritised the provision of ventilators in British hospitals.
People in hospital are also being treated differently from the early days of the pandemic - which may explain why figures suggest slightly more people go on to recover after being on ventilation than back in March, April and May.
They include the steroid dexamethasone, which has been shown to reduce the risk of death by a third for ventilated patients and by a fifth for those on oxygen. Encouraging results have also been reported from two anti-inflammatory medications, tocilizumab and sarilumab.
Speaking whilst on shift, she told BBC Radio 4's Today programme: "We're maybe at 150% capacity and I know London are much worse than that.
"We've a steady stream of fit, young patients requiring critical care and sadly we're losing some of those patients.
"We lost a patient overnight and I've replaced them with a patient of similar age.
"It's heartbreaking - and it's been going on for weeks and weeks and we haven't seen any kind of stop yet."
Dr Jones said the average Covid patient stays in hospital between two to four weeks "and it really puts them through it".
She added: "You really want people who are going to be able to survive that three or four weeks and actually come out the other end and make a good recovery.
"We're not stopping people having care but we're giving it to the people we feel have the best chance of getting through what is a horrific situation we're going to put them through."
Dr Jones said nurses are "broken", both physically, from months of long shifts in personal protective equipment (PPE), and emotionally - partly due to the impact of the virus on them, their families and the community.
Dr Rupert Pearse, consultant in intensive care medicine at a London hospital, speaking on behalf of the Intensive Care Society, told BBC Radio 4's Today programme that a "huge number" of patients were still attending hospital.
He said: "Whilst we know the infection rate has probably now peaked, and we can be hopeful to soon be sure we've hit a hospital admissions peak, admissions to ICU [the intensive care unit] usually lag 48 hours behind that.
"So we're still very very worried that we're being pushed right up to the wire in terms of the resources we're able to deliver for patient care."
Dr Pearse added that there were three or four times more critical care beds in some hospitals than they would usually have.
He said: "I can remember a time when it would take years for an intensive care unit to negotiate one extra bed on a complement of 14 or 15 beds.
"We, within a few weeks, have massively increased the number of beds and finding the staff - most importantly of all - to deliver that has been a huge logistical exercise."
Reacting to the ventilation figures, Dr Charlotte Hopkins, deputy chief medical officer for Barts Health NHS trust in east London, said on Twitter there had been a "fast-paced increase" since 18 December, and that more than a third of the 4,076 ventilated patients were in London.
It comes as some scientists said that signs a new Covid variant is more deadly than the earlier version should not be a "game changer" in the UK's response to the pandemic.
Prime Minister Boris Johnson said on Friday that there was "some evidence" the variant that emerged in the UK may be associated with "a higher degree of mortality".
But Prof Graham Medley, the co-author of the study the PM was referring to, said the variant's deadliness remained an "open" question.
Dr Mike Tildesley, a member of Sage subgroup the Scientific Pandemic Influenza Group on Modelling (Spi-M), said he was "surprised" Mr Johnson had shared the findings when the data was "not particularly strong".
Public Health England medical director Dr Yvonne Doyle said it was "too early" to be "absolutely clear".
"There is some evidence, but it is very early evidence. It is small numbers of cases and it is far too early to say," she told the Today programme.
Up to and including 22 January, 5,861,351 people have now had their first Covid jab and 468,617 have had their second dose.
Senior doctors are calling on England's chief medical officer to cut the gap between the first and second doses of the Pfizer-BioNTech Covid-19 vaccine.
The UK's four chief medical officers have previously defended the delay to the second jab in a letter to medical staff, saying: "unvaccinated people are far more likely to end up severely ill, hospitalised [or] in some cases dying".