Covid vaccine: Priti Patel 'working to get jabs to front-line roles'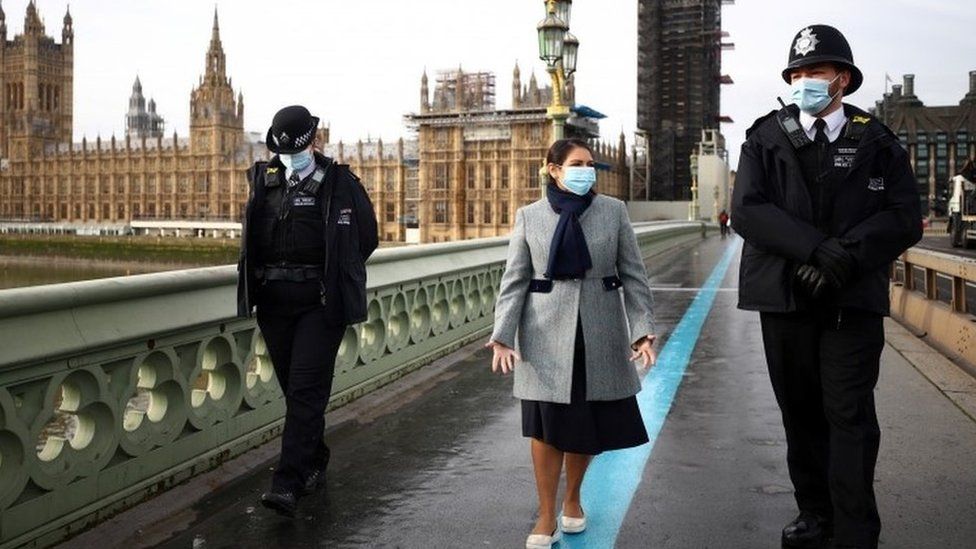 Ministers are working to ensure police and other front-line workers are moved up the priority list for the Covid vaccine, the home secretary has said.
Priti Patel told the BBC there was "a lot of work taking place in government right now" on the issue.
The committee advising the government on vaccines has also said it will consider factors like exposure risk and occupation in the rollout's next phase.
The most vulnerable are being prioritised for the vaccine first.
The government is aiming to offer everyone in the top four priority groups a first dose by mid-February.
Speaking during Prime Minister's Questions, Boris Johnson said the government was "on track" to meet the pledge, however, he said it was "very hard" because of constraints on supply.
Asked whether groups whose work brings them into contact with others, such as police officers, emergency service workers and teachers, should be vaccinated next, the prime minister said the government must rely on advice from the Joint Committee on Vaccination and Immunisation (JCVI).
However, he said the government wanted those groups to be vaccinated "as soon as possible".
Ms Patel, in response to being asked whether she wanted to see police officers "bumped up the queue" for the vaccine, told BBC Radio 4's Today programme: "It's both police, fire and other front-line workers. And the health secretary and I are working to absolutely try and make that happen.
"This isn't just something we are thinking about. There is a lot of work taking place in government right now.
"If the Joint Committee on Vaccination and Immunisation says that is a possibility, we can make it happen. We have the supply, we have the logistical plans in place, we will absolutely work to make that happen."
Who's in the top four priority groups?
Residents in care homes for older adults and their carers
80-year-olds and over and front-line health and social care workers
75-year-olds and over
70-year-olds and over and clinically extremely vulnerable individuals
Ms Patel added that Health Secretary Matt Hancock was "supporting all our efforts across government on this" and she was talking to police partners, including the National Police Chiefs Council and the Met Police Commissioner, about getting officers "ready to take the vaccine when that comes".
Prof Anthony Harnden, the deputy chair of the JCVI, which advises the government, said phase two of the rollout would continue to work down the priority list through the over-50s.
However, he told BBC Radio 5 live phase two would also concentrate on people who are potentially at risk of being exposed to the virus, such as teachers and police officers, as well as "those that are important to keep the economy running".
"There are a lot of factors in phase two which we'll be looking at in depth," he added.
Questions about who will be next in the priority list for vaccination once the first phase is complete keep coming.
If all goes well with rollout, by the end of April all the over-50s and younger adults with health conditions should have been offered a jab.
But what happens after that has not been decided - and will not be until nearer the time.
Ministers heed the advice of an expert committee, the JCVI, and they want to know more about the effectiveness of vaccine and to what extent it stops transmission - people who have been vaccinated passing on the virus even if they themselves do not fall sick.
If it stops transmissions - known as sterilising immunity - the next phase could involve targeting the vaccine at people who are most likely to spread it.
That could see younger age groups prioritised, for example.
But if the vaccine does not do that the preference, as it is currently, would be to target the vaccine at those most at risk.
Once you get down to the under-50s without health conditions the risk is small. Less than 1% of Covid deaths have been in these age groups.
At such low levels of risk exposure becomes a more crucial factor, which is why there is a logic in targeting key workers like teachers, the police and transport workers.
But phasing vaccination in this way is more complex than simply working through the age groups, and so, in the end, may mean vaccination rollout takes longer overall
There is a fine balance to tread.
Asked when phase two would begin, Prof Harnden said: "We haven't put a timescale on it, but we will be looking at this over the next few weeks."
"One of the really difficult things about this vaccine is we don't know yet whether it prevents transmission," he said.
"If we can show through data that the vaccine does prevent transmission, it's a whole new ball game in terms of who we immunise because of course we may look at groups that actually transmit that virus to others."
It comes after Met Police Commissioner, Dame Cressida Dick, said she was "baffled" about why front-line police officers were not closer to the front of the queue to receive the vaccine.
The Fire Brigades Union said it was "glad" Ms Patel "appears to be listening" to its calls for firefighters to receive priority access to vaccinations.
But it said "vaccines alone will not secure the safety of firefighters and the public" and called for safety measures in fire services to be properly implemented.
The teachers' union NASUWT welcomed support from ministers to prioritise education staff for the vaccine and called for the government to "make good" on their comments.
General secretary Dr Patrick Roach said: "Alongside the need for tougher control measures in schools and colleges, providing education workers with access to vaccines will help to minimise further disruption to children's education and help ensure the safe and sustainable resumption of school and college-based education for all pupils as quickly as possible."
Ms Patel was also asked about why the rollout of the vaccine appeared to be slower this week than last week.
She said Pfizer, which is producing one of the vaccines being used in the UK, was upgrading its factories and changing its supply chains, which would "inevitably have an implication in terms of the actual supply of the vaccine".
More than 4.2 million people in the UK have received their first dose of the coronavirus vaccine so far, including more than half of over-80s and half of elderly care home residents.