Free school meals: Mother's 'sadness' at 'mean' food parcel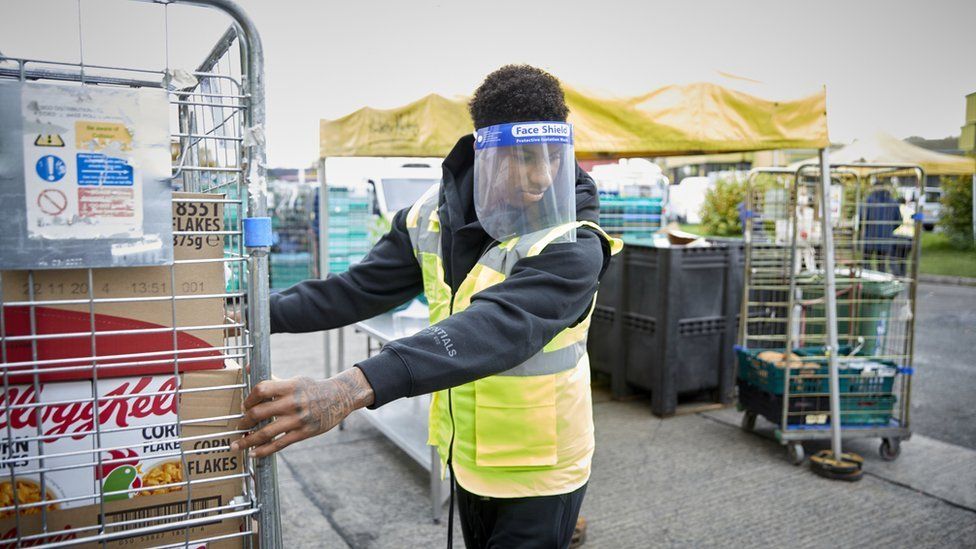 A mother who posted a photo on social media of a food parcel she received has told of the "sense of sadness" she felt on seeing what it contained.
The mother, who wants to be anonymous, told the BBC: "As I unpacked that food parcel... and looked at the contents, it felt very sad and depressing."
Chartwells, the firm which supplied the parcel, has apologised.
The education secretary said schools will be able to offer vouchers rather than food parcels from next week.
Gavin Williamson told the education select committee on Wednesday that he was "absolutely disgusted" by the photo of the food parcel's contents, and that his department had made it clear "this sort of behaviour is just not right [and] will not be tolerated".
He said the government would "support any school that needs to take action" and "name and shame those that are not delivering against the standards" set by the Department for Education.
Labour leader Sir Keir Starmer challenged Boris Johnson on online images of the "disgraceful" food parcels during Wednesday's Prime Minister's Questions (PMQs).
The PM insisted the government had "massively increased the value of what we're providing" in the form of another £170m in the winter grant scheme, £220m for holiday activities and food programme, as well as the rollout of the national voucher scheme.
He expressed his gratitude to the footballer Marcus Rashford - a high-profile campaigner for children on free school meals who shared images of some parcels online - for highlighting the issue.
Speaking to MPs on the Commons Liaison committee on Wednesday afternoon, Mr Johnson said the free school meals pictured online do not reflect government guidance, adding it was a "scandal and a disgrace that some companies are trying to get away with the provision that they're offering".
The PM added that it was the decision of the schools on whether or not to have vouchers or food parcels, saying that about 75% opt for vouchers but that some schools wish to continue to support caterers.
Mr Rashford, who has met with Chartwells and spoke to Mr Johnson earlier, called for a "full major review" of the free school meal system.
In a Twitter thread on Wednesday, Mr Rashford said many vulnerable children had been helped during the pandemic "thanks to the efforts of individuals, businesses, charities, educators, and government".
But he added: "It's 2021. Our eyes are open. Now is the time for a full major review of the Free School Meal system."
Food parcels have been sent to pupils in England who would normally be eligible for free school meals while schools are closed during the coronavirus lockdown.
A row broke out after the mother, using the online name Roadside Mum, posted a photo on Twitter of two carrots, two potatoes, a tin of baked beans and a small range of other food items, which she calculated to have cost about £5. The post prompted others to complain about the quality and quantity of the food they had received in similar parcels.
The mother, who is disabled, had thought it was supposed to last 10 school days and should have been worth £30.
She told BBC Breakfast: "As I unpacked that food parcel in my living room and looked at the contents, it felt very sad and very depressing.
"One of my children came in and saw me laying this out on the floor, and I said I was going to picture it because it didn't look like a lot.
"I could see the child's realisation that this is what I've been given to eat for a week and the sense of sadness.
"Where has the rest of the food gone? This is meant to be a week's food. Why is it so mean?"
Chartwells, the company that provided the parcel, said it was actually only intended to last one school week and had cost £10.50 for food, packing and distribution.
In a further statement posted on Wednesday, the firm, which is owned by Compass group, said it had "fully investigated" its food parcels provision in the last few hours. It apologised for those parcels that did not meet the firm's high standards, and committed to refunding the costs.
It added that from Monday, the lunches would be enhanced to reflect the Department for Education's additional allowance of £3.50 per week per child.
The company has since said that it will add breakfast free of charge into the food parcels from 25 January, and will continue to do so while schools are closed. It will include bread, butter, yoghurts, juice, milk, oats and fruit, it said.
Meanwhile, some parents in London said they received a pot of flour and instructions on how to bake eight bread rolls in a food parcel from Pimlico Academy.
"It's very humiliating," one parent told Politics Home. "Why would you decide for us? Why not give us the money?"
Future Academies, which runs the school, told the BBC it had asked its caterers to improve the quality of its food parcels.
Impact Food Group, the suppliers, said the pot contained "bread mix" and the only extra ingredient needed was water.
The intention was to help parents create "an interactive cooking experience" with their children and to help with some food education at home, he said.
The academy chain has said its own voucher scheme would start on 18 January.
'What am I supposed to do with one potato?'
Rachel Rodgers, a mother of three children aged 14, eight, and five, said she was not "impressed" with the amount of food provided in a parcel for her youngest child.
Rachel, from Essex, says: "I got so much more with the vouchers. I always looked for meat and vegetables on offer at the supermarket, so I made the vouchers stretch even more.
"What am I supposed to do with one potato?"
Rachel, who receives food parcels for her two youngest children and a voucher for her eldest, says it would have been "nice to get a little more" food, adding that "even sandwich meat would have been good".
One mother of three says she was "disappointed" by the contents of food parcels.
The mum, who does not want to be identified, says the food box she received for two of her children at secondary school contained sliced frozen bread "[which] did not stay fresh"; two slices of cheese that [were] "hard and taste disgusting", as well as beans, tinned tomatoes, apples, pasta and potatoes.
She says her youngest child, who is in primary school, received a parcel of five rolls "that were going stale", grated cheese, three packs of crackers, five yoghurts and packs of biscuits.
The mother adds: "It is a good job I already had some cheese and bacon in the fridge, because this is disheartening.
"We have never had support feeding our children through the holidays even when I was young. We need help now."
The initial social media images of food parcels drew widespread criticism.
Anne Longfield, the children's commissioner, called on companies to provide "real food and real amounts that will really help families".
Meanwhile, Dr Max Davie, of the Royal College of Paediatrics and Child Health, said the contents of the food parcels were "not nutritionally sufficient for children and young people".
What does guidance on food parcels say?
Parcels should contain food items rather than pre-prepared meals due to food safety considerations
Minimise the fridge and freezer space that schools and families will need to store foods
Contain items which parents can use to prepare healthy lunches for their child/children across the week
Not rely on parents having additional ingredients at home to prepare meals
Not contain items restricted under the school food standards
Cater for pupils who require special diets, for example, allergies, vegetarians or religious diets - schools should ensure there are systems in place to avoid cross-contamination
Contain appropriate packaging sizes for household use, rather than wholesale sizes
In Wales, the provision of free school meals during the holidays has been extended by a year, and the Northern Ireland Executive made a pledge in November to provide free school meals in holidays until Easter 2022.
In Scotland - where holiday provision is currently promised up to Easter 2021 - both the SNP and the Scottish Conservatives have pledged to fund free school meals for all primary school pupils during term-time and holidays if they win the 2021 Scottish election.