Lockdown: Clap for Carers to return as Clap for Heroes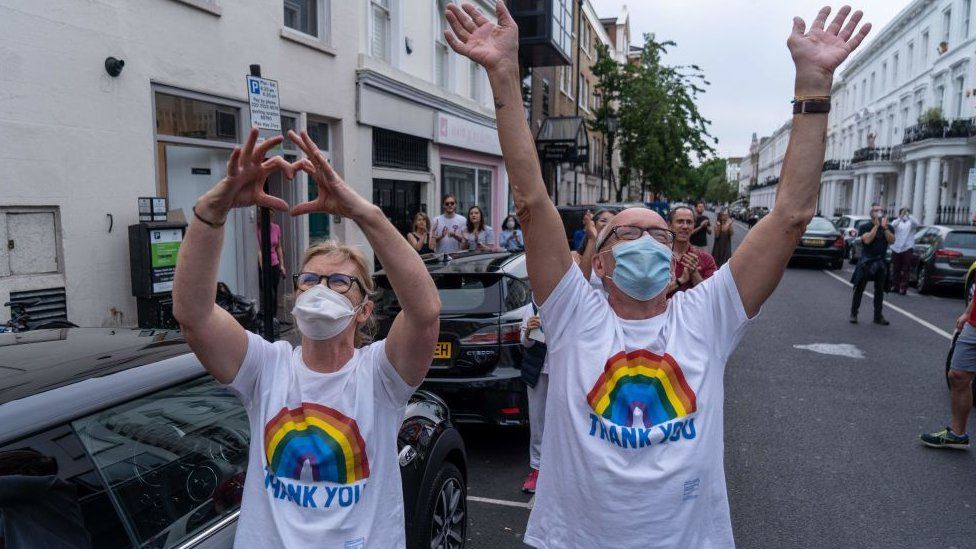 Clap for Carers is to return under a new name of Clap for Heroes, the initiative's founder has said.
The weekly applause for front-line NHS staff and other key workers ran for 10 weeks during the UK's first coronavirus lockdown last spring.
Founder Annemarie Plas tweeted that it would return at 20:00 GMT on Thursday.
Ms Plas said she hoped the initiative would "lift the spirit of all of us" including "all who are pushing through this difficult time".
We are bringing back the 8pm applause, in our 3rd lockdown I hope it can lift the spirit, of all of us. Carers teacher, homeschooling parents, those who shield and ALL who is pushing through this difficult time! Please join & share!#clapforheroes pic.twitter.com/Tl27BlzqlH

— Annemarie (@AnnemariePlas) January 6, 2021
The idea of clapping and banging pots from doorsteps originally began as a one-off to support NHS staff on 26 March - three days after the UK went into lockdown for the first time.
After proving popular it was expanded to cover all key workers and continued every Thursday for 10 weeks, with millions of people across the UK taking part.
Members of the Royal Family and politicians including Prime Minister Boris Johnson also joined in with the show of support.
However, the event later faced criticism for becoming politicised, with some suggesting the NHS would benefit more from extra funding than applause.
At the time, she said the public had "shown our appreciation" and it was now up to ministers to "reward" key workers.
"Without getting too political, I share some of the opinions that some people have about it becoming politicised," she told the PA news agency ahead of the final clap in May.
"I think the narrative is starting to change and I don't want the clap to be negative."