Covid-19: 'Very little' virus risk at nurseries, says vaccine minister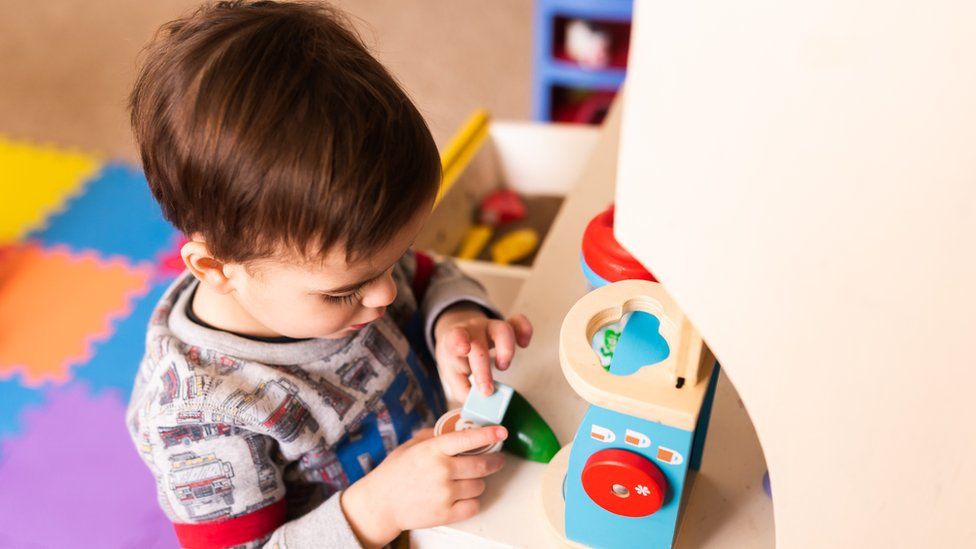 Nursery schools present "very little risk" and are Covid-safe, vaccine minister Nadhim Zahawi has said, as he defended keeping them open.
Mr Zahawi contrasted nurseries with schools, which were closed because they had been "vectors for the new variant".
Early years providers have called for mass testing and for their staff to be prioritised for vaccination.
The Unison union called for nurseries to close to all but vulnerable children and those of key workers.
Announcing the national lockdown for England on Monday, Prime Minister Boris Johnson promised: "Everyone will still be able to access early years settings such as nurseries."
In Scotland and Northern Ireland, nurseries are closed along with other schools. But in Wales they also remain open.
One nursery owner in Weston-super-Mare, Somerset, told the BBC that a prolonged closure carried the risk of going out of business but said it was hard to reassure staff on safety when he did not have "any of the facts".
"I've come in this morning and I've got staff crying and saying they are scared of this new variant," said Paul Trauberman, of the Rainbow Smiles nursery.
The Early Years Alliance, which represents nursery providers, said most nurseries wanted to stay open but do not feel confident they have the support and protection they need.
Some which share sites with schools have been given discretion to close by the government guidance and some others have independently decided to shut, the alliance said.
"If the government wants the sector to remain open, it must now put forward specific evidence about the risks of doing so, including the rates of transmission of the new variant of Covid-19 in early years settings - not just for children but also for adults working there," said chief executive Neil Leitch.
The alliance is calling for mass testing at nurseries and priority access to vaccines for their staff - they say many are aged over 50.
Analysis: What does the science say?
By Smitha Mundasad, BBC health reporter
In general, a child's risk of becoming seriously ill from the virus is tiny and considerably less than an adult's. That has remained true throughout the pandemic.
And younger children have had the lowest admission rates to hospital compared to all other age groups.
The advice that will have steered the government towards keeping nurseries open is that younger children are also considered to be less likely to pass on coronavirus than older children.
In the Sage minutes from 22 December, the government scientific advisers say the "closure of secondary schools [is] likely to have a greater effect than closure of primary schools".
The concern is that it is older children - particularly teenagers - who may be able to pass the virus on even without symptoms - and drive it further into communities.
Unison backed the call for vaccine priority and mass testing, but said nurseries should be shut, alongside schools across the UK, to protect staff and communities.
The union's head of education Jon Richards said: "Social distancing is impossible with young children and the government has yet to publish the scientific evidence to justify ​nurseries being treated differently to schools."
Emma, a nursery worker in South Cambridgeshire, told the BBC: "Everybody at the nursery feels let down. We feel as though we have been kicked to one side."
She said when children develop symptoms, staff have to stay with them until their parents can pick them up for self-isolation. "Many members of staff are putting their lives at risk on a daily basis," Emma said.
Asked about concerns from staff about keeping early years education open, Mr Zahawi told BBC Breakfast: "It's the right thing to do."
He said that at nurseries with the very youngest children "there is very little risk". "The nursery sector has taken tremendous care in making sure the premises are Covid-safe," he added.
Moving education at primary and secondary schools online for all but the children of key workers and those deemed vulnerable was "a last resort", the minister said.
He said: "The schools are safe but they can act as vectors for the new variant which is much more transmissible in community settings."
In the House of Commons, Labour MP Paula Barker asked Education Secretary Gavin Williamson why nurseries were staying open, saying she had been "inundated" with queries from concerned parents and staff.
Mr Williamson said evidence from the Scientific Advisory Group for Emergencies (Sage) found that early years education had a smaller impact on transmission rates than primary schools.
Bristol mother-of-three Eleni Franklin said she could see the case for treating schools and nurseries differently, having seen only one case at her daughter's nursery, while her older child's school had experienced several.
Kara Willetts, from Tewkesbury in Gloucestershire, said her three-year-old daughter "really suffered" from isolation during the first lockdown. She said she had full confidence in her nursery's Covid measures.