Covid: Families with negative test can visit care homes in England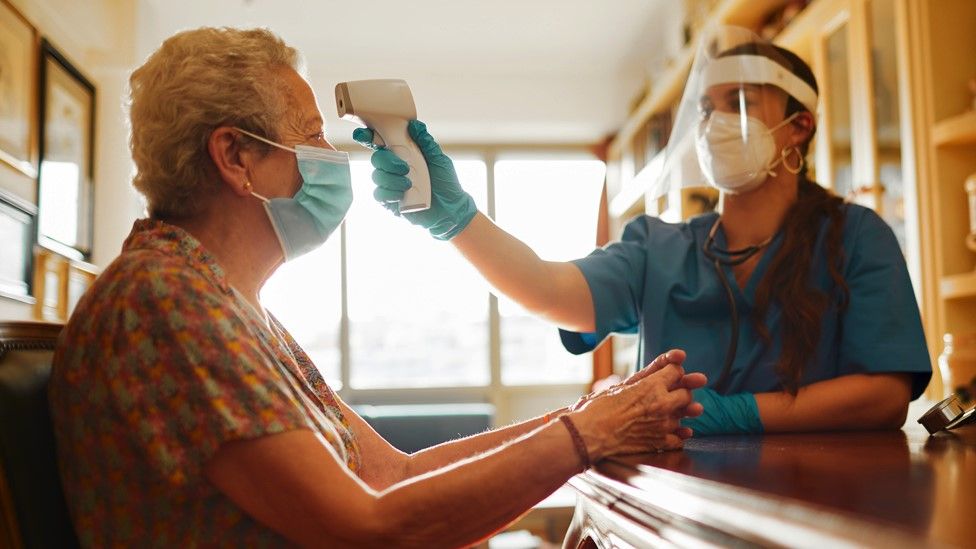 People living in care homes in England will be able to have visits from family and friends by Christmas if the visitors test negative for Covid-19, the government has said.
More than a million coronavirus tests will be sent to care homes over the next month to allow safe indoor visits.
Visits will be allowed across all tiers of coronavirus restrictions.
The health secretary said the move was possible due to "unprecedented strides" in testing technology and capacity.
Matt Hancock said: "The separation has been painful, but has protected residents and staff from this deadly virus.
"I'm so pleased we are now able to help reunite families and more safely allow people to have meaningful contact with their loved ones by Christmas."
Strict restrictions have been placed on visits to care homes during the last eight months because of the pandemic.
In new guidance, the Department of Health and Social Care (DHSC) says the "default position" is now that visits should be enabled to go ahead in all tiers - unless there is an outbreak in the care home.
It adds that hand holding and hugging may be possible if other infection control measures are followed.
It stresses the importance of visitors minimising contact as much as possible and wearing personal protective equipment (PPE) to help protect their loved ones.
Care homes will manage the number of visits that take place, which must be arranged in advance, with visitors urged to be mindful of the additional workload for the care home.
Each care home is responsible for setting the visiting policy in that home, it says.
This will be welcome news for families in England who have waited a long time to be given the chance to visit loved ones and friends inside care homes, rather than trying to communicate through windows or on video calls.
But therein lies the problem.
The danger is that expectations will be raised of visits before Christmas which cannot all be fulfilled.
The biggest care home operators have been sent rapid testing kits but the smaller providers have not yet heard details about how they can obtain them.
One told me that, while welcoming the initiative, he was concerned at the level of administration which would be required to book in visits and organise the testing and this might mean taking on more staff.
Some doubts have been raised about the effectiveness of the rapid testing technology with a relatively high number of false negatives if administered by less-trained staff.
The scheme will not be fully rolled out by Christmas but officials hope it will be more accessible to the wider public early in the new year.
More than a million quick-turnaround or "lateral flow" tests, which provide results in about 20 minutes without the need for a lab, are being sent out to England's 385 biggest care homes as part of the first phase of the rollout.
The guidance says the number of test kits will allow up to two visitors per resident, based on them visiting twice a week, by Christmas.
As well as the tests, an extra 46 million items of PPE will be sent to Care Quality Commission (CQC)-registered care home providers.
The Alzheimer's Society urged the government to ensure care homes do not struggle with extra administrative costs so that visits can continue.
The National Care Forum, a member association for not-for-profit social care providers, applauded the announcement, calling it a "game-changing moment for visits".
But executive director Vic Rayner said recognition of what the sector needs to put the policy into practice "remains an inherent weakness".
She added: "It is essential that the government addresses this immediately, or else risks setting in train huge expectations around visiting, with no meaningful ability for care homes to deliver at the scale and pace required to make visiting a reality for all by Christmas."
And Caroline Abrahams, charity director at Age UK, said it was good news that the government has "significantly shifted" its position on care home visiting.
But she cautioned: "The government has promised that everyone will be able to visit their loved one by Christmas and, while this is a laudable aim, it is also very ambitious, so we remain worried that practical difficulties of various kinds could get in the way for some."
Prof Martin Green, chief executive of Care England - the largest representative body for independent care providers - said: "In order for these promising plans to land successfully, the sector must now be adequately supported by the government.
"We appreciate the continued risks associated with visits, but this represents a positive step forwards."