Covid: Grottos allowed in new Christmas guidance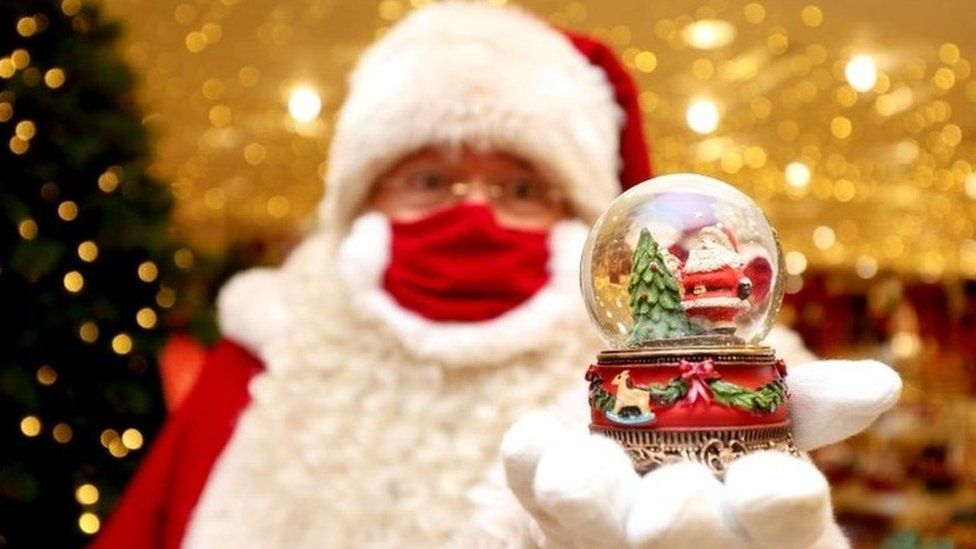 Santa's grottos will be allowed in all tiers if they're in venues that are permitted to be open, under new Christmas advice.
Door-to-door carol singing will also be permitted, it has been confirmed in the government guidance.
But if you live in tier three in England, you cannot attend a school nativity play - instead, you will have to live stream it or watch a recording.
Rules vary across the different nations of the UK and in different tiers.
Nativity plays will have to be performed within existing school bubbles, with no mixing across groups. Audiences in tier one and tier two areas will be subject to restrictions as well - like social distancing.
Santa's grottos can open if they are in venues that are permitted according to the tier that region is in. But "appropriate Covid-secure measures" like social distancing have to be in place as well.
Some have already made arrangements for Father Christmas to speak to children via video-streaming sites, instead of face to face.
Carol singing - and carol services - can take place, as long as those attending adhere to the advice on singing safely, which has been put together with the help of Public Health England. Its advice includes singing in well-ventilated areas and keeping distance from each other. Door-to-door carol singing is allowed too, but in groups of a maximum of six.
Special rules have to be in place because singing increases the risk of transmitting the virus through small droplets and aerosols in the air.
The number of people at a carol event should be limited as well. Those performing professionally or as part of a supervised activity for under 18s are not limited in number, but should still follow the performing arts guidance - including things like wearing masks and managing capacity.
For any indoor events, joining in with singing will not be allowed this year. But people can sing if they are outside.
Bishop of London Sarah Mullally welcomed the news about outdoor singing, saying: "Singing is a very special part of our worship, especially at Advent and Christmas, so I know that the announcement that we will be able to come together for public singing outdoors this Christmas will bring comfort and joy to many.
"Advent and Christmas this year will not be the same as previous years but having outdoor congregational singing and indoor carol services with choirs is a reasonable balance and recognises our duty to protect and care for each other."
People, in all tiers, can attend places of worship for services from 2 December, but the rules on who you attend with depends on which tier you live in, with no indoor mixing allowed outside of tier one. However, people in the same Christmas bubble can attend together.
Christmas volunteering - which can be a key part of the season for many - is allowed, but it is recommended you do this from home. You can volunteer outside the home but follow social distance guidance and advice on helping safely.
The rules on shopping depend on whether the shop is indoors or an outdoor market - and on the tier you live in. This will not change for 23 to 27 December when bubbles are in place, and includes Boxing Day sales.