Covid: Hospitals could be overwhelmed without new tiers, says Gove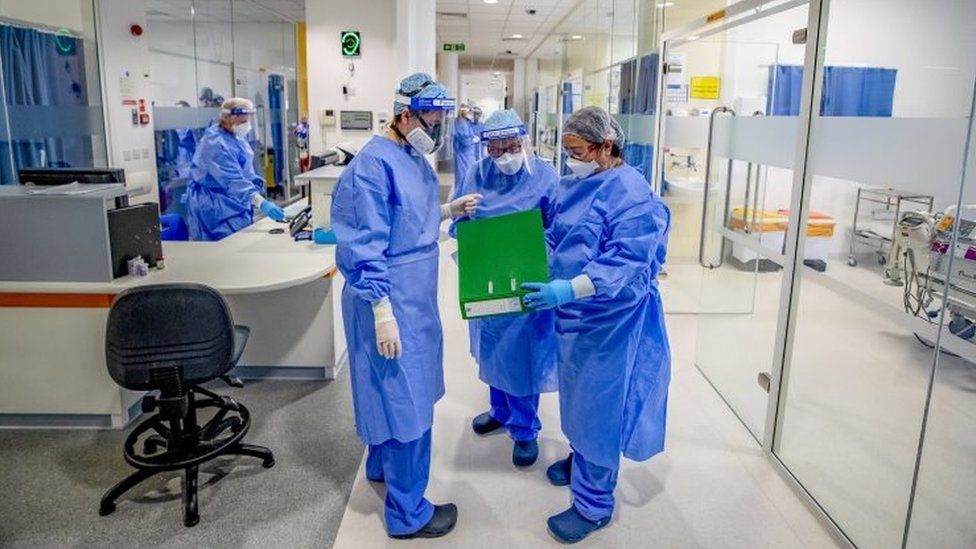 Hospitals in England could become "overwhelmed" with Covid cases if MPs do not back new restrictions, Cabinet Office Minister Michael Gove has said.
Many Tory MPs oppose the tougher tier system, which begins on 2 December.
But writing in the Times, Mr Gove said MPs - who will vote on the measures next week - need to "take responsibility for difficult decisions".
Labour is yet to decide whether it will support the new restrictions.
It has warned, however, that areas in tier three will be stretched to "breaking point" without further financial support from the Treasury.
It comes as a further 479 deaths within 28 days of a positive test were reported in the UK, bringing the total to 58,030. There were also a further 15,871 positive cases registered in the past 24 hours.
When England's four-week national lockdown ends on Wednesday, regions will be placed in one of three tiers: medium, high and very high.
In total, 99% of England will enter the highest two tiers, with tight restrictions on bars and restaurants and a ban on households mixing indoors. Only Cornwall, the Isle of Wight and Isles of Scilly will be in the lowest tier.
Some MPs say the new system imposes tight restrictions on numerous areas with low cases, and are calling instead for a more localised approach.
But Mr Gove has defended the new system, saying that, unless action to slow the spread of coronavirus is taken, the NHS could be "broken" and hospitals "physically overwhelmed".
"The tiers we had in place before the lockdown had not suppressed [Covid] sufficiently: they were neither strong enough to reduce social contact sufficiently, nor applied widely enough to contain the virus's spread," he wrote.
He added that, across the UK, about 16,000 beds are filled with Covid-19 patients, compared to a peak in April of almost 20,000 and a low of 740 on 11 September.
"When the country is facing such a national crisis, the truth is that all of us who have been elected to Parliament, not just ministers, must take responsibility for difficult decisions," he said.
Former Tory leader Iain Duncan Smith is among those questioning England's approach.
On Friday, he asked "what was the point of lockdown" if England ends up with tighter restrictions than it had before the four-week national restrictions came into force.
Several Conservative MPs have asked to see the data the government based its decision on.
Tory MP Tobias Ellwood told the BBC's Newsnight programme: "Here in Dorset, we entered lockdown with pretty low figures. We're coming out of it with even lower figures.
"This last week we've gone down by a third. So we're really surprised to find ourselves in tier two."
Conservative MP Craig Mackinlay, who represents South Thanet, which has the second highest rate of infection in the UK, said he will vote against the new "draconian" tiered restrictions.
He told BBC Breakfast: "I think once areas see themselves going in the wrong direction, that actually has a very, very distinct affect on people's behaviour."
"They almost self-regulate, they actually do take those space, hands, and all of those good things far more seriously."
But epidemiologist Prof Neil Ferguson, whose advice led to the decision to go into the first lockdown, told Today: "I know people argue: 'well why are we going into more intensive measures now after lockdown than we were before?'
"And it's because we don't want to repeat the same mistakes made before this current lockdown and allow cases to rise exponentially again coming into Christmas - particularly in the context that we are going to have a relaxation over Christmas, which does pose some risks."
NHS Providers chief executive Chris Hopson told BBC Breakfast those who run hospitals are "worried about the fact that if those rules are too loose and if people go beyond them" that "could trigger a third phase".
He said the MPs making policy decisions are "not epidemiologists, they're not experts about exactly what is the balance between loosening the restrictions and what might then follow - that's for the scientific experts, the epidemiologists".
"The real problem is January is always the NHS' busiest time of year and therefore it is really important that people not only observe the rules," he said.
On staffing in hospitals, he said it only takes a "very, very small amount of sickness in particular areas" among health workers to result in a "pretty major problem".
"If you have a single anaesthetist who is off, then that means 15, 20 other people who are meant to be doing an operation for somebody - that affects their work," he said.
The new coronavirus tier restrictions will mean 55 million people will be banned from mixing with other households indoors.
The tiers areas are in will be reviewed every 14 days, starting 16 December.
Differences between the new tiers include restrictions on where households can meet up:
tier one: the rule of six applies everywhere, indoors and out
tier two: the rule of six applies outdoors but there is no household mixing anywhere indoors
tier three: can only meet other households in outdoor public spaces like parks, where the rule of six applies
Gyms and close-contact beauty services like hairdressers will be able to open in all tiers. People in all tiers who can work from home, should continue to do so.
Pubs in tier two can only open to serve "substantial meals", while those in tier three can only operate as a takeaway or delivery service.
Meanwhile, Labour's shadow chancellor Anneliese Dodds will urge Chancellor Rishi Sunak to extend the Additional Restrictions Grant (ARG) in tier three areas following concerns the new rules will force some local authorities to stretch the grants further than others.
The one-off ARG funding equates to £20 per person in an area and is designed to help closed businesses that do not directly pay business rates, as well as those that do not have to close but are affected by restrictions.
Ms Dodds is due to tell the party's online regional conference - Connected North West - on Saturday afternoon: "It is completely irresponsible for the government to leave tier three areas in the lurch like this again."
A Department for Business, Energy and Industrial Strategy spokesman said "a host of other support measures" have been made available.