Coronavirus: Domestic abuse offences increased during pandemic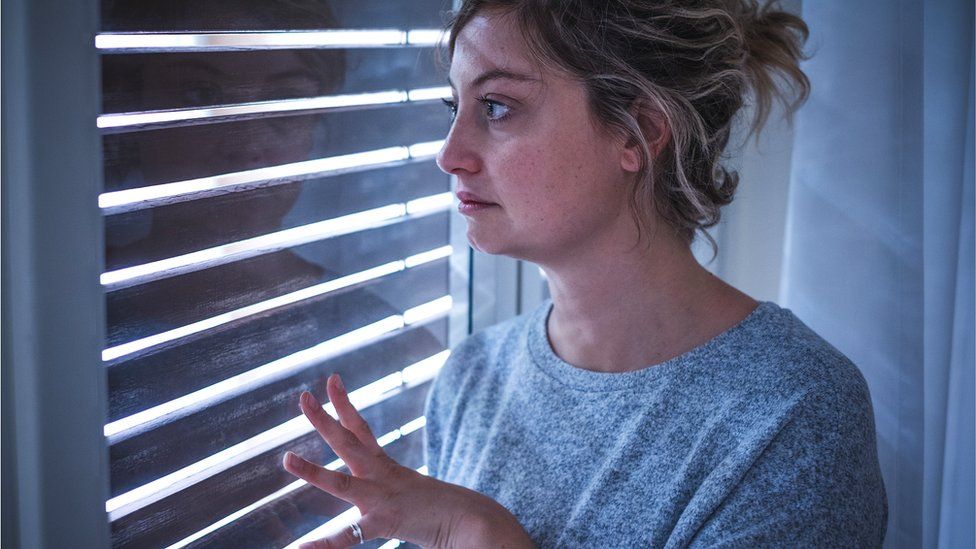 The number of domestic abuse offences recorded by police in England and Wales has increased during the pandemic.
But the Office for National Statistics said such offences gradually rose in recent years so it cannot be determined if it was related to the pandemic.
Police recorded 259,324 domestic abuse offences between March and June - 7% up on the same period in 2019.
During and after the first lockdown in April, May and June, roughly one-fifth of offences involved domestic abuse.
The ONS data, released on Wednesday, includes information from a range of sources - including police forces' own figures on the number of offences recorded and then flagged as related to domestic abuse.
Domestic abuse is not a specific criminal offence, so police record incidents under the type of offence (for example, assault with injury) but then flag that it is related to domestic abuse.
In April, May and June - which covers the period during and immediately after the first national coronavirus lockdown - domestic abuse offences took up a larger proportion of all offences compared to previous years.
Around 20% of all offences recorded by police were flagged as domestic abuse related during these months - compared to less than 15% in previous years.
The number of offences also rose each month, the figures showed.
'If I hadn't got out in lockdown I would be dead'
One woman, Davina, told the BBC that it was increased time at home with her abuser that made her seek help.
"Lockdown was the worst time in my life," she told BBC Scotland's The Nine programme. "That was when I first paid attention to Women's Aid, I wondered if they could get me out the situation, so took the number from the television.
"I wasn't allowed to use the phone in the house so I took the number and went out with the dog and I phoned it.
"I wasn't ready to go but they had nowhere for me anyway. But I was in constant contact with Rebecca from Women's Aid and she helped me eventually leave.
"If it hadn't been for them I don't know what would have happened. I think eventually I would be dead. Mentally, physically, emotionally - I couldn't do it any more."
Davina was allocated a place in a refuge and although she says it took her a month to stop waking up in the night crying, she finally feels safe.
As the lockdown eased, the proportion of offences flagged as domestic abuse went down. But this was likely because the overall amount of criminal offences increased when lockdown was lifted.
Between March and June, police recorded 206,492 "violence against the person" offences that were flagged as domestic abuse - a 9% rise on the same period in 2019.
The "violence against the person" category includes offences such as harassment, assault and murder. Other offences outside this category can also be flagged as linked to domestic abuse, such as sexual offences.
And provisional data showed there were 64 domestic homicides in England and Wales recorded by police between January and June 2020 - 30 of them in the period between April and June.
This is nearly 10 more than the same period in 2019, although the figure is slightly lower than in 2018.
"The number of domestic abuse-related crimes recorded by the police continued to increase in the year ending March 2020; this may reflect improvements in police recording and an increase in victims' willingness to come forward," said Helen Ross, from the ONS's Centre for Crime and Justice.
"Up-to-date evidence shows this increase continued into the lockdown period - however, it cannot be determined whether this can be directly attributed to the coronavirus pandemic."
Ms Ross added that data showed there had been an increase in demand for domestic abuse support services during the pandemic, particularly following the easing of lockdown measures.
"Data suggests that experiences of domestic abuse may have intensified during the lockdown and that victims faced difficulties in safely seeking support under these conditions," she said.
The "Rail to Refuge" scheme - which provides free tickets for women, men and children travelling to refuge services - will continue until March next year.
The charity New Era, which helps victims in Staffordshire and Stoke-on-Trent, said the ONS figures was "more disturbing" evidence and showed there was "more to do to tackle and end relationship abuse".
Meanwhile, London Mayor Sadiq Khan has announced that £3.7m of City Hall and government money would be invested in measures to support victims of domestic abuse.
He said it would be funding new "safe spaces" for victims, training for police and schemes focused on perpetrators, adding: "Sadly, we already know that during lockdown home is not always a safe place for everyone."