Covid-19: Strengthened tier system for England after lockdown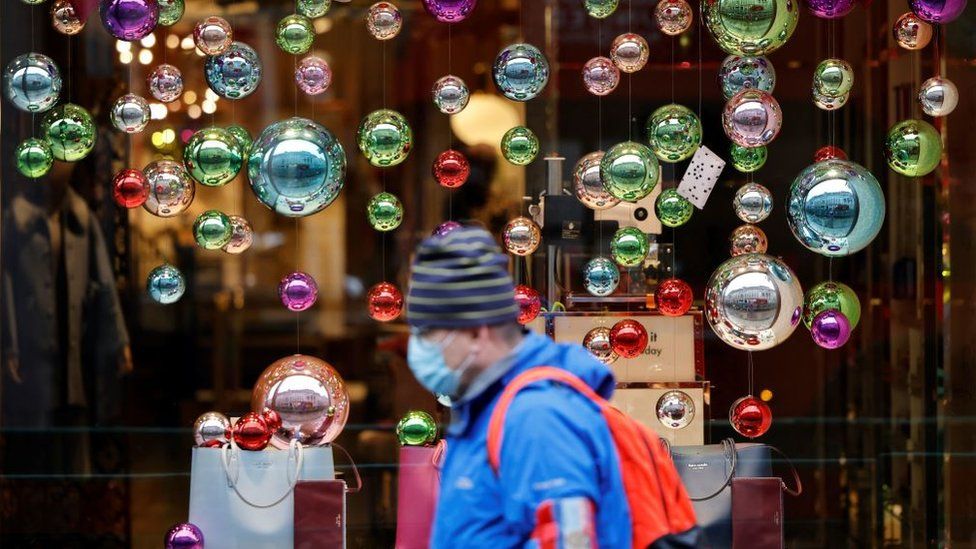 A tougher three-tiered system of local restrictions will come into force in England when the lockdown ends on 2 December, Downing Street has said.
Boris Johnson is expected to set out his plan - including details of how families can see different households at Christmas - to MPs on Monday.
More areas are set to be placed into the higher tiers to keep the virus under control, No 10 said.
And some tiers will be strengthened to safeguard lockdown progress.
Some local measures will be the same as those in the previous three-tier system, which was in place in England until the current lockdown began.
But the government's Scientific Advisory Group for Emergencies (Sage) is expected to publish research on Monday saying the previous restrictions were not strong enough.
The government will identify the tiers that each area will be placed into on Thursday.
Chancellor Rishi Sunak told the BBC's Andrew Marr the 10pm closing time for pubs and restaurants was one of the things it was looking to "refine".
It is understood rules will be relaxed to give people an extra hour to finish their food and drinks after last orders at 10pm.
Kate Nicholls, chief executive of UK Hospitality, said this would help businesses - but would be "meaningless" unless people were allowed to socialise with friends and family, particularly over the crucial Christmas period.
English tier system - at a glance
Medium / Tier 1: Rule of six if meeting indoors or outdoors; pubs and restaurants shut at 10pm
High / Tier 2: No household mixing indoors; rule of six applies outdoors; pubs and restaurants shut at 10pm
Very high / Tier 3: No household mixing indoors or in some outdoor spaces; pubs and bars not serving meals are closed
Newspaper reports suggest rules could be temporarily relaxed UK-wide over Christmas. Several families could be allowed to join in one "bubble" and mix between 22 and 28 December, according to the Daily Telegraph.
Ministers have made clear the festive season will be different to normal - with some restrictions expected to remain in place.
BBC political correspondent Nick Eardley said conversations about Christmas between the different nations of the UK were ongoing.
Sources believe a deal is probable later next week - but it is unlikely to be signed off before the prime minister's announcement on Monday.
The four nations have different Covid rules but ministers are hoping to agree a joint approach for the festive period.
Government ministers and advisers have been hinting about new tougher tiers over the past week.
Before lockdown there was some evidence that tiers two and three were having an impact, but not tier one.
Crucially, both the top two tiers involved banning mixing inside homes, so one option being discussed behind the scenes is introducing a ban across all the tiers until winter is over.
The exception will, of course, be Christmas.
That is a move that divides opinion. But the government sees it as a necessity, believing significant numbers of people will ignore any attempt to ban gatherings over the festive period.
It is also a recognition the public needs a break from the long hard slog of the pandemic.
Infection rates will of course rise, but that will be offset to some extent by a wider boost to wellbeing.
Prof Calum Semple, from the University of Liverpool, said he hoped it would be possible to relax rules over Christmas if the new tiered system worked but warned "there will be a price", including tighter restrictions in the future.
However, Prof Semple, who is a member of Sage, told Sky News's Sophy Ridge there was "a lot to be optimistic about".
He said he expected mass vaccination of the general population to happen towards next summer, which would give "broad immunity" and allow a "return back to normal".
MPs are expected to vote on the new tier system in the days before it comes into force.
Many Conservative MPs are opposed to stricter measures, with 70 signing a letter coordinated by the recently-formed Covid Recovery Group (CRG), saying they cannot support a tiered approach unless they see evidence measures "will save more lives than they cost".
In a letter to the prime minister on Saturday, the CRG, led by former chief whip Mark Harper and ex-Brexit minister Steve Baker, warned against inflicting "huge health and economic costs".
The letter said: "We cannot live under such a series of damaging lockdowns and apparently arbitrary restrictions, and expect our constituents to be grateful for being let out to enjoy the festive season, only to have strict restrictions imposed on them afterwards that cause them health problems and destroy their livelihood."
Asked whether he would publish a cost-benefit analysis of any future measures, as called for by the CRG, the chancellor told Sky News it was "very hard to be precise" on the economic impacts of individual restrictions.
Labour has so far supported the need for restrictions to slow the spread of Covid-19, making a Commons defeat on the plan unlikely.
But shadow chancellor Anneliese Dodds told the BBC her party wanted clarity from the government over how tiers would be decided and the support available for businesses.
On Saturday, the UK recorded another 19,875 new coronavirus cases and 341 deaths within 28 days of a positive test.
The number of deaths was down from 511 on Friday, and 462 on Saturday 14 November.