Hip-hop star Rodney P admits ex-girlfriend attack
By Chi Chi Izundu & Bernadette Kitterick
BBC News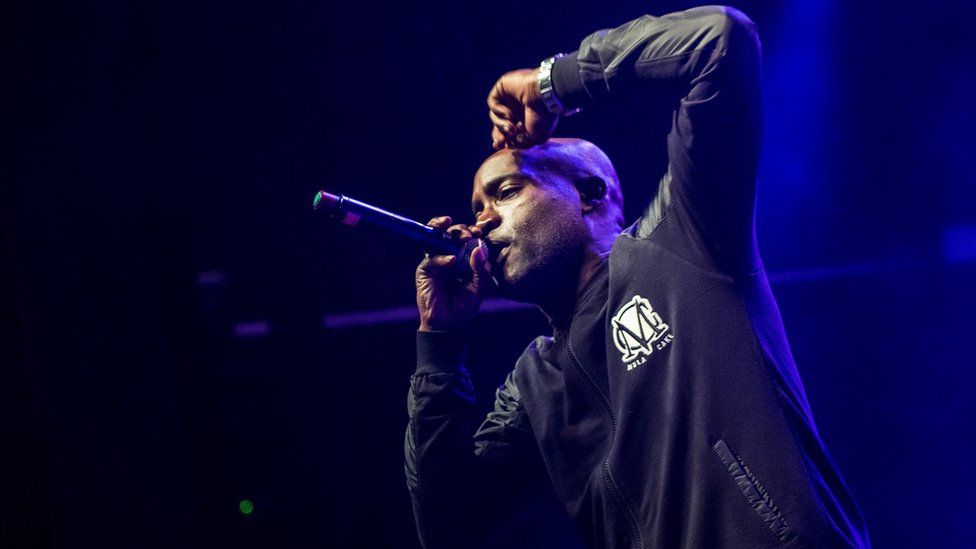 Pioneering British hip-hop star and former BBC 1Xtra DJ Rodney P has admitted assaulting an ex-girlfriend.
The woman has told the BBC he struck her in the face and grabbed her throat, in an attack she says she feared would be "a lights out moment".
The DJ also confirmed to BBC News that he was sentenced to 15 weeks in prison after pleading guilty to assaulting another woman in 2012.
In a statement, Rodney P said he was "ashamed" of the assaults.
Rodney P, real name Rodney Panton Edwards, is regarded as a pioneer of British rap music and has been christened by some as "the godfather of British hip-hop".
The DJ's record label, Tru Thoughts, says it has suspended its work with him after allegations of historic abuse were posted on social media. Edwards denied those allegations.
The former girlfriend, who spoke anonymously to the BBC, says the DJ hit her with the back of his hand and pinned her against a wall after their relationship ended.
The woman said she met Edwards in the hip-hop scene around London almost 30 years ago. She said the DJ wasn't violent during their relationship, but things changed after he heard she had started seeing someone else following the split.
Describing the attack, she said Edwards began reading her diary and then "back-handed me in the mouth", leaving her with a split lip.
She said he then went to bathroom with the diary shutting her out, adding: "He opened the door, dragged me in by my neck, pinned me up against the wall and wanted to know real intimate details.
"He wanted to hear the worst possible case scenario. Every time I answered he was just lifting me up by my throat. I thought that was it. I thought this is going to be a lights out moment."
She said it was the only time he was violent towards her, but said he then subjected her to controlling and psychological abuse for up to a year afterwards, which had a detrimental impact on her mental health.
In a statement to the BBC, Edwards said: "I could not comment on the impact my actions may have had on her mental health."
He said the incident ended their relationship, adding: "I'd like to repeat now I am still deeply sorry that I ever hurt her."
He was a member of the hip-hop group London Posse, which in the 1980s and 1990s is credited with giving British rap music its own identity
As a rapper, he continued a solo career performing on stage for decades
He began presenting a BBC Radio 1Xtra show, called The Original Fever, in 2002. It lasted just for over six years
He interviewed some of the biggest names in the hip-hop community for the show, including Pharrell Williams, Kanye West and 50 Cent
He has since gone onto present documentaries for BBC Four, including Rodney P's Jazz Funk
Edwards also confirmed to BBC News that he had pleaded guilty to actual bodily harm and been sentenced to 15 weeks in prison after an attack on another woman in 2012.
Addressing the conviction, he said: "I am deeply ashamed of my actions at that time, and I was sentenced to 15 weeks imprisonment. I was wrong and I have paid the price. I have worked hard over the last 10 years to be accountable for my actions."
In a statement, the BBC said: "Details of these serious incidents were not disclosed prior to us working with him. There are currently no plans to work with him in the future."
Tru Thoughts records said "it takes domestic abuse very seriously", and "does not condone abusive behaviour in any way".
Support group Dope Black Dads, which aims to change the way black fathers are perceived, has also removed Edwards as a contributor after talking to him about domestic abuse allegations.
It comes after many people felt this year would be a defining moment for black women in the entertainment industry, as woman joined the global #MeToo movement to speak out about their experiences of abuse.
But the black British music industry is still relatively small, and for some that is still a problem.
Andrea Simon from the End Violence against Women Coalition said the industry still has a lot of people with power and influence.
"There is definitely huge power dynamics at play which make people feel like they can't speak out. With certain parts of the music industry there is an acceptance of misogynistic language and that feeds into the whole thing of being a woman in that space and not feeling like she can speak out about stuff."
She said EVAW has been calling on the government to fund services aimed specifically at black women.
"Without the industry saying they'll get behind that they will accept young women feeling uncomfortable and then it's hard to progress."