Covid-19: 'Why a family Christmas would mean the world to me this year'
By Francesca Gillett, Alice Evans & Radio 5 live
BBC News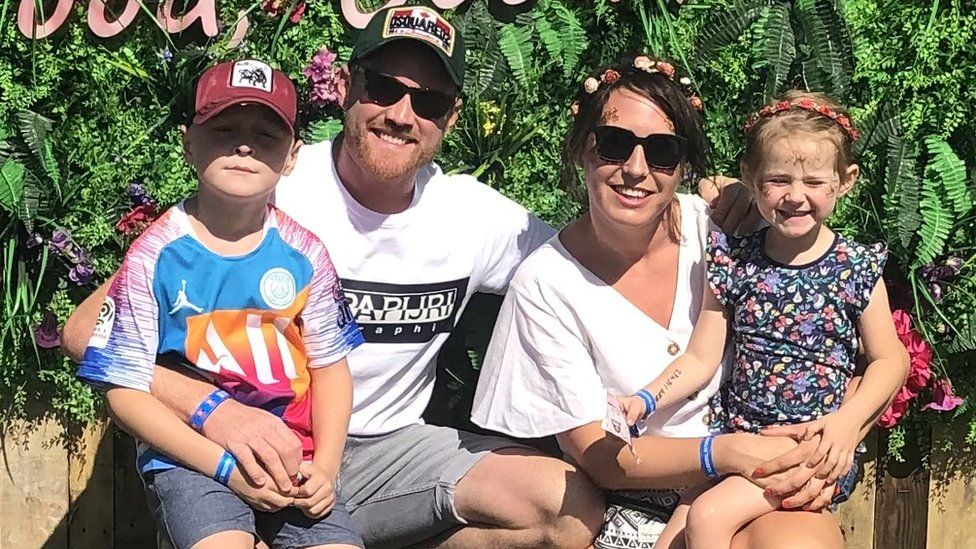 With just over a month to go until Christmas and much of the UK living under some form of coronavirus restrictions, the question on many people's minds is, how best to mark it?
Nick Leader, 33, a regional sales manager from Oxfordshire, told BBC Radio 5 Live Christmas would be "horrendous" if he was alone with his two young children, after his fiance, Sarah, died of cancer just three weeks ago.
"She was 38 and has left behind a seven-year-old and a four-year-old," he says. "We've come through a lot of rubbish through the whole of this year.
"But my children at the moment have been the most amazing people on the planet and they are helping me through this day in and day out.
"I couldn't think of anything worse than being on our own, the three of us, this Christmas.
"My bigger picture is looking after my children's emotions going forward. And to lose a mum, this close to Christmas, to me it just seems too wrong to destroy their special time of Christmas."
It is thought that any rule change would be for a limited time - maybe just a few days - although final decisions will not be made for a few weeks.
"It's not so much about the Christmas and the presents, it's about the people," says Lisa, who lives in south London.
The 39-year-old teacher says the hope of getting family together at Christmas has been like the "end of the rainbow" - it's kept her going through a tough year, but feels like it's getting "further and further away".
Lisa, who's originally from Australia, says Covid restrictions have meant both her mum and dad have had to cancel trips to the UK which had been planned to support her as she and her husband attempted IVF.
Lisa had a miscarriage during the UK's national lockdown and has had three further unsuccessful rounds of IVF since then. Social distancing measures mean she hasn't hugged anyone apart from her husband throughout the "very difficult year".
"We've gone through that without the support of family around us. You look for that rainbow, you look for that light at the end of the tunnel. And to feel like you're not going to have that Christmas as a family, to hug them... it's hard for all of us," she says.
Lisa and her husband are hoping they can still host his parents - who live in Southampton - on Christmas Day.
"I'd like to be able to celebrate with them, whether it's in the garden shivering in the cold or not. After this year, I want my family around me."
Meanwhile, Chris, from Norfolk, who did not want us to use his full name, also stresses the need to see family, saying Christmas Day is not about the "party or celebration" but about who you spend it with.
Chris is sure this year will be the final Christmas he'll be able to spend with his dad, who is very ill with advanced cancer.
Chris, 41, is considering putting his immediate family into a self-imposed two-week quarantine so that his children can spend 25 December with their grandad.
He says "sitting round the table, enjoying each other's company" is what this time of year should be about. "And that's all I want - just one more chance to create some memories for my children. We've obeyed the rules since the start, all I want is one day."
But Fred Stupple, 68, from Glasgow, disagrees. While he understands the tough situations that people are in, Fred says "short-term discipline" is important for the health of the country.
"If Chris goes to see his father, which would be lovely and it might be his last time, he could be increasing the risk," he says.
"All I would like Chris to think about, and many people throughout the country - short-term discipline.
"If people just think about it and then look to the future, we really have got to be strong now."
Caroline in Norfolk adds: "I honestly think people have just got to be more responsible. My husband's 83, we've got three daughters in different parts of the country, one in London, one in the North East... and we've got one in Sheffield.
"The girls have said to me, we'd rather have daddy and you alive and be able to enjoy next year rather than risk one day, or one time, to come to Norfolk.
"We're in a low area. It's just not worth the risk."