Covid: A town's intoxicating will to press on through the pandemic
By Michael Buchanan
BBC News
The whole of Wales has been locked down for a second time. In the south Wales valleys, Michael Buchanan finds a town where people are pulling together to overcome homelessness and a lack of money.
In the window of the Peacocks store on Crane Street, Pontypool, there are two signs that neatly encapsulate the world in which we now live. One welcomes shoppers back from the spring lockdown. It outlines the measures put in place to keep customers safe.
Beside it, a newer sign, announces the store's closing down sale. It shut its doors for the last time last Friday evening, just as Wales sank into a short, sharp lockdown.
I'm in the county borough of Torfaen, for this two-week "fire-breaker" - the most severe of any restrictions in the UK, since the national lockdown in spring. Bars, restaurants, places of worship and most shops have been ordered to shut.
This part of south Wales knew hardship well before the word "Covid" had passed anyone's lips. But life has got even harder. So, how are people coping - financially and emotionally - amid these harsh, new restrictions?
There is much to suggest staff at the newly shuttered Peacocks will struggle to find alternative work. The local council says there are 13 unemployed people for every vacancy in the area. But while it would be easy to become despondent, there is an intoxicating determination here that this community will help each other to get through the pandemic.
The emergency help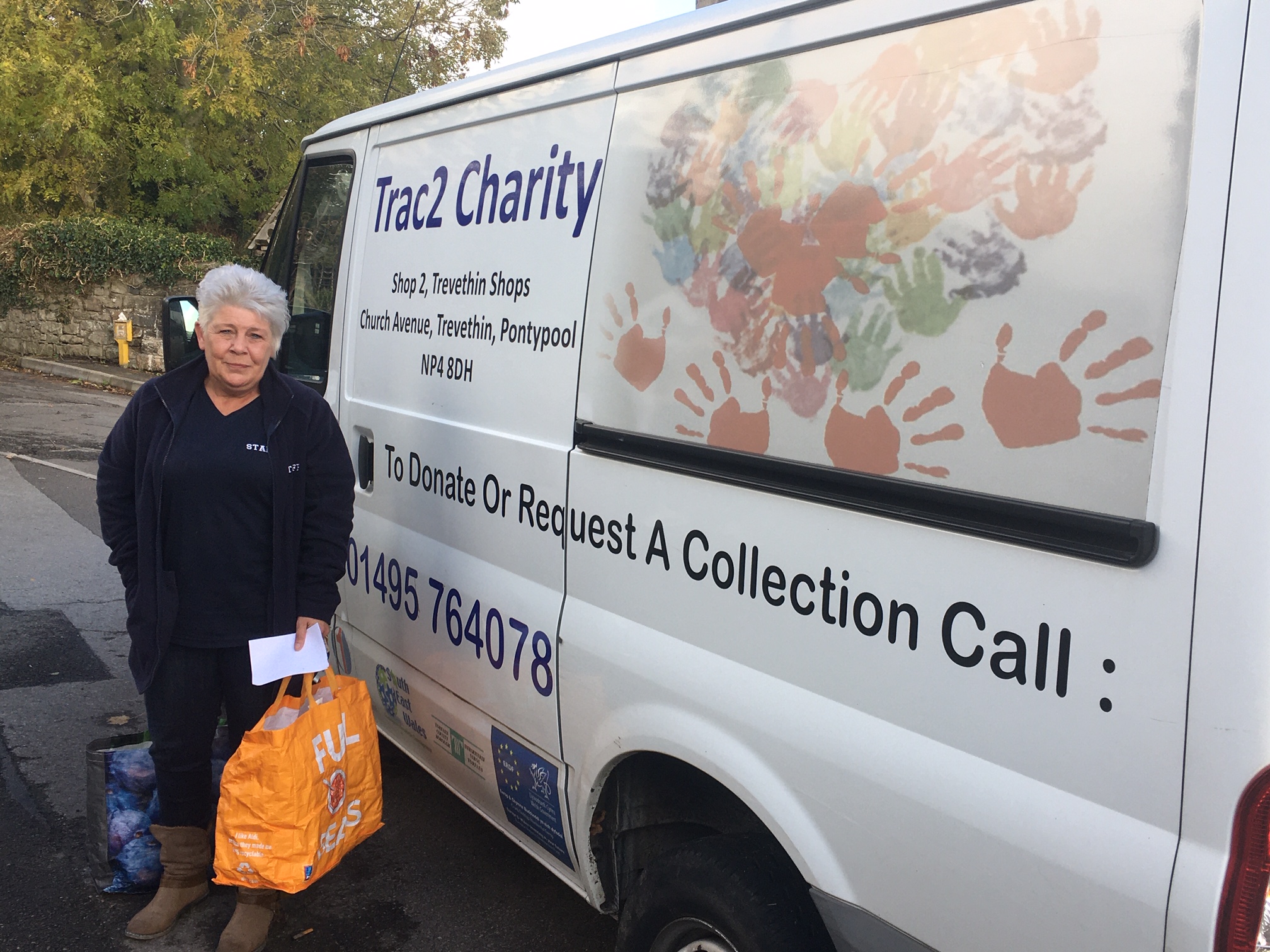 BBC
I was struck by the levels of loneliness - people who haven't got a laptop, who can't watch Netflix...
Few encapsulate that resolve better than Sue Malson, who runs the Trac2 charity, a vital cog in the Trevethin district of Pontypool. It is one of Wales's most deprived areas. She tries to keep herself safe and professes a fear of coronavirus - "I can't get ill, I can't infect my staff". But in truth you'd fear for the virus if it dared to attack her.
Sue is short, stocky and straight-talking, orchestrating the charity's response to the latest crisis in between nipping outside for a quick cigarette or haring around the area's steep, narrow roads in its Transit van.
Established six years' ago, Trac2 does everything from providing benefits advice to supplying beds and white goods for those forced into temporary accommodation. It can turn in an instant to most emergencies. In some ways, the pandemic has been a continuation of its work, with one notable exception. The last six months have revealed deeper levels of mental health needs in the community than had been previously appreciated.
"I was struck by the levels of loneliness through lockdown," says Sue, who is also a local Labour councillor. "People who haven't got a laptop, who can't watch Netflix, who don't do social media. How many are out there, with no family and no friends, that we're not reaching?
"That's where your anxiety, your depression comes in. We need to do more, especially to encourage men to talk."
Anxiety clings to Pontypool's many hills like an obstinate fog as the town tries to navigate what feels more like an economic crisis than a health one.
Its status as an industrial, coal-mining centre is long gone. Now, it is facing a pandemic and, like the rest of Wales, the town is in the midst of its second lockdown.
As well as bars and "non-essential" shops shutting, so have leisure centres, hairdressers, betting shops and beauty salons. Everyone who can work from home should do so. It is much more severe than even the harshest tier-three restrictions in England, albeit for two weeks only. The measure will remain in place until 9 November.
The town's economic challenges, over many years, have left a legacy - aspiration levels in some neighbourhoods are depressingly low as the young see their parents struggle to survive, sometimes needing two or three low-paid jobs if they're to have any chance of making ends meet.
The church leader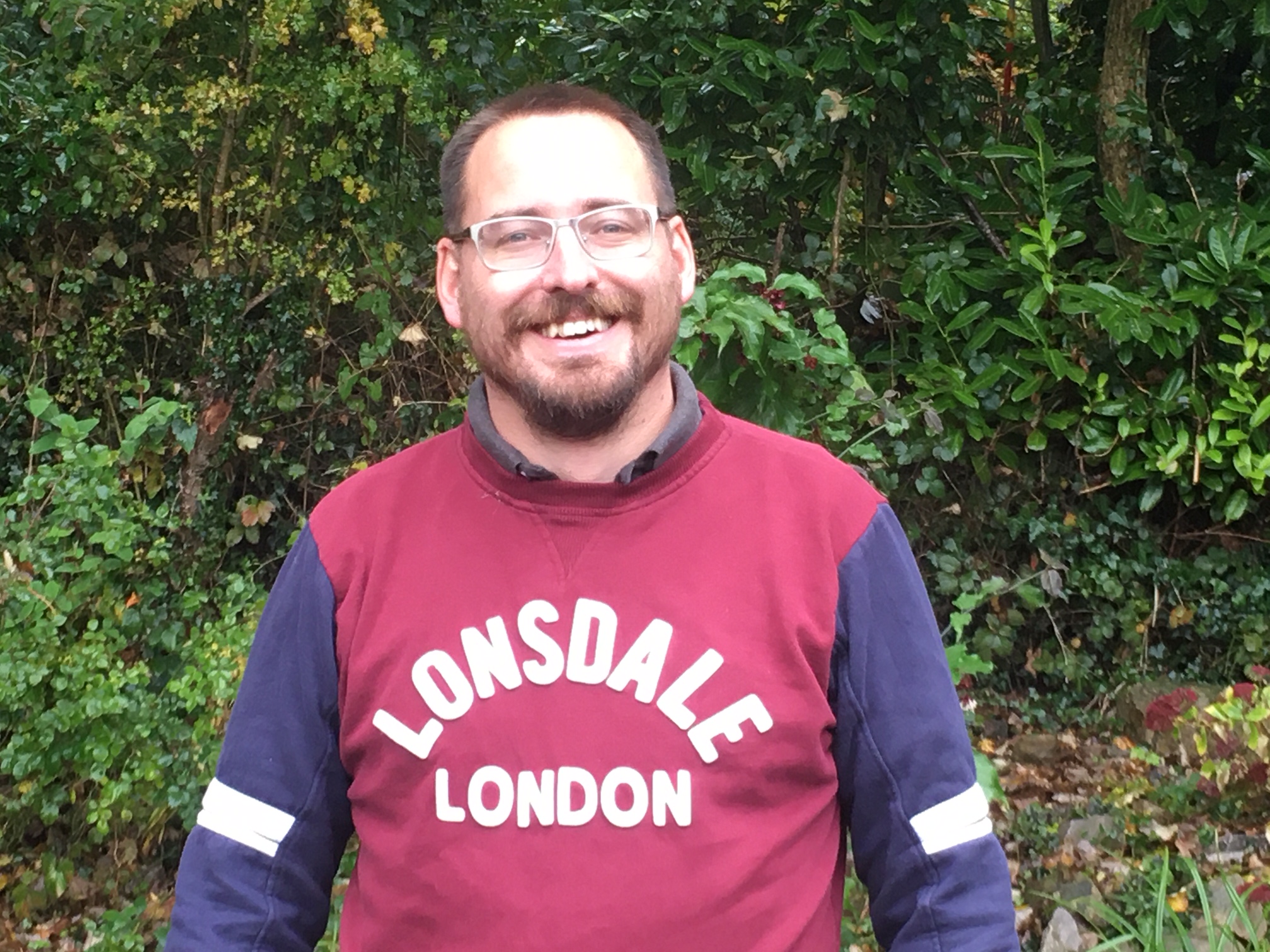 BBC
We had one member make a suicide attempt last time - we had another couple turn to crime
The pandemic has, however, revealed the character of the area's communities, and men and women who are unassuming by nature have stepped up to envelop their neighbours in kindness and empathy, at a time of unprecedented need.
When the original lockdown was introduced, an extraordinary effort to ensure people didn't go hungry kicked in, an endeavour that continued when the threat from Covid appeared to recede in the summer.
Supermarkets, local businesses and neighbours were tapped up to help.
Panteg House, a social club in Griffithstown, turned itself into a food bank, with volunteers spending hours sorting and sanitising items to ensure they didn't pass on the virus to families they support. It has also become the distribution hub for 10 separate charities all of which are involved in providing food parcels across the Torfaen area. On Wednesday, Sue took her place in the queue outside Panteg House alongside drivers from Noddfa Baptist Church.
The church's energetic, charismatic leader, Pastor John, mixes Bible quotations with practical tips as he explains how his growing congregation has adapted to the needs of the pandemic.
The church delivers food, more than 10,000 meals since March to scores of families in the Abersychan area. But of equal importance, says Pastor John, is the other support they offer. Three young people who became homeless over the summer each spent time sleeping in the church property.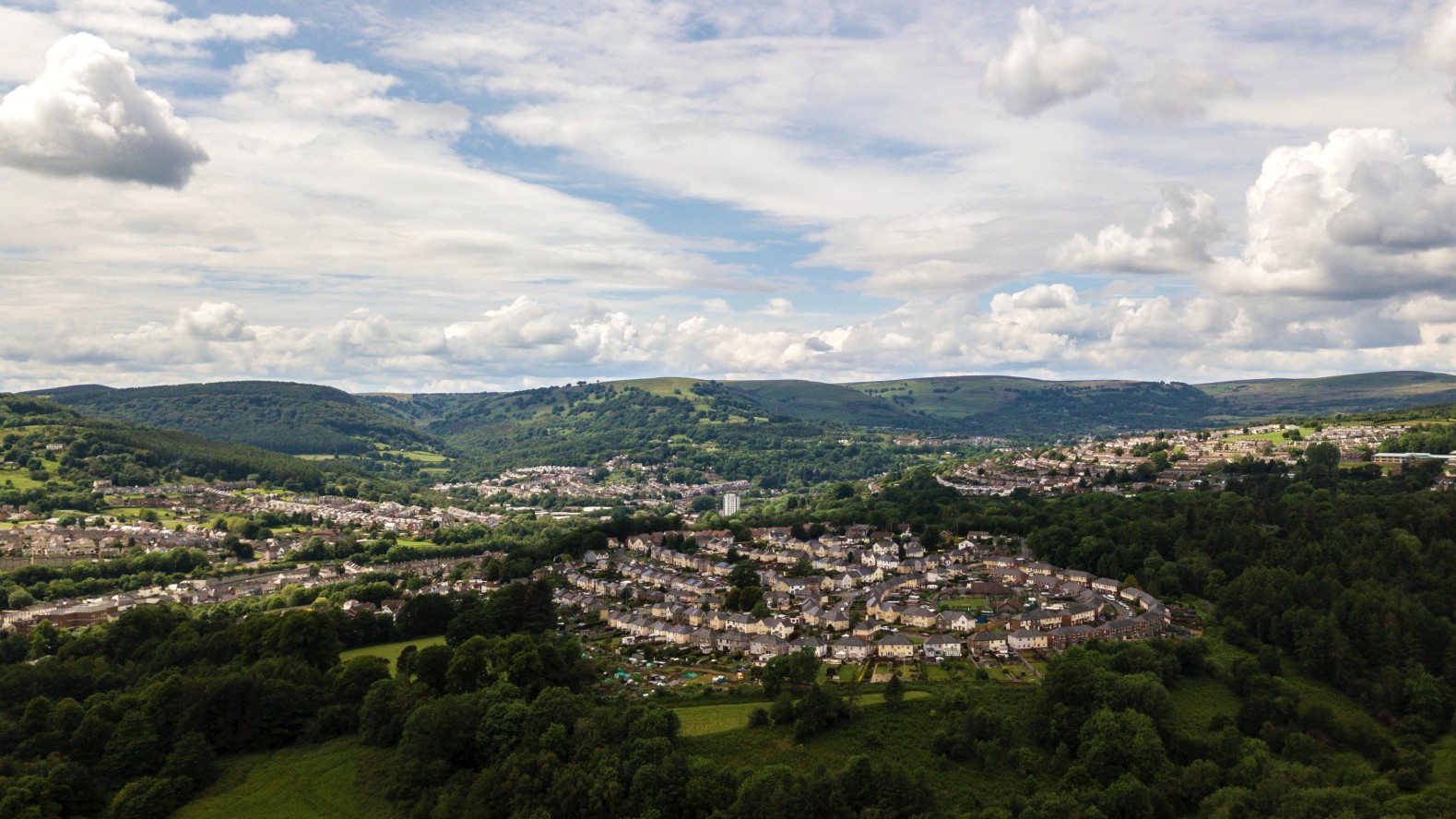 Getty Images
Torfaen - key numbers
93,049population of Torfaen area
7.1% of 16-64-year-olds claiming unemployment benefits, in Torfaen constituency

7.5 out of 10average life satisfaction rating, for year to March 2020

2.9 out of 10average anxiety rating, for year to March 2020
Source: House of Commons Library; ONS Personal Well-being in the UK
Volunteers arranged a room where struggling families could swap school uniforms. And they run a range of different groups to help people of all ages tackle the area's many and varied mental health needs.
So concerned was the pastor about the current Wales-wide lockdown that he wrote to the First Minister Mark Drakeford urging him to keep places of worship open, although that wish failed.
"We had one member make a suicide attempt last time. We're tackling loneliness. We had another couple turn to crime," he says. "We supported them all through the summer and we can't have them going backwards again."
Helping this community is not just down to charities and volunteers. The local council as well as the Welsh and UK governments have spent significant sums shoring up the Torfaen economy, with £18m of Covid support given to local businesses.
Against the 70 Covid-related deaths in the area, 12,000 people have been furloughed. Two-thirds of self employed businesses have sought government support and the number of people on universal credit has soared past 10,000 - about 11% of the area's population. The local authority is also dealing with rising numbers of adults who are homeless and children who need help from social services.
"This crisis has entrenched the inequalities that existed in our community anyway," says Anthony Hunt, the council's Labour leader.
But much like Pontypool's rugby team, which has seen a resurgence in its fortunes in recent years, there are grounds for optimism amid all the uncertainty. The charities and volunteers who have sustained the area in recent months have vowed to continue supporting the community until the need is no longer there, however long that takes.
"We don't discriminate, we don't turn anyone away," Sue says. "If you need help, we'll get it to you."
Michael Buchanan is the BBC's social affairs correspondent.