School meals: 'I remember going to bed with hunger pains'
By Ella Wills
BBC News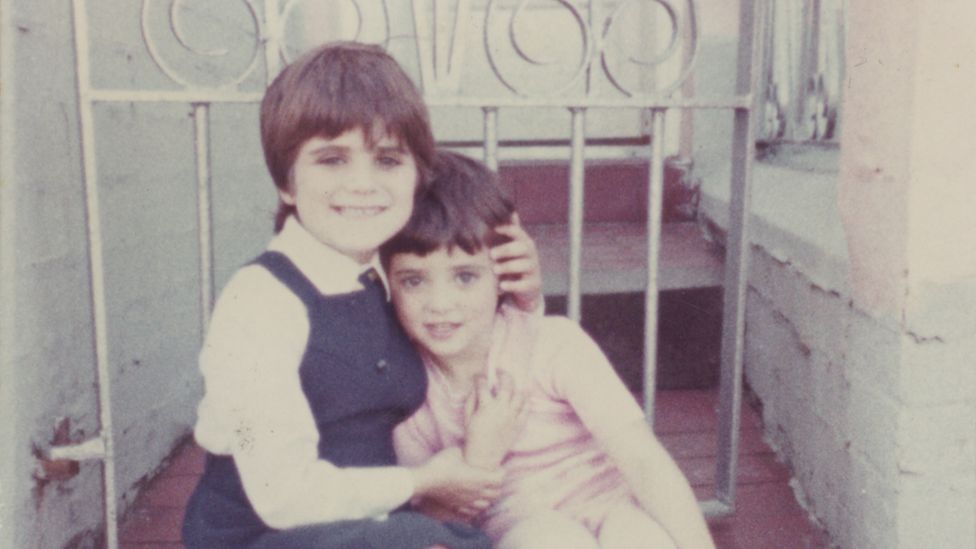 "I find it hard to remember ever having a cooked meal at home," says Danielle, who relied on free school meals as a child.
"I would eat spaghetti hoops cold out of the tin.
"We would have sliced white bread because it was 13p from [discount supermarket] Kwik Save, then put margarine on it and put it under the grill.
"Me and my sister thought we were going to open a café."
Danielle, 39, is now a successful senior manager for a charity, living in London, but growing up she lived with food insecurity.
She has told the BBC how, as a child, she often had to resort to shoplifting or "bin-diving" for essential food at weekends or during the school holidays - once, when she was as young as 10.
"Food poverty in Britain isn't really spoken about because of shame," she says.
"When the holidays hit, hunger doesn't go."
The government extended free school meals to eligible children during the Easter holidays earlier this year and, after a campaign by footballer Marcus Rashford, did the same for the summer holiday.
Ministers say that providing help through councils is the best way to reach those that need it.
"I was brought up in a household where we didn't have food at home," Danielle recalls.
Her mother was ill, and couldn't work. A single-parent household, Danielle says she and her two siblings were often left to "fend for themselves", in addition to caring for their mum.
"Some days it was hard for her to get out of bed. She really put in a lot of effort but she couldn't cope. I don't hold it against her because she tried," Danielle stresses.
They would usually receive child benefits payments on a Monday. "So we would often take a day off school and have lots of food then," says Danielle, "but nothing afterwards."
Packets of jelly were common because they cost 20p and "would go quite far", or instant custard - "things to fill you up".
At the weekend, meals would frequently consist of dry cereal and dry bread.
"I remember going to bed with hunger pains and coming home to an empty fridge," she says.
"You learn to shut off the signals from your brain that tell you you're hungry."
This habit stayed with her into adult life. "I don't realise I'm hungry, and then it gets to 4pm and I realise I've been dissociating and suddenly have to eat.
"As a young adult I didn't know how to cook, so would just eat for survival. Something to take away the hunger."
Danielle could sometimes eat at friends' houses or at Sunday school as a child, but her main source of hot meals was school.
She explains that because her mum was on benefits, that qualified her and her siblings for free school meals - which were limited to certain children.
"I have really strong memories of them," she says.
"Apple crumble and custard [her favourite pudding to this day], baked potatoes, roast dinners.
"I also have fond memories of sitting at the table with all of my friends."
But beyond that, she was forced to find other ways of sourcing food, when they had run out of essentials and she was "starving".
This included "bin-diving" for surplus food behind supermarkets, paying 10p for scraps from the local fish and chip shops, and shoplifting.
"It wasn't frequent, but when we were desperate," she says.
Danielle was caught shoplifting a jar of Marmite aged 10 - carefully selected from the shelves because it could "last weeks" by only spreading a small bit on each piece of bread.
And, while on the earlier occasion she was only told not to return to the shop, at 14-years-old she had her fingerprints taken, was placed in a police cell and later cautioned over shoplifting.
"I think that was for stealing jelly."
Danielle says the incident came up on her record when she was applying for a job in later life, leaving her devastated.
"I feel like I'm quite a moral person. For it to tarnish your career when all you are trying to do is eat," she says.
"I'm not proud of it and I would never do it now, but it was survival."
As soon as Danielle was old enough to get various part-time jobs, she stopped shoplifting, and went on to get three "A" grade A-Levels and a First-class degree at university.
But she says that she could have gone "either way".
"I did have a supportive education system and that enabled me to not continue down the wrong path," she says.
"Because of the support that we have in the UK it allows people to go from poverty into middle class and be able to earn a living.
"Unless we support young people, give them opportunities, like food and education, then that wouldn't be able to happen."
Responding to the row over free school meals, Danielle argues that those who are making the decisions are doing so from "a place of privilege" without an understanding of "what it's like to be a child and to be hungry".
She also stresses that there are "all sorts" of family dynamics that can lead to financial difficulty, including debt, mental health issues, and addiction.
"It can happen to anyone," she says.
As Danielle hit her 30s, she developed a new relationship with food - teaching herself to cook from scratch and eventually batch cooking for the week.
"One of my friends set up a supper club and said I was their inspiration," she said.
"I just thought it's funny going from no food, to all my friends saying I was such an amazing cook."