Covid-19: 'I'll be hosting my Christmas over Zoom'
When a leading medical expert urged people to prepare for a "digital Christmas" last week, the response was mixed. But amid the frustration and "mistletoe and Zoom" jokes, some people were already rearranging their plans.
"I imagine the iPad and FaceTime will be on pretty much the whole day on Christmas Day," says Gail Buckie, from Edinburgh.
Gail's family live about 150 miles away on the Isle of Mull and she says "there's no way we'll be able to see them over Christmas" - especially with her mother considered vulnerable.
But she says she's already putting "a lot more effort" into this year's festivities - and has even booked Santa to visit her children at her doorstep because they won't be able to go to a grotto like usual.
"We've already started to stock up on extra Christmas lights," she tells BBC Radio 4's Today programme. "I think I've probably, in the past, been a bit more 'less is more' type thing, but with the children spending so much time inside, we're going to decorate their bedroom.
"It will be just a wee small thing for us," she says. "But we'll make it extra special trying to keep connected."
It's still too early to say what Christmas will be like for everyone.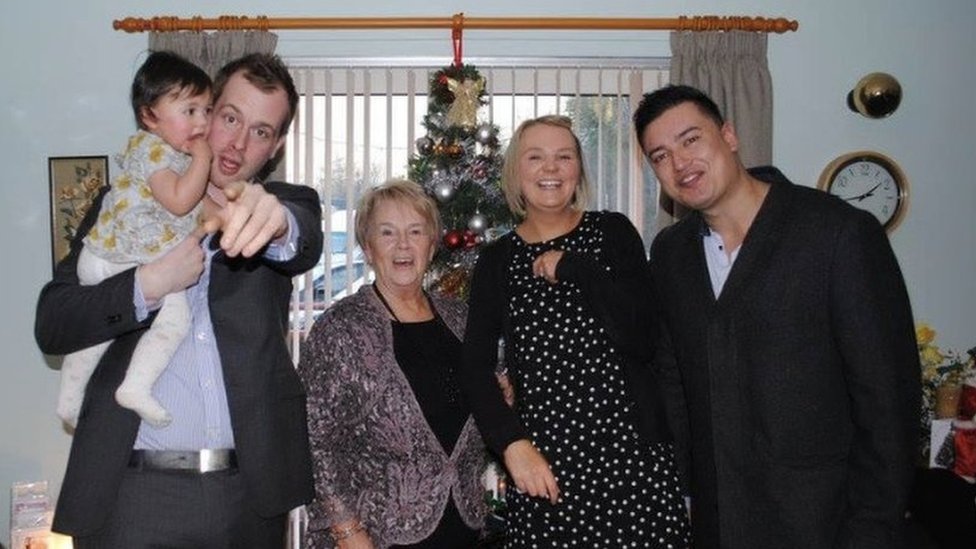 Gaile Buckie
It will be just a wee small thing for us. But we'll make it extra special trying to keep connected.
But current restrictions in Scotland ban people from visiting other households indoors, while in England, millions of people are living under tier two or three restrictions, which also ban visiting others at home.
In Wales, there is currently a national lockdown requiring people to stay indoors, while in Northern Ireland indoor visits to other people's homes are also not allowed.
That means Gail isn't alone in planning a digital Christmas Day.
Mhairi Hamilton, from Larkhall, in South Lanarkshire, says she is "ahead of the curve" and has already cancelled her big family Christmas to avoid months of uncertainty.
"So I called it about six weeks ago and put a message round the family saying that I was not going to host in the house but I would host a Zoom Christmas," she tells BBC Radio Scotland.
"I would preserve what we could of the family traditions and we would take it from there. And the response I got from the extended family was nothing but positive. You know, things like, 'you mean we can do this in our jammies? You mean we don't have to drive?'. I'm going, yes, yes, yes."
Mhairi is currently in the process of making gift bags for her relatives, which will be filled with drinks and nibbles, and the whole family will open their Secret Santa presents on a video call.
"I'm ahead of the game and I'm loving it," she says. "I'm having a great time preparing. There are undoubtedly many, many positives to be taken from it."
Becky Goddard-Hill, a parenting blogger from Nottingham, is equally positive. "I think we can still have that family gathering but just in a different way," she says.
'It will probably be chaos'
She's planning a carol concert with members of her family over video call, and a cook-a-long with her mother-in-law to bake a Christmas cake.
"I'll get my kids to open their advent calendar with their grandparents online each morning just so they're still very, very much a part of our Christmas and there's still a lot of fun and togetherness at the heart of it," she says.
"It will probably be absolute chaos but I think that's part of the fun, isn't it? It's that being together, throwing your enthusiasm behind it."
She also suggests watching a film together at the same time as relatives living elsewhere, or sending handmade cards and long handwritten letters.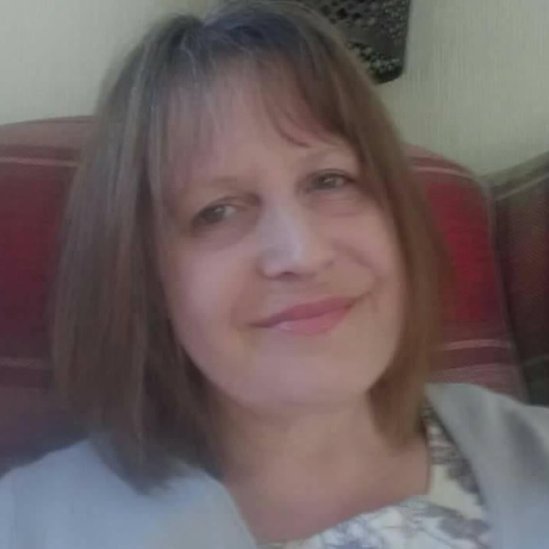 Helen Kemp
I don't think anyone wants to be alone on Christmas Day, let alone after the year we've had.
But for some, the prospect of a virtual Christmas is nothing but unappealing - especially if they will be on their own.
"This Christmas my husband, a serving soldier, will be at work on Christmas Day, and my brother, who I would normally spend Christmas Day with, died in August," says Helen Kemp, 56, who lives in the Yorkshire Dales.
"I don't have children and other than my cousin, who has invited me for Christmas Day to her house, I don't have any close relatives nearby anymore."
Helen says she will spend Christmas morning at work - at a charity that gives discounted holidays to vulnerable people, including the homeless. "But after that, I really didn't want to have to spend the rest of the day, until my husband comes home at half six at night, on my own."
Her area is currently in tier one - medium alert - where household mixing is still allowed in groups of up to six. But "who knows what we will be by Christmas", she adds.
"It has been a tough year for all of us and we need to have some normality back into our lives.
"Spending Christmas Day with family, rather than alone, is a way of normalising our lives again.
"I don't think anyone wants to be alone on Christmas Day, let alone after the year we have all had."
So what has the government said?
Earlier this week, No 10 said it was Prime Minister Boris Johnson's "ambition" for people to celebrate Christmas with their families.
But many scientists and politicians have taken a different view. Scotland's national clinical director Jason Leitch said it was "honestly too early to say" what would happen at Christmas - but it was "not going to be normal".
"People should get their digital Christmas ready," he said.
Prof John Edmunds, who sits on Sage, said the idea that people could "carry on as we are" and then have a normal Christmas with friends and family was "wishful thinking in the extreme".