Drug deaths: Surge in fatalities of female cocaine users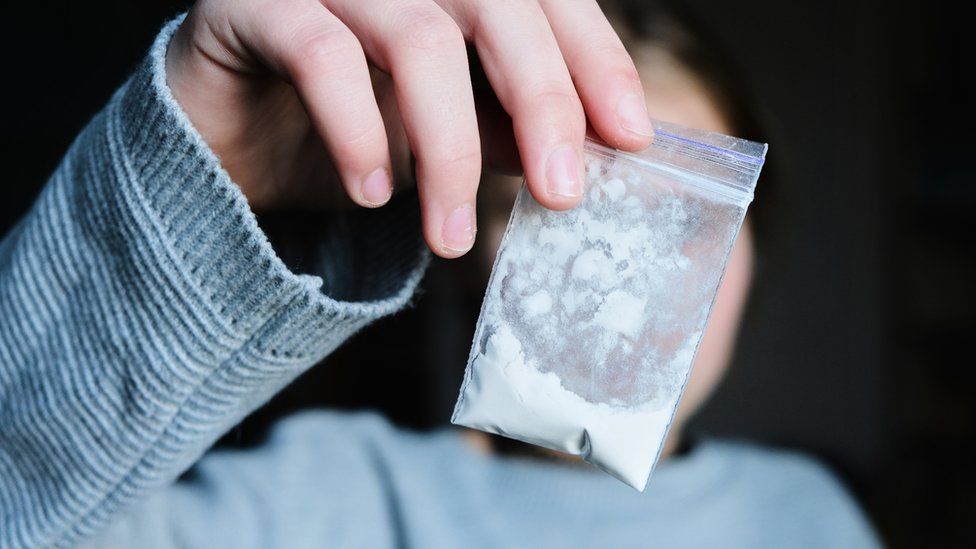 Drug-related deaths reached their highest level for a quarter of a century last year as the number of women who died after using cocaine surged.
Figures showed 4,393 people died in England and Wales from drug poisoning.
Cocaine deaths increased for the eighth year running, rising by 7.7% for men and 26.5% for women.
The Office for National Statistics said the overall death rate for men was twice as high as for women, however.
About two-thirds of all deaths from drug poisoning were due to drug misuse, the ONS said - meaning the underlying cause was drug abuse or addiction, or they involved illegal drugs.
Overall, deaths rose only slightly from 4,359 registered in 2018 to 4,393 registered in 2019. But that figure is the highest since records began in 1993.
Men accounted for 2,968 drug-related deaths - more than two out of three - while 1,425 were women.
Opiates such as heroin and morphine were involved in more than half of deaths where the drug type was known.
The ONS said rates of drug poisoning have been on a "steep upward trend" since 2012 due to rises in heroin and cocaine deaths.
In 2018, there were 637 registered deaths involving cocaine - including 117 women and 520 men. In 2019 there were 708 deaths - 148 women and 560 men.
Taking age into account, the death rate for men declined slightly in 2019, while for women it increased for the tenth consecutive year.
Prof Julia Sinclair, chairwoman of the addictions faculty of the Royal College of Psychiatrists, said years of cuts had left services ill-equipped to prevent drug deaths.
"The tragic number of drug-related deaths should be all the evidence the government needs to substantially invest in addiction services, before more lives are needlessly lost," she said.
Niamh Eastwood, director of drug policy charity Release, said two Parliamentary committees - the Health and Social Care Select Committee and the Scottish Affairs Select Committee - had called for reform of drug policy to tackle these deaths.
She said the prime minister and home secretary should "stop playing politics and listen to the evidence".
Death rates were highest in deprived areas, with people in their 40s living in the poorest neighbourhoods at least five-and-a-half times more likely to die from drugs than those in the least deprived, the ONS said.
The north-east of England had the highest drug-related death rate, almost three times higher than the area with the lowest rate in 2019, the east of England.
"Investment in these communities, adequate housing, restoring benefits to a decent level, along with drug policy and harm reduction initiatives can save lives," Ms Eastwood said.
The age at which most people died from drug use is increasing, the ONS said, from 20 to 29-year-olds from 1993 to 2002 to 40 to 49-year-olds today.
It is "possible" that a generation born in the 1960s and 1970s, Generation X, has been dying in greater numbers from drug misuse over time, the ONS said.
The figures include deaths from all drugs, including prescription and over-the-counter medications.
They also include accidents and suicides involving drugs, as well as complications from injecting drugs such as deep vein thrombosis and blood poisoning.
About half of the deaths registered last year will have occurred in previous years, statisticians believe, due to the time it can take for an inquest to be held.