Coronavirus and care homes: The pensioners suffering through isolation
By Mary O'Connor
BBC News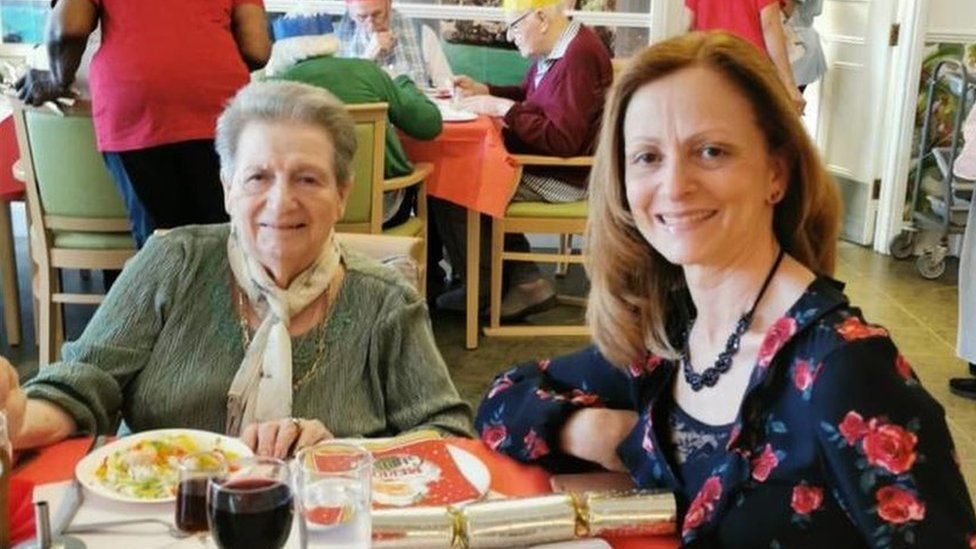 It's now seven months since care homes first shut their doors, denying many residents not only the precious touch of loved ones but also the regular comfort of a song and dance, or a hair cut. Some are now facing the prospect of a winter isolated from their friends and families as a second wave of Covid-19 gives way to fresh restrictions.
At the age of 89, Blumah Samuels still loves singing and dancing to the old classics. She used to dance around her care home's lounge, shaking a maraca to Carmen Miranda's I Like You Very Much.
Now, Blumah - who has Parkinson's dementia - is simply "existing", says her daughter, Lesley Lightfoot, 61.
Back in March, care homes - which house about 400,000 elderly people in the UK - shut their doors as the coronavirus pandemic surged. Their aim was to keep infections down by limiting the number of people who would regularly come into homes.
It meant both family visits and visits from services - hairdressers, chiropodists, music therapists - were immediately ended. While some of this was relaxed over the summer, things are far from back to normal.
And with virus cases rising, many homes are again having to exclude visitors.
'I'm going to die on my own'
The "buzzy" atmosphere at Blumah's north London care home quickly evaporated in lockdown. And the stimulating activities she once "thrived" on - including music therapy sessions - have yet to resume, says Lesley.
She says the care home has been "brilliant" in allowing families to meet in the garden to talk through windows. But her mother - who she says is her "best friend" and who she would visit up to four times a week - has been "robbed" of much needed physical contact.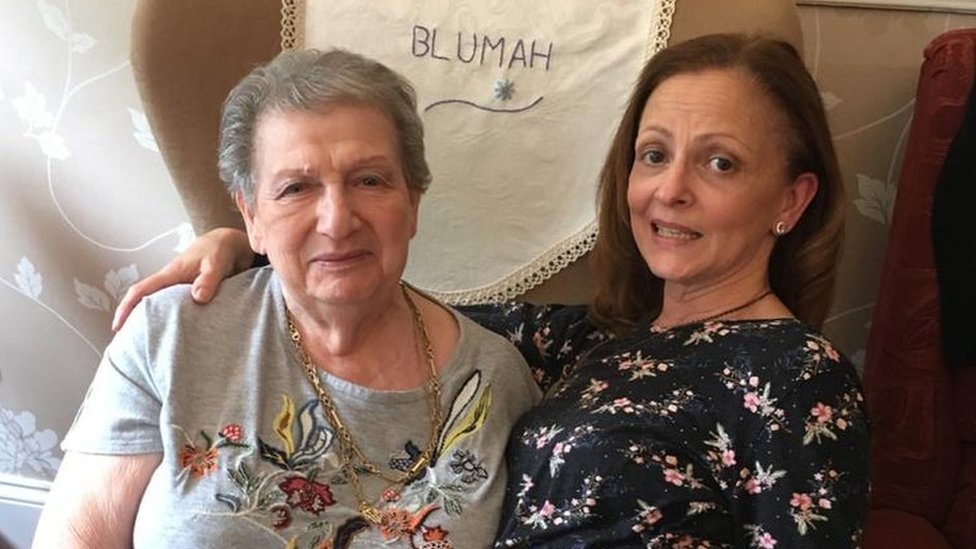 Lesley Lightfoot
Every faculty that my mum still has deserves feeding, as with all the residents. They deserve better than this.
"There are some days when mum shakes so badly, I would sit on the floor and hold her legs," she says, "it calms it down. I've not been able to do that for seven months."
During one lockdown visit, Lesley was unable to help as Blumah came to the window with odd shoes on. She had put her cardigan in the fridge.
Lesley says her once "bright and cheerful" mother has "suffered" from the social isolation and limited visits. She recalls one day in April, after seeing the news, Blumah phoned, sobbing: "I'm going to die on my own."
Outside services, including hairdressers, have not yet been allowed into the home, so Blumah - a former hairdresser herself - recently talked a carer through trimming her hair with her old salon scissors.
Daily life inside the care home is now "pretty mundane", Lesley says, with residents "just sitting in the lounge", where a carer might put a CD on for them.
She wants the situation to change, not just for her mum, but for all the residents. "Every faculty that my mum still has deserves feeding, as with all the residents. They deserve better than this."
A distraught Lesley says Friday was her last visit to the care home for the foreseeable future. Visits have been halted after stricter Tier 2 restrictions were introduced in London.
The government currently advises care homes in England to limit visits to one family member. Only those with "exceptional circumstances" can visit people living in areas with the highest levels of Covid, while many homes have imposed limits on socialising between residents and the activities they once enjoyed.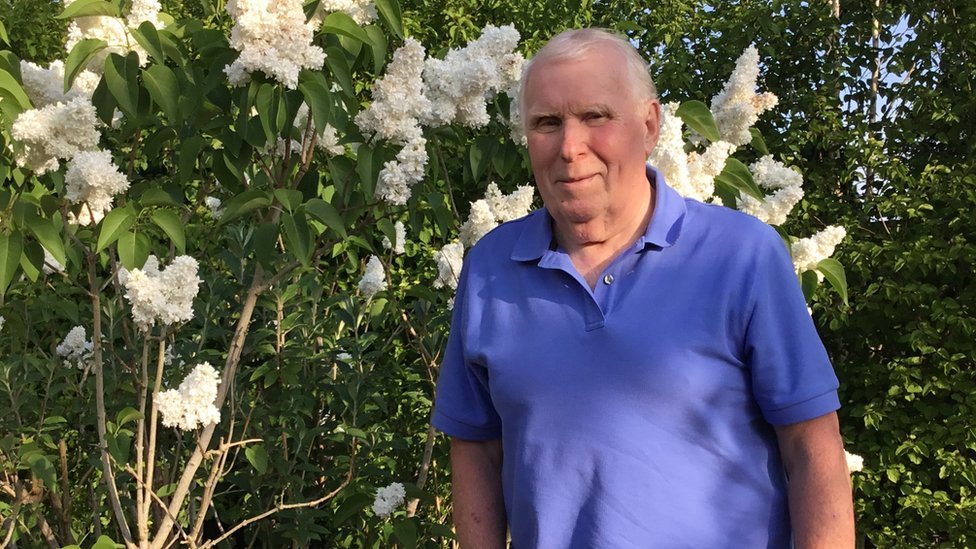 Bernard Phelps
Everything just stopped. No external visitors, no musicians, singers, hairdressers or podiatrists.
Bernard Phelps, 75, says he has missed contact with his fellow residents. He is dreading a winter of tighter restrictions.
"Everything just stopped. No external visitors, no musicians, singers, hairdressers or podiatrists were able to come in."
Activities are happening once a day, and visits from hairdressers and podiatrists are starting up again. But Bernard says he "reluctantly" stopped the weekly film and music afternoons he used to put on for residents after they struggled to recover their pre-lockdown attendance, due to a ban on mixing between the home's three units.
And after the ban on visits was lifted, Bernard, who has lived in residential care since 2016, has enjoyed fortnightly visits from his son - who he also Facetimes regularly.
'Mum loved getting glammed up'
Alicia Burden, 53, has been able to visit her mother, Trish, 78, once since March. The family could only see her through a window. Alicia says it was a "distressing" visit.
The ban on visits was all the more worrying, as Trish had a fall the day after her Newark care home locked down, leaving her with a badly split top lip and cuts to her hands.
Alicia's sister took Trish, who has advanced dementia, to A&E for treatment. But after that, the family could only see her via a video call on a carer's mobile phone.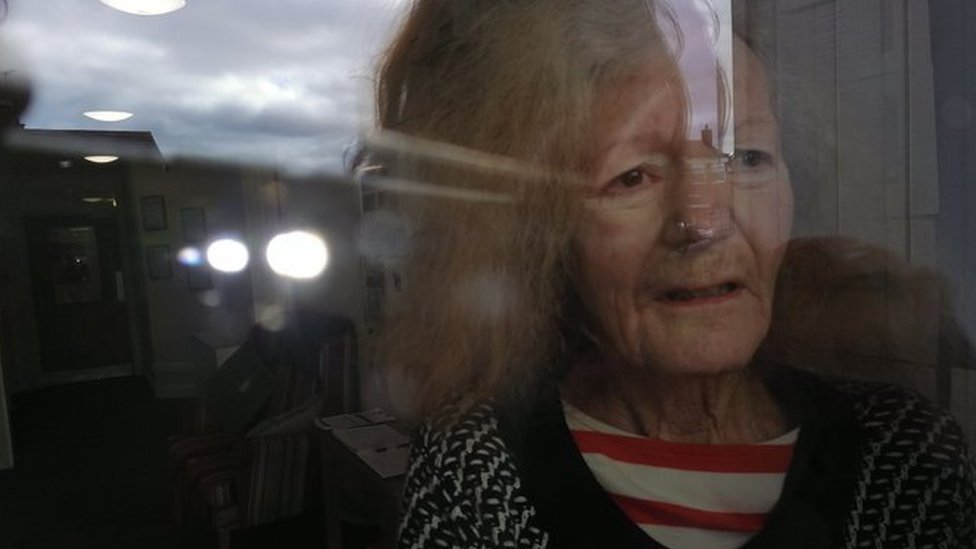 Alicia Burden
She loved getting glammed up and doing her makeup and nails.
A garden visit was arranged in August, but it was cancelled days later following an outbreak at a local food factory. Alicia says when she and her sisters finally saw Trish through a window last month, it was "horrendous".
"We put our hand to the glass," Alicia says. "Mum tried to open the locked door, and when she couldn't, she kicked it and she then became extremely distressed."
Alicia says the care home is currently offering window visits - through a closed window or door - but she and her family do not want a repeat experience.
With no hairdressers or family allowed in, Alicia says her mum's short, curly red hair has become frizzy, white and shoulder length.
"Until about three years ago, mum would go out for a drink with her friends about once a week. She loved getting glammed up and doing her makeup and nails."
"It sounds so petty but mum was so proud of her appearance, it's about her dignity," she says.
While she may not have the beauty services she once loved, Trish has refused to ditch her glamorous wardrobe. Alicia says with a laugh: "She is the only resident who will wear tight, glittery leggings, leopard print tops and heels."
Catherine Marshall, 63, says her mother Dorothy Clarke, 92, has repeatedly expressed a wish to die after months of isolation at her Stourbridge care home.
Dorothy was diagnosed with Alzheimer's disease six years ago - shortly after receiving an MBE for decades of service to the elderly.
Recalling her first garden visit, she says: "She was just this wizened, frail lady, hanging on to a carer's arm, looking lost and confused. Her spirit was completely broken.
"She had probably aged about 10 years at least. It's hard to express being robbed of time. She's not going to live forever."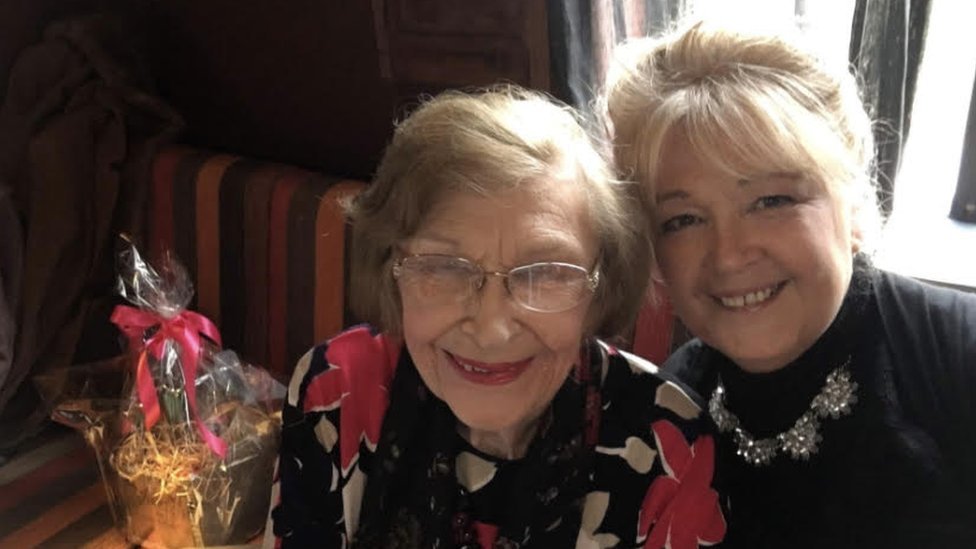 Catherine Marshall
She feels like she's been abandoned and doesn't understand why nobody can come and see her.
"She feels like she's been abandoned and doesn't understand why nobody can come and see her", says Catherine, adding that she often rings her, asking "what have I done? Why doesn't anyone want me anymore?"
She says the care home has now amended its policy to allow one 30 minute window visit per week, but with a maximum of two visitors.
This week, Scotland relaxed its rules around visits. Indoor visits can now last up to four hours, instead of 30 minutes, and visitors will be allowed to hold hands with residents as long as they stick to certain rules.
But with the new three-tier system in England, and rising infections in many areas, stricter measures could mean many families are kept apart for even longer.
Nadra Ahmed, of the National Care Association, which represents independent care homes, says many homes have been left between "a rock and a hard place".
She says delays in getting test results back and a lack of insurance cover for Covid-19 has hindered visits. The pandemic has forced care homes - which she insists always had an "open door policy" - to bring in "a closed environment".
Campaigners have been calling for relatives to be given the same status as care staff, which would give them access to regular testing and enable them to go into care homes safely.
The government has said a pilot scheme will be launched in England "shortly". Family members will have to abide by the same rules as staff when it comes to weekly testing and wearing PPE.
But Kate Lee, chief executive of the Alzheimer's Society, said while the charity was "delighted" by the news, the key details of the pilot are urgently needed.
"'Soon' isn't enough for people losing their partners, mums, dads and grandparents," she said. "We need the 'when' and the 'where', plus plans for national rollout. Time is of the essence."