Prince Harry urges US citizens to 'reject hate speech' and vote in the presidential election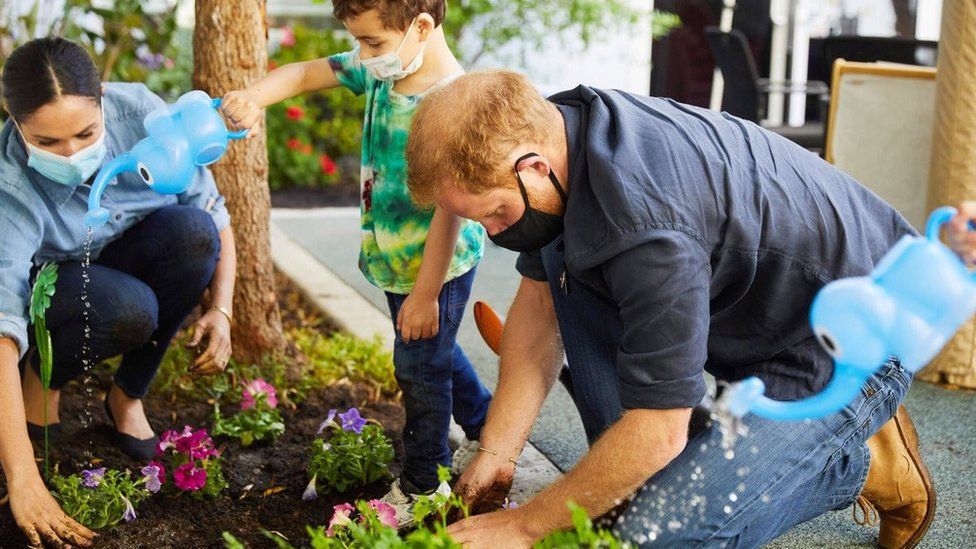 Prince Harry has urged US citizens to "reject hate speech" and vote in the country's upcoming presidential election.
He made the remarks alongside his wife, Meghan, in a US television broadcast.
A spokesperson for the couple said the comments did not refer to any specific political party or candidate, but were instead "a call for decency".
Voting for the next US president, with candidates including Donald Trump and Democrat Joe Biden, is on 3 November.
The Duke and Duchess of Sussex appeared in a live video in what appeared to be their California home as part of the Time 100 - a list compiled by Time magazine to celebrate the world's most influential people.
"As we approach this November, it's vital that we reject hate speech, misinformation and online negativity," the duke said as he sat on a bench alongside Meghan.
He also reminded Americans to be discerning in the content they consumed online.
"When the bad outweighs the good, for many, whether we realise it or not, it erodes our ability to have compassion and our ability to put ourself in someone else's shoes," he said.
"Because when one person buys into negativity online, the effects are felt exponentially. It's time to not only reflect, but act."
'You deserve to be heard'
The 36-year-old duke said he would not be voting in the election because he was not a US citizen, adding that he had never voted in UK elections either.
Members of the Royal Family traditionally do not vote, and the Queen is politically neutral.
Although UK law does not ban royalty from voting, it is considered unconstitutional for them to do so.
Harry and Meghan stepped aside from their roles as senior working royals in March in a bid for personal and financial freedom. They now live in the US but are still members of the Royal Family.
By Sarah Campbell, BBC News royal correspondent
When Harry and Meghan ceased to be working royals back in March, the official "divorce" statement read: "While they can no longer formally represent The Queen, the Sussexes have made clear that everything they do will continue to uphold the values of Her Majesty."
It is Harry's contribution to the Time video message which seems to have attracted the most comment.
His spokesman is clear that the duke was making a "non-partisan call for decency".
But with the Trump administration commonly accused of the traits called out by Harry - "hate speech, misinformation and online negativity"- his contribution has been widely interpreted as party political.
The expectation is that royals remain neutral and the question troubling many people today is whether that means Harry's words are incompatible with the statement issued by the palace in March.
It was always going to be difficult to work a way through their royal/non-royal status to the satisfaction of the Sussexes and the Royal Family, as this latest episode once again makes clear.
Reacting to the couple's remarks, Royal biographer Robert Jobson said: "They are not carrying out public duties, live abroad and are really completely detached from our monarchical system now so what difference would it make?
"Meghan, after all, holds American citizenship and has always voted. The business about royals not getting involved in politics is less clear when it comes to Meghan or what the protocol should be in this case.
"But as she is now back living in her country I am sure many would think it wrong that she is not allowed to exercise her democratic right to vote."
However, Mr Jobson said "it would be better" for Prince Harry to withdraw from the line of succession "to avoid further confusion".
And if they were to leave their royal titles behind it may set the duchess "free to pursue a political career," he added.
But former Liberal Democrat MP Norman Baker said Prince Harry should not have remarked on the US election as he is still a "representative" of the UK.
There was "no problem" with a "private citizen" expressing their views, he said, "the problem is Harry still has his HRH status".
"He wants his foot in both camps," said the author of the book And What Do You Do? What The Royal Family Don't Want You To Know.
The duchess, who mocked then-Republican candidate Mr Trump during a 2016 television appearance, said in the video that the November poll was the "most important election of our lifetime".
"When we vote, our values are put into action and our voices are heard. Your voice is a reminder that you matter, because you do and you deserve to be heard," she said.
A spokesperson for the couple said: "His message is not in reference to any specific political party or candidate, but is instead a call for decency in how we engage with each other, interact, and consume information - especially online."
A Buckingham Palace spokesperson said: "We would not comment. The duke is not a working member of the Royal Family and any comments he makes are made in a personal capacity."