Nazanin Zaghari-Ratcliffe: New trial postponed in Iran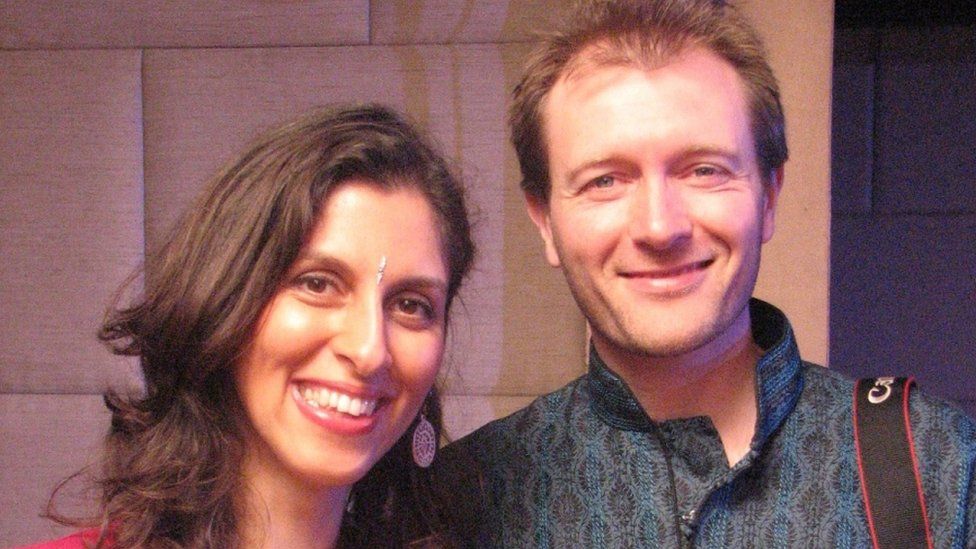 Nazanin Zaghari-Ratcliffe, the British-Iranian woman jailed in Iran, has not been taken to court to face new charges as expected, her husband has said.
Iranian state media had said she would be required to face fresh charges four years after her initial conviction.
Her husband Richard Ratcliffe said: "For Nazanin, the uncertainty is deeply traumatic, as we await the next move.
"This remains a game of cat and mouse between governments, with us living life as a piece of bait."
The Foreign Office reacted to the news of the postponement by calling on Iran to permanently release Mrs Zaghari-Ratcliffe.
Director of Amnesty International UK Kate Allen said it was "a nonsense" she had ever faced the new court date.
Ms Allen said there had already been a "deeply unfair trial" leading to her being "unjustly convicted".
She added: "It appears the Iranian authorities are playing cruel political games with Nazanin. The situation has gone on long enough. Nazanin has continued to suffer in Iran away from her husband and young daughter.
"The UK government has had four and a half years to secure her unconditional release and have failed to do so. Securing Nazanin's release should be an absolute priority.
"As a matter of urgency, ministers now need to step up their efforts to get Nazanin home in time for Christmas and provide a clear plan on how they will do this."
Mrs Zaghari-Ratcliffe was arrested in Tehran in April 2016. She had been visiting her parents with her young British-born daughter, Gabriella, who is now six.
The dual national was sentenced to five years in prison over allegations of plotting against the Iranian government, which she denies, and no official charges have ever been made public.
In a statement, the Foreign Office said: "We welcome the deferral of this groundless court hearing, and call on Iran to make Nazanin's release permanent so that she can return to her family in the UK."
Her husband, Richard Ratcliffe, said she had been "terrified" about the expected court appearance and had suffered the latest in a series of panic attacks.
Explaining the process surrounding Sunday's postponed court appearance, he said: "Nazanin's lawyer went to court early this morning as appointed. When he got there, he was told by the Court Office that there would be no hearing today.
"He had been given no indication that the trial would not be happening until this point. We have not been given a rescheduled date for the court hearing. It is perhaps early to understand why today's sudden postponement happened, or what it means."
He said he believed the postponement might been to do with efforts made by the British Embassy to attend the hearing.
Mr Ratcliffe added: "The Foreign Office had been requesting access to attend Nazanin's trial.
"The Iranian authorities were clearly reluctant to say yes, though likely mindful of the legal consequences of saying no in the context of diplomatic protection having been invoked.
"The current uncertainty of this period, on the back of all that has happened these past four years, is a kind of psychological torture."
He believes his wife and other dual nationals are being held hostage because Iran wants the UK to pay a decades-old debt over an arms deal that was never fulfilled.
The UK owes Iran about £400m for Chieftain tanks ordered by the former Shah of Iran which were never delivered because of the 1979 Islamic revolution.
The UK government says it will repay the money, but it cannot do so until a legal path is found because of international sanctions against Iran that currently make payment impossible.
Related Internet Links
The BBC is not responsible for the content of external sites.