Coronavirus: Businesses begin to pay towards furlough scheme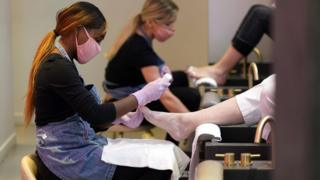 Businesses that have furloughed staff during the coronavirus pandemic must now start contributing to the government's job retention scheme.
From Saturday, firms must pay national insurance and pension contributions until the scheme ends in October.
But the Federation of Small Businesses warned the government not to "pull up the business support drawbridge" and said more help was needed to save jobs.
The government said millions of jobs have been saved because of the scheme.
It comes as some businesses face putting workers back on furlough after plans to ease lockdown in England were halted by Prime Minister Boris Johnson on Friday.
Latest figures from the government show 9.5 million jobs - a third of the private sector work force - have been furloughed during the pandemic, at a cost of £31.7bn to the Treasury.
However, the Resolution Foundation said fewer than 4.5 million workers were currently on the scheme, down from a high of nearly eight million in April.
The think tank warned that winding the scheme down "carries the real risk of increased redundancies", echoing concerns raised earlier this week that it could push unemployment to 10% this year.
And the Federation of Small Businesses warned the government more help, not less, help was needed to save jobs.
"Even with critical emergency measures in place, jobs are sadly being lost in the here and now," said FSB chairman Mike Cherry.
"Further targeted support for those [businesses] having to remain shut is urgently needed, especially in areas where local lockdowns are in place."
'Stark choice'
The job retention scheme was introduced by the Treasury at the beginning of the pandemic to prevent mass redundancies and was originally intended to last until the end of July.
Under the scheme, workers get 80% of their salaries paid for by the government - up to £2,500 a month.
The Resolution Foundation said the changes from Saturday will cost employers an average of £70 a month - or 5% of the employees' pre-furloughed pay.
Dan Tomlinson, senior economist at the think tank, said the scheme had protected family incomes and prevented "catastrophic levels of unemployment".
But he said millions of employees are currently without work - particularly in sectors such as hospitality and leisure - and called for the government to phase out support for these "hardest-hit" sectors more slowly due to a heightened risk of unemployment.
Labour's shadow business secretary, Ed Miliband, said businesses "now face the stark choice of letting go of their staff or facing a hefty financial burden to keep them on".
He called on the government to abandon the blanket withdrawal of the furlough scheme for all businesses in October.
It comes as businesses in England expecting to reopen this weekend were told they will now have to wait at least another fortnight because of a rise in coronavirus cases.
Casinos, bowling alleys, skating rinks and close-contact beauty treatments are among those to be affected by the latest changes.
A Treasury spokesman said: "We said at the start of the crisis that we couldn't save every job - but it's clear that the furlough scheme has saved millions of them - and now many people who've been furloughed are able to return to work.
"That's good for the economy, but more importantly it's good for individuals, their families and communities."