'Walk for jobs' march in Caerphilly over General Electric cuts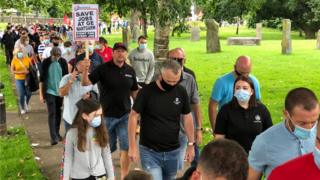 About 300 people joined a "walk for jobs" to protest against redundancy plans at an aircraft engine maintenance plant on Saturday.
General Electric (GE) announced in July that it plans to cut 369 jobs at its site in Nantgarw, near Caerphilly.
A further 180 posts have already been lost since the coronavirus crisis began through voluntary redundancies.
The Welsh Government said it was "doing all that we can to support workers".
Protest organiser Caerphilly Trades Council urged those taking part to social distance and wear masks, as they gathered near Caerphilly Castle for the midday event.
GE has been consulting with 1,400 staff at Nantgarw, as the firm suffers from the drop of numbers in air travel.
The company, which makes jet engines for Boeing and Airbus, has blamed the "unprecedented impact of Covid-19".
It has said it remained focused on "preserving our capability to respond as the industry recovers".
One aviation worker taking part called on the Welsh Government and UK government to "get together and have a clear dialogue" on how they can help the sector.
"We're an industry we know is going to come back, we know people are going to be flying," he said.
"We're high tech, high skilled employees and we're asking the government now to maintain these high skills, maintain these jobs so when it comes back we can have a secure future."
Shadow Welsh secretary Nia Griffith said: "It's absolutely vital that we save these jobs.
"Aerospace is a really dynamic industry, it's going places, there are such exciting developments and if the government does not put in the support now we will lose out."
Wayne David, Labour MP for Caerphilly, added: "The aviation sector is vitally important to Wales.
"It'll be a huge body blow to the economy. Those are well-paid jobs, there'll be a knock-on effect and obviously it's devastating for them and their families."
A Welsh Government spokesperson said: "The aviation industry faces an extremely challenging environment in dealing with the effects of coronavirus.
"We are doing all that we can to support workers, and once again call on the UK government to take a full and active role to safeguard jobs in the sector, and see the industry through this incredibly difficult period."
The UK government said: "We understand this is difficult time for the workers of General Electric and their families and stand ready to support those at risk of losing their jobs.
"The aerospace sector remains a critical part of the UK economy and we will continue to work closely with industry to ensure it can rebuild as the civil aviation market recovers."