Coronavirus: Care home visits 'delayed' over lack of testing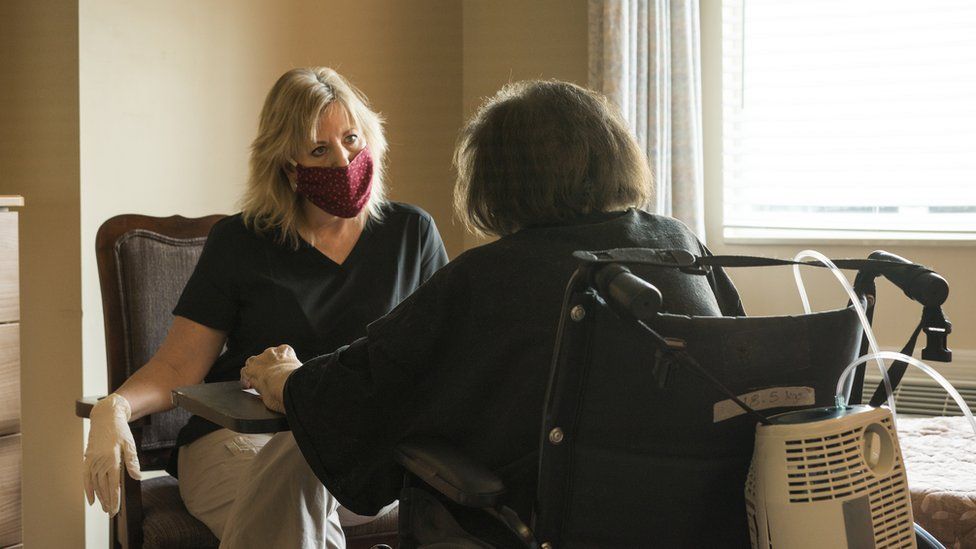 A number of care homes in England are having to delay the resumption of visits because of a lack of coronavirus testing for staff and residents.
It comes after the government withdrew one brand of home-test kits used in care homes over safety concerns.
A leading care home group told the BBC many of its facilities would not be able to host family members for weeks.
The government has pledged to get tests to all care homes for the elderly and people with dementia by 7 September.
All other adult care homes will be able to start to place orders for test kits from 31 August, it added.
The government said earlier that care homes affected by the withdrawal of kits would get replacements "as soon as possible".
Residents will be limited to seeing the same one visitor, where possible, the guidance says.
Some providers had been allowing infrequent, socially-distanced visits outdoors - with personal protective equipment - in the absence of government guidelines. But these are not suitable for many residents.
Visits indoors are unlikely to be allowed to start without regular testing of staff and residents taking place and care homes say they are still waiting to be given alternative kits.
The government announcement came six days after it said test kits made by Randox that it had sent to care homes should not be used as a precaution as the swabs were "not up to standard".
Provider MHA, the largest not for profit group in England, told the BBC it was "disappointed and frustrated by the latest failure in the care home testing regime".
MHA chief executive Sam Monaghan said: "We are now heading into our third week of no testing for the majority of our care homes... and it looks likely to last weeks more.
"The impact continues to be felt hardest by our residents and their families who have had to forgo contact with their loved ones to keep them safe, and our staff who have worked tirelessly throughout the pandemic."
Another care provider, Care UK, has said it was finding it "increasingly difficult to access regular testing".
Chief executive Andrew Knight, in a letter to relatives of residents, said the latest indications he had received from the government suggested most of the company's care homes in England would have to wait at least five weeks for another round of testing.
"I am sure many of you will find this situation as disappointing as I do, especially given the positive messages the government is still issuing about the scale of the testing programme it is supposedly offering."
The Department of Health has insisted care home testing has not stopped, and said any resident or member of staff with symptoms will continue to be able to immediately access a free test.
A spokesperson said: "A combination of issues have meant that a more limited number of testing kits, which are predominantly used in care homes, are currently available and we are temporarily constrained in our ability to do as much asymptomatic testing as we want.
"We are working around the clock to ensure there is minimum disruption to repeat asymptomatic testing and get our capacity back on track as soon as possible."